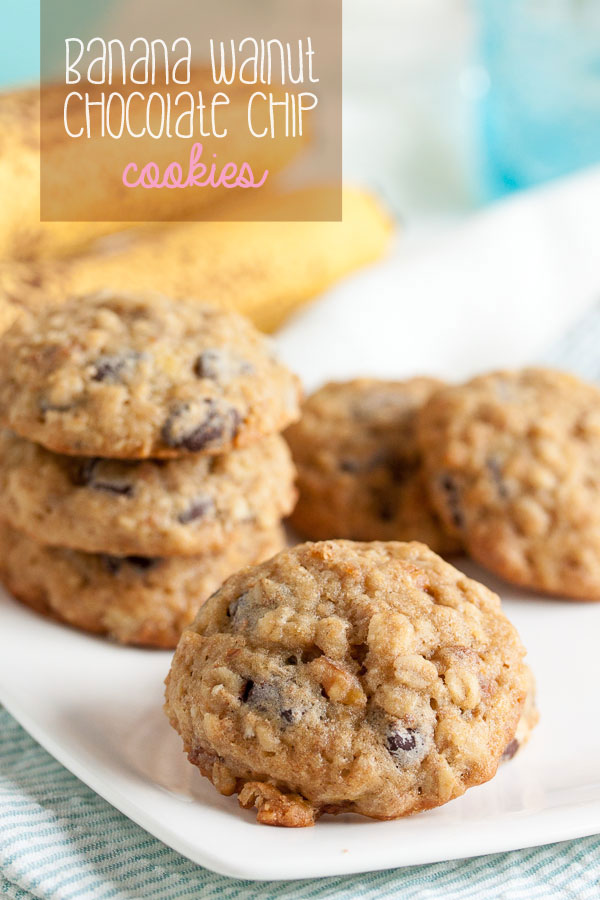 I've never had a banana cookie before, but I've seen a few recipes pop up in my travels, both in cookbooks and online. My first reaction was always "banana cookie? weird." But the more I thought about it, the more intrigued I was. I mean, I love banana loaf and banana muffins. Why not cookies? The idea of these cookies just lingered in the back of my mind until one day I was buying groceries, passed the bananas and thought "hmmm, okay, that's it. I'm making banana cookies!"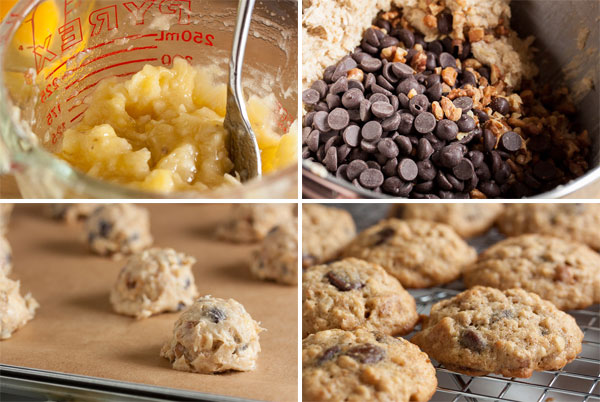 Once the bananas were bought, I was committed to making these cookies (although I guess I could've made muffins again…). But first, I had to wait for them to ripen, and then over-ripen. It was worth the wait.
This cookie was insanely popular right off the bat! It's already really similar to a banana loaf, and with the addition of oatmeal, suddenly it's a great breakfast cookie. I know I joke about cookies being suitable for breakfast all the time (wishful thinking – ha!), but seriously, is having this cookie any worse than having a slice of banana bread? Or a banana muffin? Absolutely not! Okay, neither are a *healthy* breakfast option, but when you're in a hurry and don't have time to have a proper breakfast, something like this won't kill you.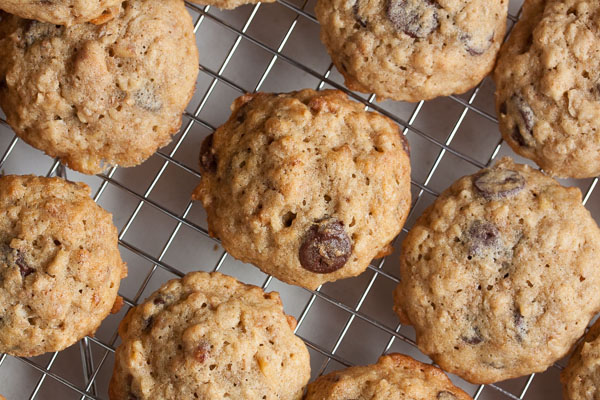 Fresh from the oven, these cookies are amazing. I tried one (quality control, right?), and discovered quickly that one just wasn't enough. I lost track of how many I had. Oops. But they're small, so I don't feel so bad. They have a great flavour – very banana-y and you can definitely taste the toasted walnuts and chocolate as well – plus the addition of oatmeal gives them a great chewy texture. More than one person compared them to a banana muffin top, and at least two people decided they should be called "mookies" because they're like a cross between a muffin and a cookie.
In short? I'm really glad I decided to try this recipe. It's going on my favourites list.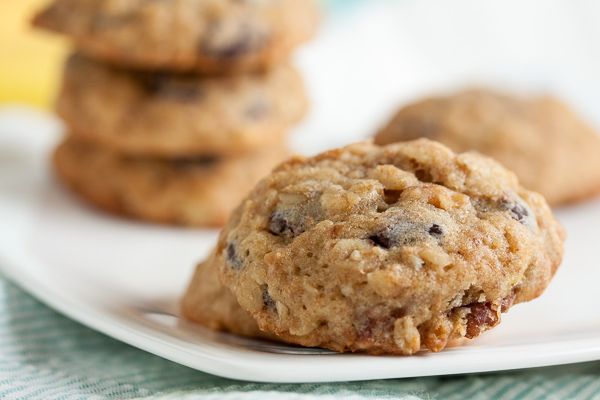 banana walnut chocolate chip cookies
Adapted from "Banana-Walnut Chocolate-Chunk Cookies" from Martha Stewart's Cookies. The original recipe says it will make about 3 dozen cookies using a 1-1/2" scoop. I got about 50 cookies using my usual 1 tablespoon-sized scoop.
ingredients
1 cup all-purpose flour
1/2 cup whole wheat flour
1 cup old-fashioned rolled oats
1 teaspoon coarse salt
1/2 teaspoon baking soda
3/4 cup unsalted butter, at room temperature
1/2 cup granulated sugar
1/2 cup packed light brown sugar
1 large egg
1-1/2 teaspoons pure vanilla extract
1/2 cup mashed ripe banana (about 1 large banana)
1-1/2 cups semisweet chocolate chips or chunks
1/2 cup coarsely chopped walnuts, toasted
Preheat oven to 375°F.
To toast the nuts, spread them in a single layer on a baking sheet and toast them in the oven for approximately 10 minutes, turning the walnuts every few minutes or so to cook evenly. Trust your senses – they'll start to smell fragrant when they're ready. Allow them to cool and then chop coarsely.
In a medium bowl, whisk together the flours, rolled oats, salt, and baking soda. Set aside.
In the bowl of a stand mixer fitted with the paddle attachment, beat the butter and sugars together on medium speed until light and fluffy, about 3 or 4 minutes. Scrape down the sides of the bowl and add the egg and vanilla, beating well after. Add the mashed banana and beat again to incorporate.
Turn the mixer down to low and add the dry ingredients, mixing until just barely combined. Remove from the mixer and add in the chocolate chips and walnuts either with a spatula or by hand. I prefer to knead inclusions in by hand to ensure they're distributed evenly, but this dough was soft enough to just use a spatula.
Using a small cookie dough scoop or a tablespoon, portion the dough onto the baking sheets about 2 inches apart to allow for spreading.
Bake for about 12-13 minutes, until lightly golden brown around the edges, rotating the baking sheet halfway through the baking time. Allow to cool on a wire rack for a few minutes before removing the cookies from the pan and allowing them to cool completely.