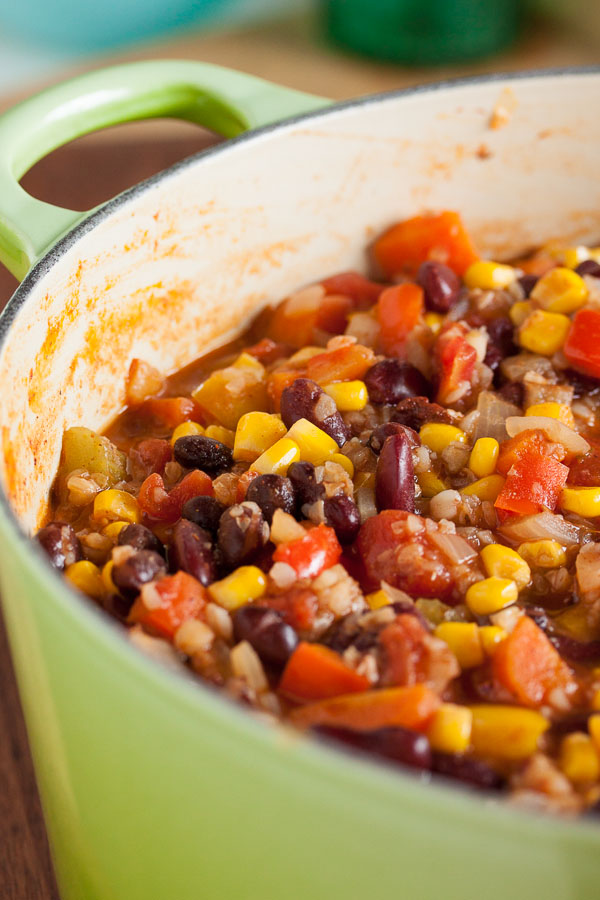 Today was foggy and grey and raining all day. I know a lot of people hate weather like this, but I've never minded it at all. As long as I don't have to go out in it! It's perfect weather to stay home and curl up on the couch or putter in the kitchen. Or maybe even a little of both. Once I finally rolled out of bed, I baked a batch of my favourite bran muffins in the morning, watched a couple episodes of The Returned on Netflix in the afternoon (it's getting spooky!), and then had a pot of chili simmering on the stove in the evening. That's what I call a great Saturday. This recipe is another one that I make regularly and almost always have at least one serving of in my freezer. It's spicy, hearty and filling (but not heavy), and loaded with tons of vegetables and beans.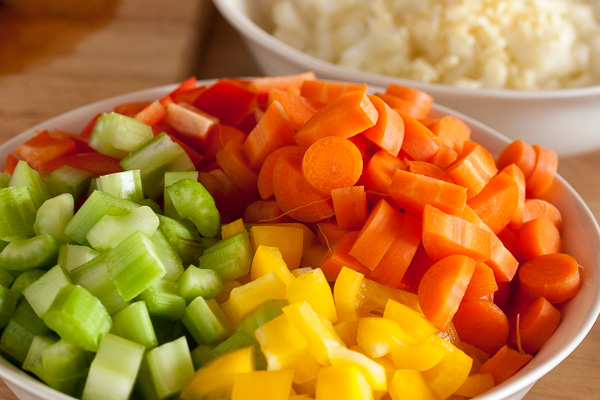 Have you heard about eating the rainbow? The concept is that different coloured fruits and vegetables contain different phytochemicals and nutritional benefits, so to ensure you're getting as much nutrition as possible, you should eat a wide variety of different coloured produce. Sounds great, right!? Well, while I see this stated as fact all over the place, it sounds like the jury is still out. I have no doubt that eating a variety of fruits and vegetables is beneficial, and apparently colour can be somewhat indicative of the nutritional benefits of a given food, but I don't think it's quite this simplistic.
That said? What can it hurt? Eating varied and colourful foods can only be a good thing, right? And don't forget that old saying, that we eat with our eyes first.
This chili recipe may not include every colour on that list, but it's definitely colourful and a great example of how to include variety in your food. Meat-based chilis are traditionally pretty monochromatic. You've got meat, tomatoes, and beans – lots of red and brown, right? This chili is anything but monochromatic. Look at all those colours! Red (peppers and tomatoes), orange (carrots), yellow (peppers and corn), green (celery), and white (onions and garlic). And if you can find some purple carrots, even better! Plus, of course, a variety of beans.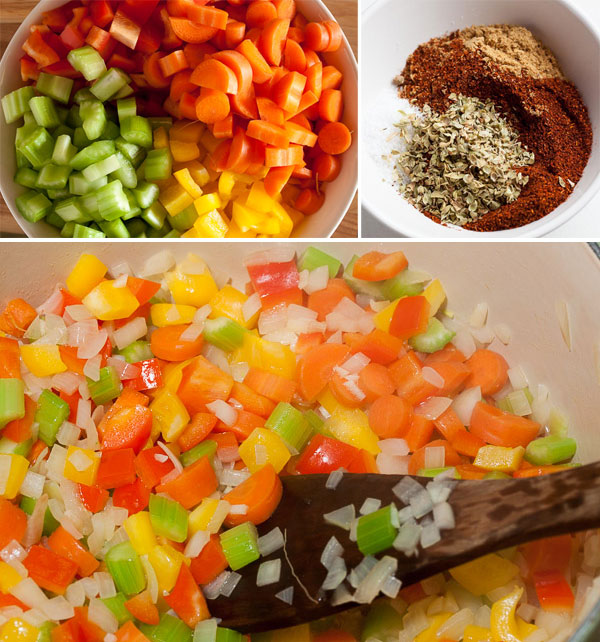 And just to round things out and give a bit of texture, I added some buckwheat groats too. Interesting thing about these is that in spite of their name, they're not actually related to wheat. They're not even a grain – they're a fruit seed! And as such, they are gluten-free and a good alternative for people who are cutting gluten out of their diets for whatever reason (a friend of mine has Crohn's – so not fun for her). They're also packed full of nutrients. They're often touted as a "superfood", but I always take that label with a big fat grain of salt. Yes, I'll include them in my diet (sometimes I'll cook them up and sprinkle them in a salad, or add them to a wrap), but I don't count on them to single-handedly keep me healthy. It keeps coming back to balance and variety. Rainbow, right?
Normally I'll cook my own beans for a recipe like this (usually the day before), but I didn't get around to it this time. Canned beans are just fine, but look for a brand that doesn't use BPA in their linings. Ditto for the canned tomatoes.
Much like with the Mexican Vegetable Stew I posted last summer (another favourite – so good!), I follow this recipe somewhat loosely. I didn't have a large onion, so I used two mediums. I had three celery stalks, so I just went ahead and used them all – it'll still be great. The original recipe only called for one cup of frozen corn, but I like it so I doubled up on that.
One of the ingredients in this recipe may be new to you – chipotles in adobo sauce. You should have no problem finding them in any large supermarket in the Mexican food aisle. This is really the only recipe I use them in, but the remainders freeze really well so you can save them for the next time you make this chili – just transfer the leftovers to a heavy freezer bag, separate them out a bit (so you can portion them easily later), and freeze. Next time you want to use them, you can chop them while they're still frozen (which is a little less messy). It's definitely worth looking for these. They add both heat and a lovely smokey flavour to this dish.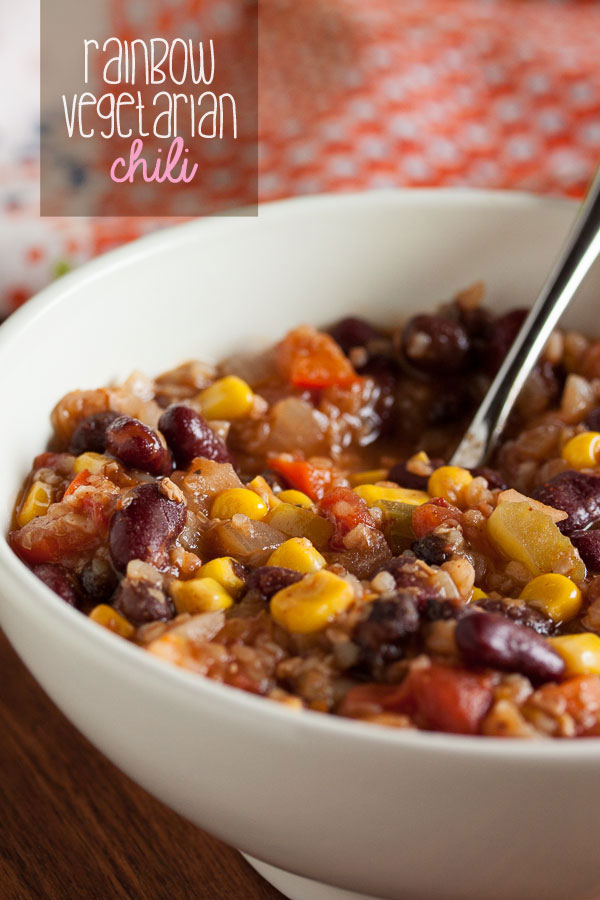 Adapted from the Whole Foods website. I have modified the quantities a bit, and added buckwheat groats for texture. I don't find this recipe too spicy, but it definitely has some heat. If you're not a fan of spicy foods, you can cut down on the amount of chili powder or chipotles.
ingredients
1 tablespoon olive oil
1 large yellow onion, chopped
1 large carrot (or 3 small), chopped
2 stalks celery, chopped
2 bell peppers, seeded and chopped (I like to use 2 different colours, usually red and yellow, but you can use whichever you like)
3 cloves garlic, finely diced
3 tablespoons chipotles in adobo sauce, finely chopped (I usually just use 3 of the chilis)
2 teaspoons ground cumin
1 tablespoon chili powder
1 teaspoon dried oregano
2 teaspoons salt
3 cups canned diced tomatoes (28-ounce can), with their liquid
3 cups water
1/4 cup buckwheat groats
3 cups red kidney beans (28-ounce can), drained and rinsed
1-1/2 cup black beans (15-ounce can), drained and rinsed
2 cups frozen corn
Heat the oil in a large saucepan over medium-high heat. Add the onion, carrots, celery, bell peppers, and garlic, and sauté about 10 minutes, until soft but not browned. The colours should be quite vibrant.
Add all of the spices and the diced chipotle peppers. Stir well, then add the tomatoes, water and buckwheat. Turn heat down to medium-low and let simmer for about 45 minutes.
Add the beans and corn and continue simmering for another 30 minutes. Add salt to taste.
This chili is great as-is, but you can also serve it with a bit of grated cheddar or some crumbled feta cheese. And if you happen to have some cornbread? Even better.