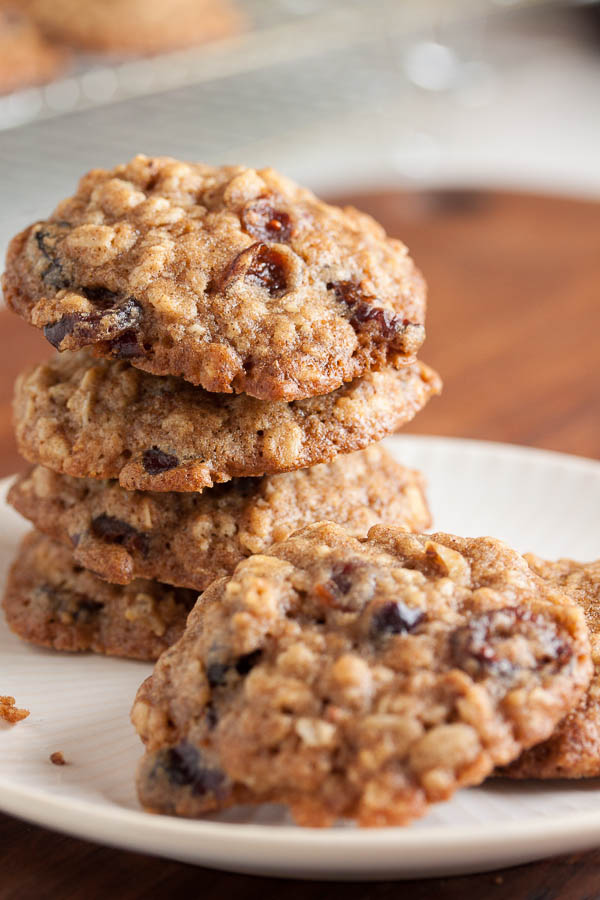 This week's cookie is a revisit of an oatmeal cookie I've made several variations of in the past. It's a good one. In fact, the white chocolate cherry oatmeal cookies have been requested several times. Honestly, they've all been delicious, but this? This one is absolutely my favourite. Oatmeal cookies are always good, of course, but this one also has crunchy walnuts and tart cranberries. You all know I love citrus, right? Well I love cranberries for the same reason. And they really work in this cookie.
One of my coworkers was eating one of these cookies while talking to me about something work-related (honestly, we occasionally talk about work), then suddenly paused, looked at the cookie, looked at the cookie jar, and said "omg, these are delicious." Surprisingly delicious for a humble oatmeal cookie. I think a lot of it is in the contrasts – how the tart dried cranberries are such a lovely counterpoint to the sweet cinnamon-y flavour. And of course the crunchy walnuts are a nice contrast to the chewy oatmeal cookie. All-in-all, a good solid cookie jar cookie.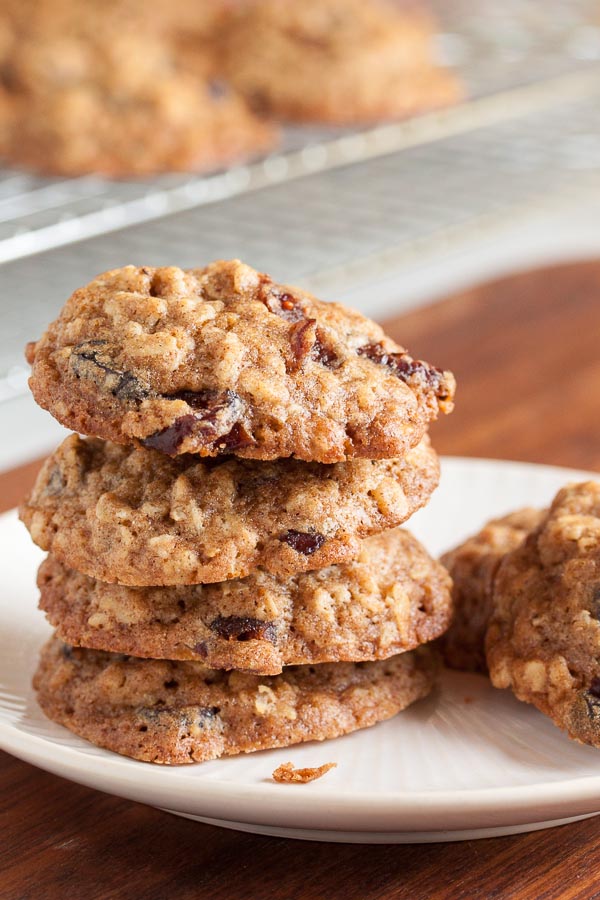 walnut cranberry oatmeal cookies
Adapted from Milk & Cookies by Tina Casaceli. The recipe states it makes about 2 dozen cookies, but there's a problem with the yields in this book – I got 70 three-inch cookies using my usual slightly larger than tablespoon-sized cookie scoop.
ingredients
1-1/2 cups (188g) all-purpose flour
1 tablespoon ground cinnamon
1 teaspoon baking soda
1/2 teaspoon salt
3 cups (300g) old-fashioned rolled oats
1-1/2 cups (340g) unsalted butter, at room temperature
1 cup (220g) light brown sugar, firmly packed
1/2 cup (100g) granulated sugar
2 large eggs, at room temperature
1 tablespoon vanilla extract
1-1/2 cups (180g) dried cranberries
1 cup (120g) chopped walnuts
Preheat oven to 350°F.
Whisk together the flour, cinnamon, baking soda and salt. At this point, I added the oats as well and whisked to combine.
In the bowl of a stand mixer with the paddle attachment, beat the butter and sugars together on medium speed until light and fluffy, about 4 minutes. Scrape down the sides of the bowl and add the eggs, one at a time, beating well after each. Add the vanilla and beat again to incorporate.
Turn the mixer down to low and add the dry ingredients, mixing until just barely combined. Remove from the mixer and add in the cranberries and walnuts either with a spatula or by hand. I prefer to knead inclusions in by hand to ensure they're distributed evenly.
Using a small cookie dough scoop or a tablespoon, portion the dough onto the baking sheets about 2 inches apart to allow for spreading.
Bake for about 15 minutes, until lightly golden brown around the edges, rotating the baking sheet halfway through the baking time. Allow to cool on a wire rack for a few minutes before removing the cookies from the pan and allowing them to cool completely.