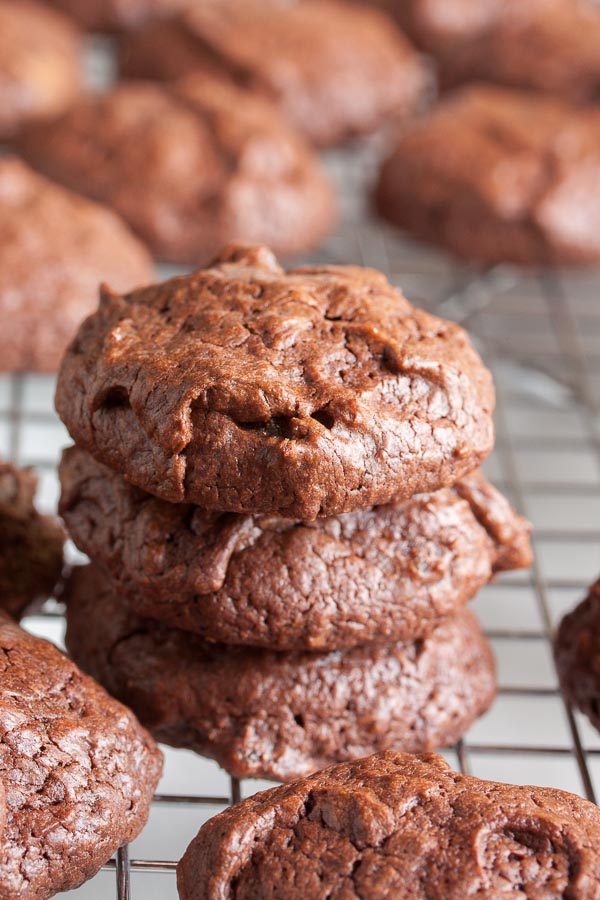 I'm thinking it's time for a chocolate cookie. Does anyone not want a chocolate cookie?? But not a plain chocolate cookie. I'm thinking chocolate ginger cookies. I've made cookies with this combination of flavours before, but this particular recipe is a little different and includes finely diced candied ginger. This adds a bit of heat and is a great contrast to the rich dark chocolate-y cookie – like with these chewy chocolate gingerbread cookies (one of my all-time favourites), or these chocolate diablo cookies (a great example of how something spicy can work together with chocolate to create an amazing flavour).
The instructions for this recipe are very brownie-like, and the resulting batter is also soft and runny, like a brownie. As such, the batter doesn't really hold its shape when it's scooped. If you want more uniformly-shaped cookies, you can refrigerate the dough for about 15 minutes before scooping. Personally, I like the slightly wonky shapes and whorls you get with the runny dough.
The recipe calls for a full 3 cups of dark chocolate, which is what makes them so rich. Be sure to use a good one, because that's where all the flavour of this cookie comes from. The original recipe recommends using something with at least 70% cocoa content. I didn't have enough, so I used a blend of 2 different chocolates – one 71% and one 68%. Close enough. You just want use something with rich dark chocolate flavour.
The resulting cookies are dense and fudge-y, and a little more like a cake-y brownie than a chewy brownie. But the flavour is all there. It's not a particularly sweet cookie, but oh boy, is it chocolatey. With just a bit of heat from the candied ginger. I made mine with 1/4 cup of ginger, but next time I think I'd up that to 1/2 cup.
I used large pieces of candied ginger and cut them down to size, which was a pretty sticky process. I found it easiest to spread a bit of granulated sugar on the cutting board to toss the pieces in as I went. Then I removed as much of the excess sugar as I could before adding it to the cookie dough. And then? I discovered that you can actually buy diced candied ginger in the specialty store. Huh. Next time!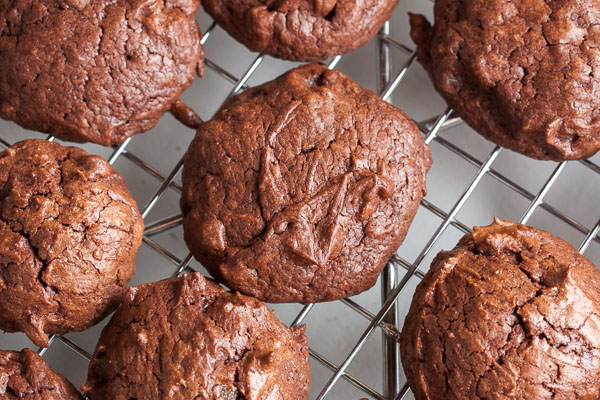 chewy chocolate ginger cookies
Adapted from Ovenly by Agatha Kaluga and Erin Patinkin. The original recipe says it will make about 24 large cookies when measuring the dough out into 2-inch balls. I got 60 three-inch cookies using my usual slightly larger than tablespoon-sized cookie scoop.
ingredients
3 cups (525g) chopped dark chocolate (preferably 70% or higher cocoa content)
2 tablespoons canola oil
1 tablespoon unsalted butter
4 large eggs, at room temperature
3/4 cup (165g) packed light brown sugar
1 teaspoon pure vanilla extract
1-1/4 cups (156g) all-purpose flour
2 teaspoons baking powder
1-1/2 teaspoons salt
1/4 to 1/2 cup (35-70g) finely diced candied ginger
Preheat oven to 350°F.
Gently melt together the chopped chocolate, canola oil, and butter. You can do this by combining them in a microwave-safe bowl and heating in the microwave 15-30 seconds at a time, stirring well after each burst of heat until smooth. Or in the top of a double-boiler or in a heat-proof bowl set over a pot of simmering water. I usually melt chocolate very, very carefully in a heavy saucepan over very low heat, stirring frequently until the chocolate is just melted. Chocolate can scorch really easily, so best to do this slowly and gently. Once melted, remove from the heat and set aside to cool.
While the chocolate is cooling, whisk the eggs, brown sugar, and vanilla together in a large bowl until smooth. Set aside.
In another small bowl, whisk together the flour, baking powder, and salt. Set aside.
Once the chocolate has cooled, pour it into the large bowl with the egg mixture. Stir well until smooth.
Add the flour mixture and stir until just combined – be careful not to overmix.
Fold in the candied ginger until evenly distributed in the batter.
If you don't mind weird-shaped cookies, you can go ahead and bake it as-is. If you'd like more uniformly-shaped cookies, you can refrigerate the dough for about 15 minutes to firm it up a bit.
Using a small cookie dough scoop or a tablespoon, portion the dough onto the baking sheets about 2 inches apart to allow for spreading.
Bake for about 11-13 minutes, until the tops look cracked, rotating the baking sheet halfway through the baking time. Allow to cool on a wire rack for a few minutes before removing the cookies from the pan and allowing them to cool completely.