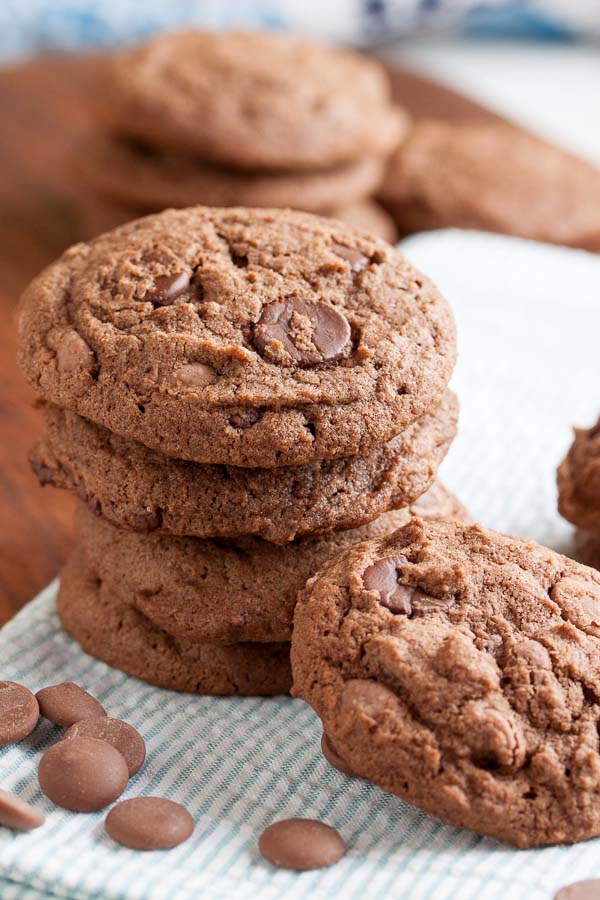 Welp, I was planning on making a completely different cookie this week. Usually I just wing it and pick a recipe last minute, but I saw an interesting recipe while I was choosing last week's cookie, and I reeeeeally wanted to make it, but it required a few specific ingredients that I didn't have. So I went out and visited two different stores to get what I needed. And when I started getting ready to bake this weekend? I realized I didn't have any milk. D'oh! What cookie recipe needs milk!? The one I wanted to make, apparently.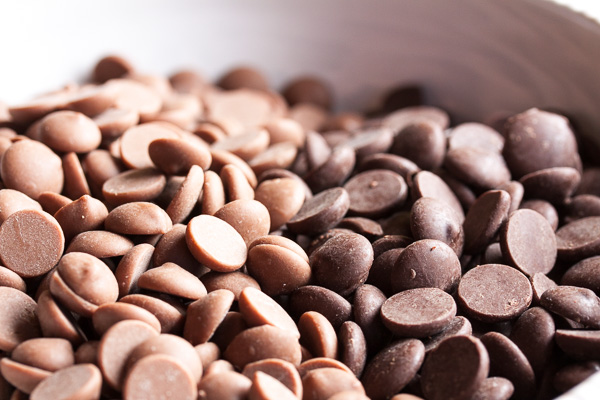 So we were back to my usual seat-of-the-pants recipe choosing technique, and this is what we came up with. Still chocolate (because I had my heart set on a chocolate cookie), but with coffee flavour and two kinds of chocolate chips added. Okay. I'm still upset that I didn't get to make the cookie I wanted to, but with these flavours? I'm feeling a bit mollified.
I've made several cookies from the Milk & Cookies cookbook (all have been fantastic!), and a recurring issue is that the yields are always off. In a good way! The recipe says it will make 2 dozen? Yeahhhh, be prepared for a few more than that. This book contains a lot of unique recipes, but there are also a few "base" recipes with multiple variations for each. I've made several of the variations for both the vanilla and the oatmeal cookie base recipes, and got close to 100 cookies each time. That's a lotta cookies.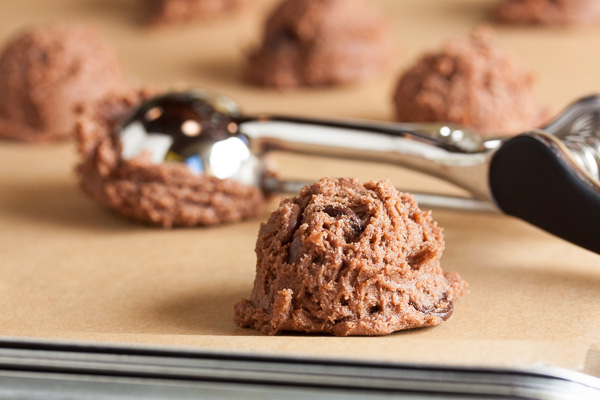 This recipe is my first venture with their dark chocolate base dough recipe. It's not quite as crazy quantity-wise as the other two, but I still got 72 cookies rather than the stated 2 dozen. Oh well. More cookies! Yay!
Yay indeed. This is a really good cookie. I tried one from the first batch out of the oven (quality control, right?). And then had another. And another. I ate lots. So. Many. Cookies.
The cookie itself is soft and chewy, with great chocolate flavour and just enough coffee that you get that "mocha" vibe. And the combination of semisweet and milk chocolate chips is fantastic – sometimes you get dark rich chocolate, and sometimes you get light sweet chocolate. Such a good cookie. Everyone at work loved them and the cookie jar emptied in record time. I can't wait to try some of the other variations now.
Adapted from Milk & Cookies by Tina Casaceli. The recipe says it will only make 2 dozen cookies, but I got a whopping 72 using my usual slightly larger than tablespoon-sized cookie scoop.
ingredients
2-1/4 cups (281g) all-purpose flour
1/4 cup (30g) Dutch process cocoa powder
1 teaspoon baking soda
1/2 teaspoon salt
1 cup (227g) unsalted butter, at room temperature
3/4 cup (150g) granulated sugar
3/4 cup (165g) light brown sugar
2 large eggs
1 tablespoon pure vanilla extract
1 tablespoon pure coffee extract
1-1/2 cups (263g) semisweet chocolate chips
1-1/2 cups (263g) milk chocolate chips
Preheat oven to 350°F (177°C).
In a medium bowl, whisk together the flour, cocoa powder, baking soda, and salt. Set aside.
In the bowl of a stand mixer fitted with the paddle attachment, beat the butter and sugars together on medium speed until light and fluffy, about 3 or 4 minutes. Scrape down the sides of the bowl and add the eggs, one at a time, beating well after each. Add the vanilla and coffee extracts, and beat again to incorporate.
Turn the mixer down to low and add the dry ingredients, mixing until just barely combined. Remove from the mixer and add in the chocolate chips either with a spatula or by hand. I prefer to knead inclusions in by hand to ensure they're distributed evenly.
Using a small cookie dough scoop or by forming the dough into small balls, portion the dough onto the baking sheets about 2 inches apart to allow for spreading. Press each down slightly with the palm of your hand.
Bake for about 15 minutes, rotating the baking sheet halfway through the baking time. Allow to cool on a wire rack for a few minutes before removing the cookies from the pan and allowing them to cool completely.