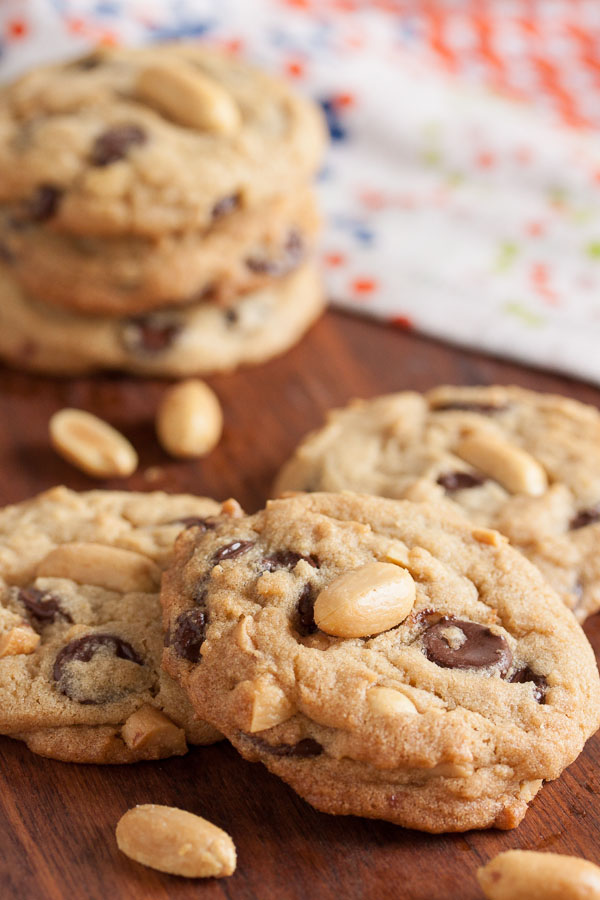 I've made a lot of peanut butter cookies over the years, and have posted quite a few recipes here already. I'm always quite confident in saying that my preference is for crumbly peanut butter cookies (especially Dorie Greenspan's), because that's the type of cookie that reminds me of my childhood. With this cookie, however, I'm finding myself changing my tune. Man, this is one good cookie.
I ate five of them fresh from the oven. Five. Oops.
This is my new favourite peanut butter cookie. Definitely.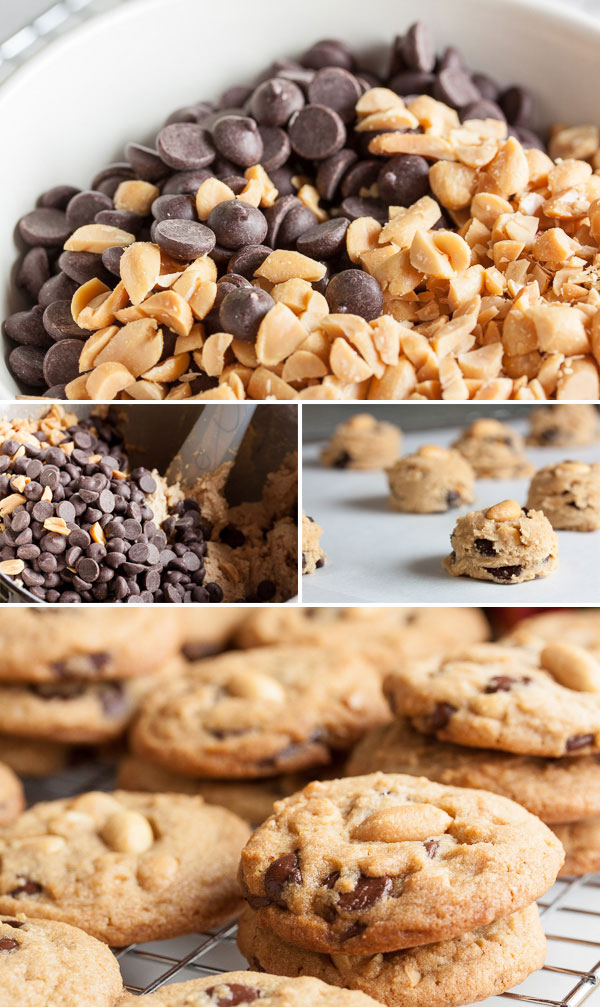 It's so soft, and chewy, and so, so, peanut-y and chocolate-y. And I love the crunch from the chopped nuts, and that bit of salt. You might be tempted to take a shortcut and just use crunchy peanut butter here, but it will not give you the same result! The texture of those larger chunks of peanut, and also the salt, are integral to this cookie. And while the cinnamon isn't particularly noticeable, it's enough to transform the flavour from plain peanut butter to something just a bit more.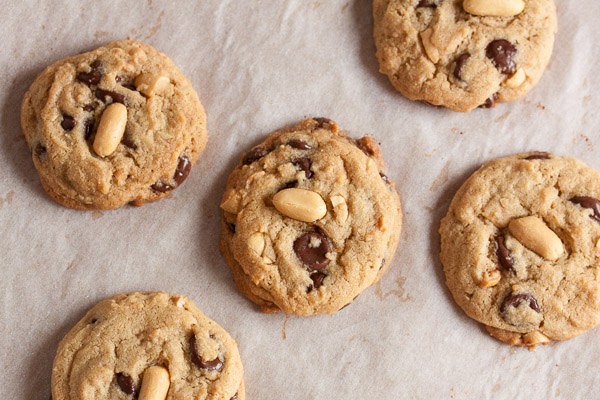 The week that I brought these in to work, I'd already made my weekly cookie and brought it in on Monday. This particular cookie was baked especially for a mid-week meeting. So what I'm saying is there were a lot of cookies in the office that week. And they were devoured. People were actually coming in the following week hoping there were still some of these cookies left over and being all sad when I said there weren't any left. It almost made me want to make more! But, no. We were already on to the next cookie!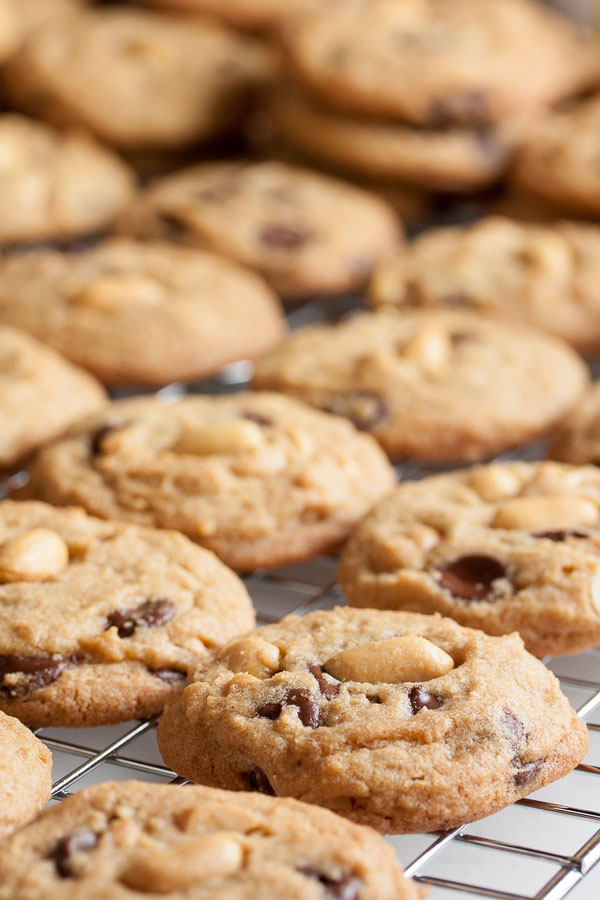 chunky peanut, chocolate, cinnamon cookies
ingredients
2 cups all-purpose flour
1 teaspoon baking soda
1 teaspoon salt
1/2 teaspoon cinnamon
3/4 cup unsalted butter, at room temperature
1/2 cup smooth peanut butter
1 cup packed light brown sugar
1/2 cup granulated sugar
2 large eggs
2 teaspoons pure vanilla extract
1-1/2 cups semisweet chocolate chips
2/3 cup roasted, salted peanuts, coarsely chopped
for the topping (optional)
roasted, salted peanuts, enough to top each cookie
Preheat oven to 350°F.
In a medium bowl, whisk together the flour, baking soda, salt, and cinnamon. Set aside.
In the bowl of a stand mixer fitted with the paddle attachment, beat the butter and peanut butter together on medium speed until creamy, about 2 minutes. Add the sugars and continue to beat until light and fluffy, about 2 minutes more. Scrape down the sides of the bowl and add the eggs, one at a time, beating well after each. Add the vanilla and beat again to incorporate.
Turn the mixer down to low and add the dry ingredients, mixing until just barely combined. Remove from the mixer and add in the chocolate chips and chopped peanuts, either with a spatula or by hand. I prefer to knead inclusions in by hand to ensure they're distributed evenly.
Cover the bowl with plastic wrap and refrigerate for about 15 minutes.
Form the dough into small balls and place about 2" apart on a baking sheet – these cookies will spread out as they bake. Alternately you can use a small cookie dough scoop. Press the balls down slightly with the palm of your hand. Top each with a single peanut (optional).
Bake for about 13 minutes, until lightly golden brown around the edges, rotating the baking sheet halfway through the baking time. Allow to cool on a wire rack for a few minutes before removing the cookies from the pan and allowing them to cool completely.