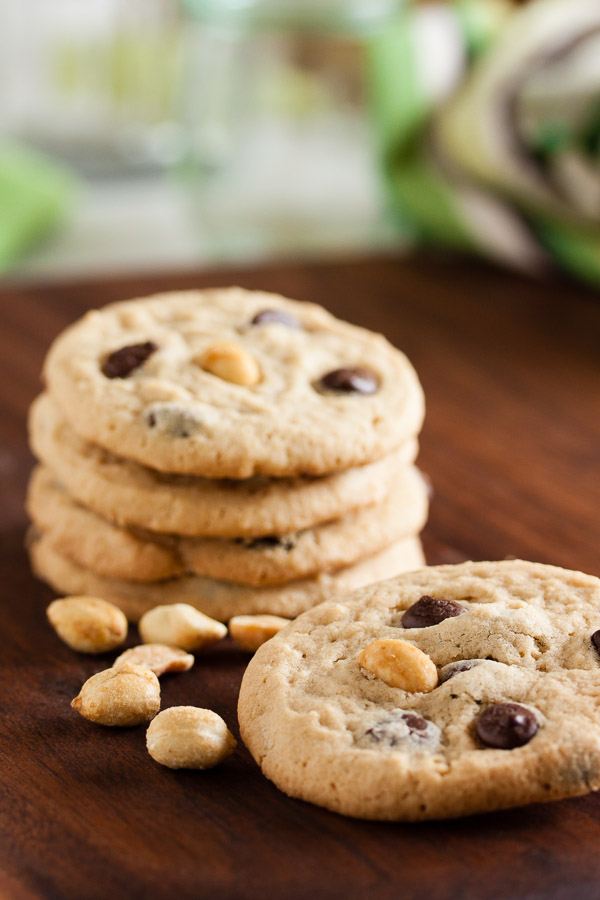 I'm not usually a big peanut butter fan, but for some reason I was craving peanut butter cookies this week. I've already shared my usual recipe with you guys, so this week I had to delve into my pile of cookbooks to find a new one. Peanut butter cookies is one of those staples that's in almost every book, so I had lots of options to choose from. Eventually I'll get to them all, but for this week I decided to go with a chewy cookie.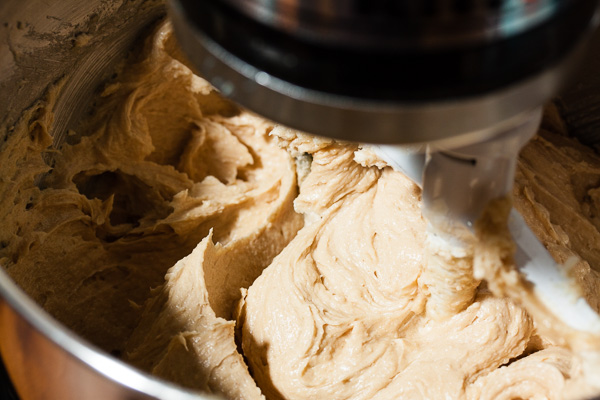 This is the first recipe I've tried from the Hummingbird Bakery Cookbook. I'd never heard of the Hummingbird Bakery, but I bought this book because it's absolutely lovely. Beautiful photography and typography, and a good selection of recipes – and they're mostly the types of things that people will generally bake at home, like cookies & pies & brownies.
The original recipe calls for crunchy peanut butter. I only had smooth, so I went with that and added extra chocolate chips to compensate (that's a fair trade, right?). I also opted to top each cookie with a roasted peanut to give them a bit of crunch. It also adds a bit of salt, which is a nice contrast to the sweetness of the cookies.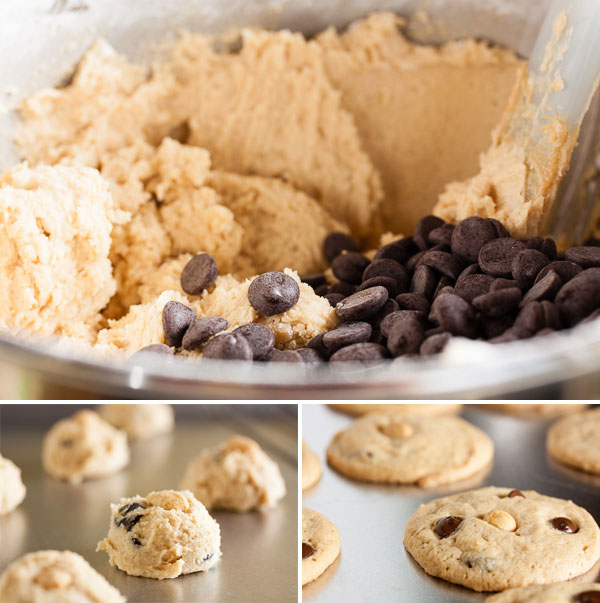 Huh. Just now as I was typing out the recipe, I realized that I totally made a mistake with the amount of butter. The recipe reads "1 stick plus 6 tablespoons" and I'm sure I used 1 cup plus 6 tablespoons. Oops. That's a lot of extra butter. In my defence, we don't get our butter in 1/2 cup sticks up here, but rather 1 or 2 cup blocks, so I always have to mentally convert that measurement in recipes. Apparently I was distracted this morning (I think this is the first time I've ever actually made that mistake). Doing the math, it works out to just about 1/4 teaspoon of extra butter per cookie. Whoops.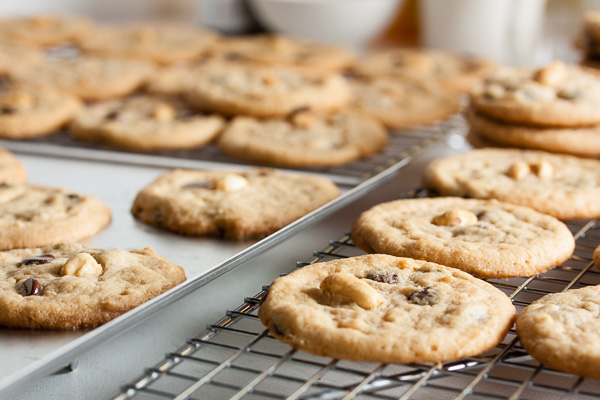 Surprisingly, they turned out anyway, although really soft (not surprisingly). Honestly though, I've had cookies this soft before – if I hadn't caught my error just now, I never would have known there was anything wrong with these cookies. I would prefer them firmer, but they're not so soft that they're a write-off. All my coworkers seem perfectly happy with them too. But kids, don't try this at home – follow the recipe. (actually, feel free to pretend you didn't see this whole section)
I've flagged this recipe to try again in the future. Properly. I'd really like to know how they're supposed to be.
This is another recipe for humongous cookies. The book says it only makes 24 cookies, but I scooped them out by tablespoonfuls and ended up with 78 three-inch cookies. To get 24 cookies, you'd need to use over 3 tablespoons of dough per cookie. But hey, whatever your preference is.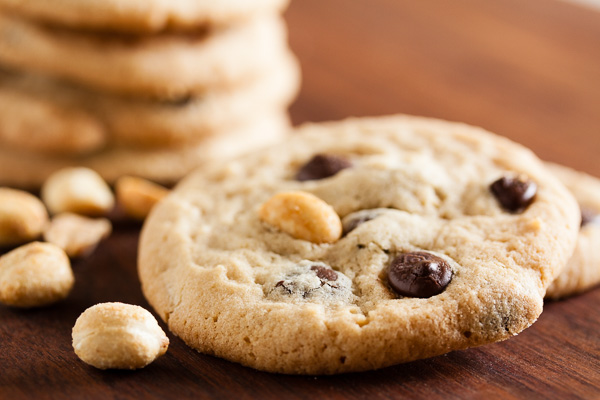 peanut butter chocolate chip cookies
Adapted from "Peanut Butter Cookies" from Hummingbird Bakery Cookbook by Tarek Malouf. The recipe says it makes 24 cookies, but I got 78 three-inch cookies.
ingredients
1/2 cup plus 6 tablespoons unsalted butter, at room temperature
1 cup sugar
1 cup packed light brown sugar
2 eggs
1/2 teaspoon pure vanilla extract
1 cup peanut butter, crunchy or smooth
2-2/3 cups all-purpose flour
2-1/2 teaspoons baking soda
1/2 teaspoon salt
1/2 to 1 cup chocolate chips (optional)
salted peanuts (optional, for topping)
Preheat oven to 325°F.
In a medium bowl, whisk together the flour, baking soda and salt. Set aside.
In the bowl of a stand mixer fitted with the paddle attachment, beat the butter and sugars together on medium speed until light and fluffy, about 3 or 4 minutes. Scrape down the sides of the bowl and add the eggs, one at a time, beating well after each.
Turn the mixer down to low and add the vanilla and peanut butter and continue mixing until smooth.
Still on low speed, add the dry ingredients, mixing until just barely combined. Remove from the mixer and add in the chocolate chips either with a spatula or by hand.
Using a small cookie dough scoop or a tablespoon, portion the dough onto the baking sheets about 2 inches apart to allow for spreading. I opted to top each cookie at this point with a roasted salted peanut, but that's totally optional.
Bake for about 10 minutes, until lightly golden brown around the edges, rotating the baking sheet halfway through. Allow to cool on a wire rack for a few minutes before removing the cookies from the pan and allowing them to cool completely.