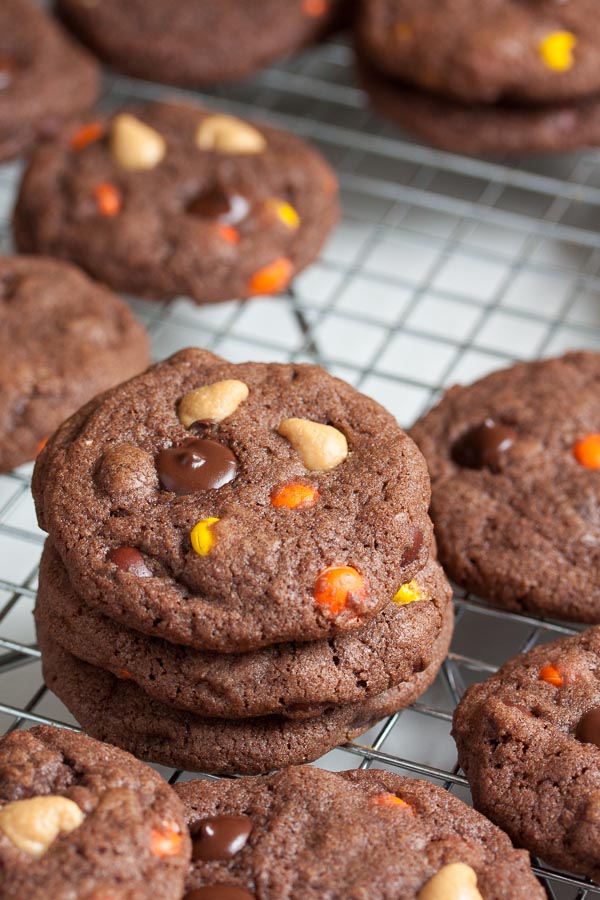 Most weeks when I choose what to bake, I end up just idly flipping through the pages of my cookbooks looking for inspiration. Something that catches my eye. Or at least something that I have all the ingredients for. Occasionally, however, I find myself trying to satisfy a particular craving. This is one of those weeks. When I was going through my ingredient bin last week (yes, I have a giant bin full of various types of chocolate chips and other stuff), I found some Mini Reese's Pieces that I'd bought with no particular recipe in mind and never got around to using. And I couldn't stop thinking about them. So this week I really wanted to use them. I was toying with the idea of going full peanut flavour and adding them to some peanut butter cookies, but then I thought about intensely chocolatey cookies, studded with little nuggets of peanut butter flavour. Yes. That's what I wanted. I have a go-to chocolate cookie recipe that I use to play with various additions, so I started there. I made sure there were lots of chocolate chips in there too, because I really wanted a chocolate cookie. And then I loaded it up with the Reese's Pieces. First one I tried out of the oven? Perfect. Exactly what I was hoping for!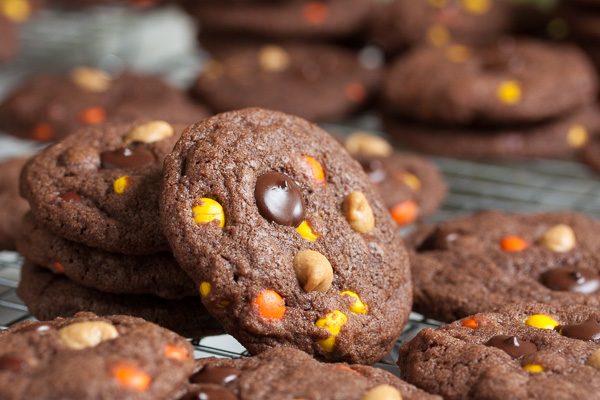 When I was originally thinking about this recipe, I'd planned to top each cookie with a few of the Reese's Pieces. Often you can't really tell what's in a cookie from the way it looks on the surface, so I like to top cookies with a few chocolate chips or whatever to give a clue. But in my excitement, I added the entire bag to the dough. Oops. I went ahead and topped them with a few chocolate chips, and then I thought… what about peanut butter chips? Is that cheating, since they're not actually in the cookie? And then I though "I don't really care. I'm topping them with peanut butter chips." They're cookies, not rocket science! This way people have a visual clue that these cookies are full of chocolate chips and something peanut-buttery. I needn't have worried though. As you can see, it's pretty apparent that these cookies are loaded with Reese's Pieces.
Usually when I think of this combination of flavours in a cookie, I think of a peanut butter cookie loaded with chocolate chips. And those cookies definitely lean towards the peanut butter side of the flavour spectrum. This one leans the other way. Both flavours are there, but it's undeniably a chocolate cookie first, with bursts of peanut butter flavour inside.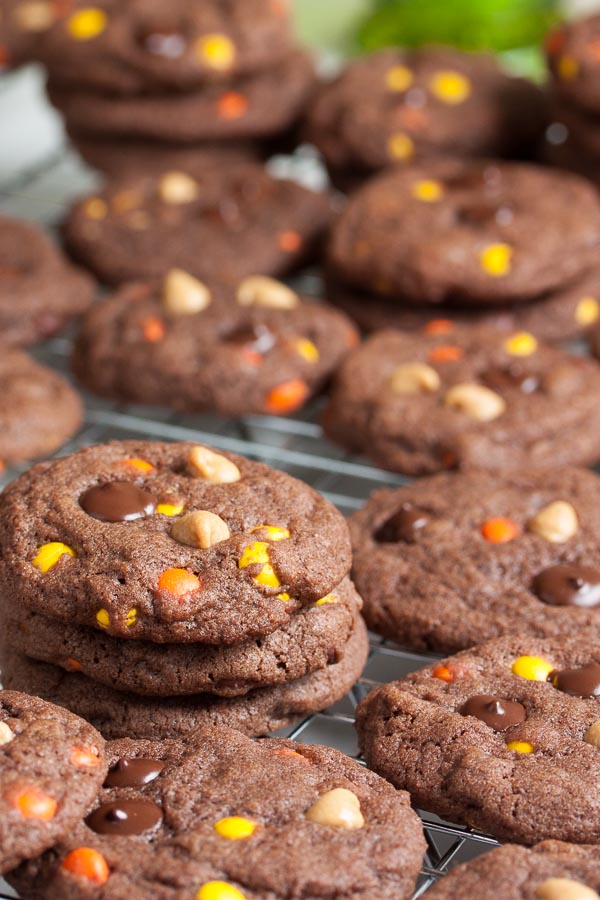 double chocolate reese's pieces cookies
Adapted from "Dark Chocolate Base Dough" from Milk & Cookies by Tina Casaceli. The recipe says it will only make 2 dozen cookies, but this estimate is way off – I got 68 using my usual slightly larger than tablespoon-sized cookie scoop.
ingredients
2-1/4 cups (281g) all-purpose flour
1/4 cup (30g) Dutch process cocoa powder
1 teaspoon baking soda
1/2 teaspoon salt
1 cup (227g) unsalted butter, at room temperature
3/4 cup (150g) granulated sugar
3/4 cup (165g) light brown sugar
2 large eggs
1 tablespoon pure vanilla extract
1-1/2 cups (262g) semisweet chocolate chips
1-1/2 cups (283g) mini reese's pieces (full bag)
Preheat oven to 350°F (177°C).
In a medium bowl, whisk together the flour, cocoa powder, baking soda, and salt. Set aside.
In the bowl of a stand mixer fitted with the paddle attachment, beat the butter and sugars together on medium speed until light and fluffy, about 3 or 4 minutes. Scrape down the sides of the bowl and add the eggs, one at a time, beating well after each. Add the vanilla and beat again to incorporate.
Turn the mixer down to low and add the dry ingredients, mixing until just barely combined. Remove from the mixer and add in the chocolate chips and Reese's Pieces, either with a spatula or by hand. I prefer to knead inclusions in by hand to ensure they're distributed evenly.
Using a small cookie dough scoop or by forming the dough into small balls, portion the dough onto the baking sheets about 2 inches apart to allow for spreading. Press each down slightly with the palm of your hand. Top with additional chocolate chips (optional).
Bake for about 13-15 minutes, rotating the baking sheet halfway through the baking time. Allow to cool on a wire rack for a few minutes before removing the cookies from the pan and allowing them to cool completely.