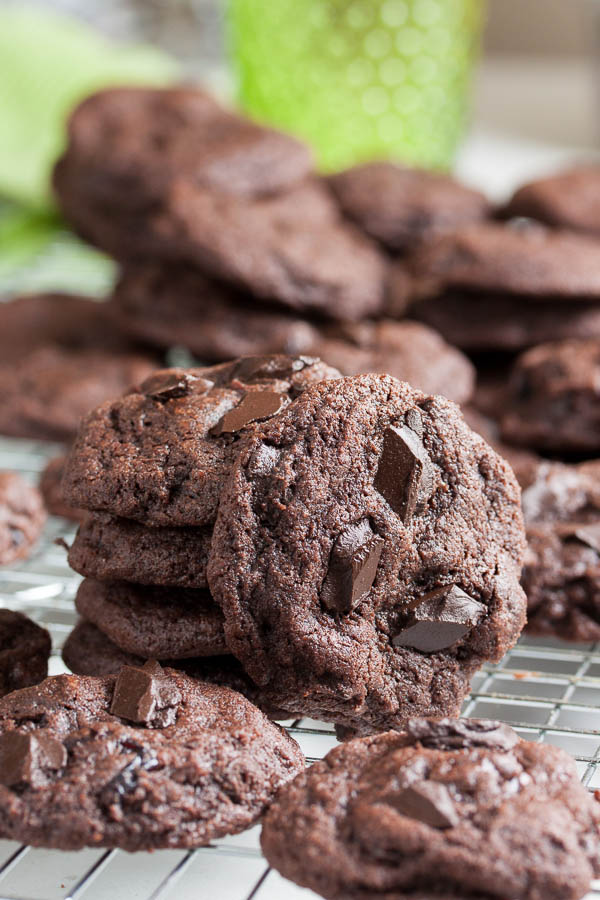 I knew exactly what cookie I wanted to make this week. I bought all the ingredients and everything. And then I couldn't remember which cookbook I saw it in! Seriously you guys, I flipped through all my cookbooks and I'm starting to think I imagined this cookie. I was sure I knew which book it was in. Ack. Oh well (this is really going to bug me). So while I was looking for the one I wanted to make but couldn't find, I found another one that sounded really good. Okay, let's be honest – I found lots that sounded good. But there was one that I really wanted today. A rich chocolate cookie with dried cranberries. I've made similar cookies in the past, not too long ago in fact, but I'm always game to try a new take on it.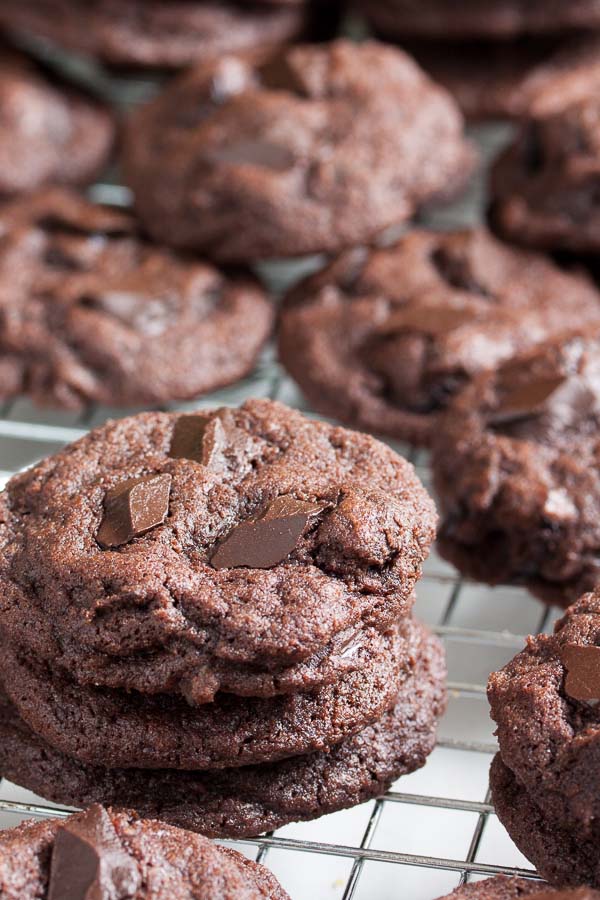 And speaking of trying something new, I think I may have found a new go-to chocolate cookie. Wow, you guys, this is a good cookie. So chocolate-y and moist. I made a few tweaks to the original recipe. For one thing, it called for pastry flour, but I never have pastry flour on-hand. Does anyone else? So I just used all-purpose. And they turned out amazing. I always sample cookies as they come out of the oven, and this one had me sampling more and more. And every person who tried one from the cookie jar had pretty much the same reaction: "OMG this is amazing!" People were literally stopping in their tracks to comment.
As mentioned, I made some triple chocolate cranberry cookies a few months ago. And while they were delicious, surprisingly this double chocolate cookie blows that one away. So much more chocolate-y. This one is getting a favourite tag.
This is one of those cookies that are at their best fresh from the oven, while still warm and melty. As evidenced by the reactions of my coworkers, it was still fantastic the next day, and the next, and the next.
Sidenote – you may have noticed there wasn't a cookie last week. There was a good reason for that. It's Girl Guide Cookie season up here in Vancouver. I knew I couldn't compete with that. 😉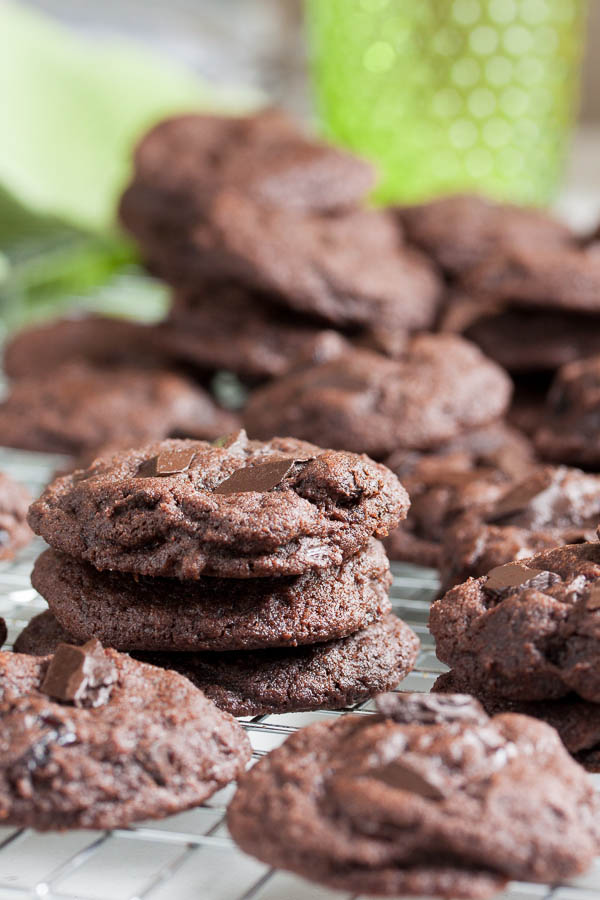 double chocolate cranberry cookies
Adapted from Better Homes & Gardens The Ultimate Cookie Book. The original recipe says you'll get about 42 cookies. I doubled it and got 64 cookies using my usual slightly larger than tablespoon-sized scoop.
ingredients
2 cups (250g) all-purpose flour
1/2 cup (60g) unsweetened Dutch process cocoa powder, sifted
1 teaspoon baking powder
1/2 teaspoon baking soda
1 cup (227g) butter, at room temperature
1 cup (220g) packed dark brown sugar
1/2 cup (100g) granulated sugar
2 large eggs
1/2 teaspoon pure vanilla extract
2 cups (350g) dark chocolate chips or chunks
1-1/2 cups (180g) dried cranberries
Preheat oven to 350°F (177°C).
In a medium bowl, whisk together the flour, cocoa powder, baking powder, and baking soda. Set aside.
In the bowl of a stand mixer fitted with the paddle attachment, beat the butter and sugars together on medium speed until light and fluffy, about 3 or 4 minutes. Scrape down the sides of the bowl and add the eggs, one at a time, beating well after each. Add the vanilla and beat to incorporate.
Turn the mixer down to low and add the dry ingredients, mixing until just barely combined. Remove from the mixer and add in the chocolate and cranberries, either with a spatula or by hand. I prefer to knead inclusions in by hand to ensure they're distributed evenly.
Using a small cookie dough scoop or a tablespoon, portion the dough onto the baking sheets about 2 inches apart to allow for spreading. Press them down slightly with the palm of your hand. If you like, you can add some extra chocolate chunks to the top.
Bake for about 8-10 minutes, until the edges appear set, rotating the baking sheet halfway through the baking time. Allow to cool on a wire rack for a few minutes before removing the cookies from the pan and allowing them to cool completely. If they still feel too soft to move, let them rest a little longer before attempting it.