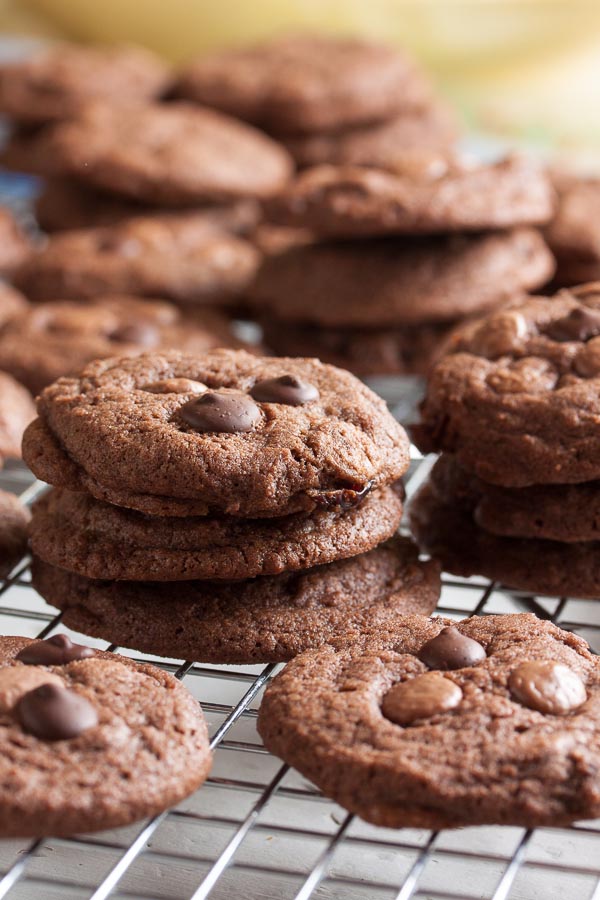 I suddenly realized it's been awhile since I've made a chocolate cookie. And I just happened to be totally craving something chocolate-y, and as good as they are, a plain chocolate chip cookie wouldn't do the trick. Oh there are chocolate chips here, sure, but this cookie has so much more. We're starting with a perfectly good chocolate cookie, and then we're adding both dark chocolate chips and milk chocolate chips. Yes, triple chocolate. And then I decided to spoil myself and add cranberries too. Because I love the combination of rich dark chocolate and tart cranberry. And I wanted to treat myself this weekend. Why? Why not.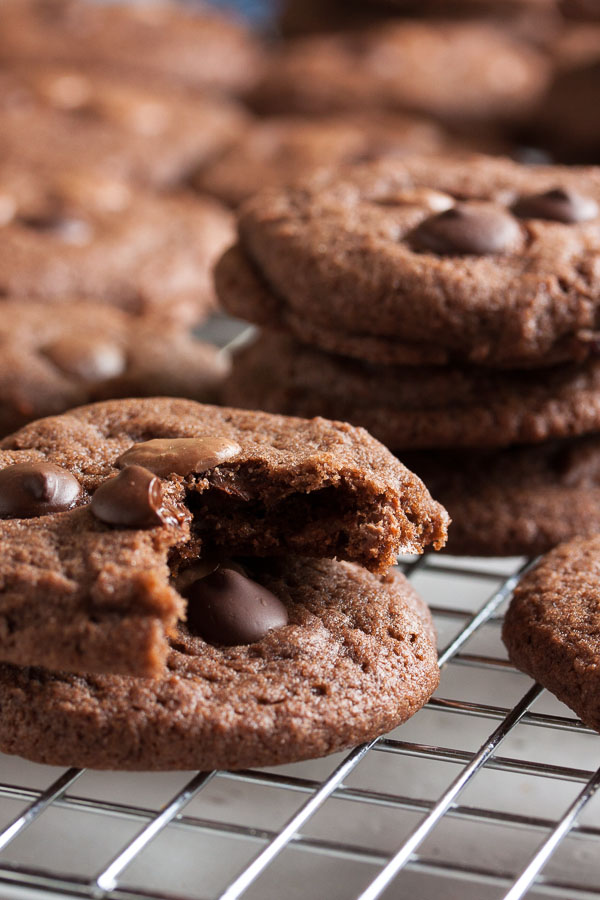 I'm revisiting a chocolate cookie I've made several times in the past with different combinations of inclusions, always with good results – like this mocha latte combination, or these double chocolate peanut butter swirl cookies (yum!). The original recipe has a lot of options to try, but this time I didn't see a variation that really called to me, so I decided to just wing it. I pretty much knew what I wanted. Chocolate, chocolate, and more chocolate. And I knew this base cookie would be a good place to start.
A quarter cup of cocoa powder doesn't seem like a lot, but it gives this cookie a rich, deep chocolate flavour. Top that up with two different kinds of chocolate chips, plus some tart dried cranberries, and you've got yourself an amazing cookie. I tried one fresh from the oven. And then another. And another… This is definitely one of those cookies that's best when they're still warm and gooey. I'm absolutely favouriting this recipe and will be making it again. All for me.
You should never be afraid to play around with the inclusions in a recipe. It won't always work out, but how else will you find your favourite combinations? Don't like dried cranberries? Try dried cherries instead! Or how about candied ginger? Or candied orange peel? Don't like dried fruit at all? Meh, skip them altogether. You won't get that lovely tart flavour, but it will still be a good cookie. Maybe a combination of toffee chips and chocolate will be more to your liking. Just don't play around with the dough ingredients unless you really know what you're doing. Changing just one thing, like the type of cocoa powder used, can mess up the whole recipe. Baking recipes are finely balanced formulas – each of the ingredients react with the others in certain ways. The add-ins, however, you're generally free to play with.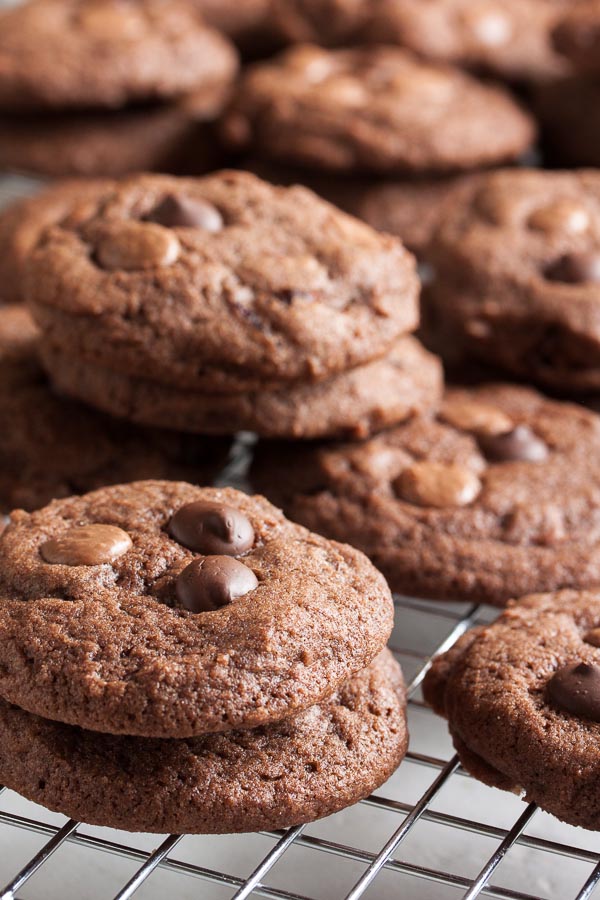 triple chocolate cranberry cookies
Adapted from the "Dark Chocolate Base Dough" recipe from Milk & Cookies by Tina Casaceli. The recipe says it will only make 2 dozen cookies, but this estimate is way off – I got 65 using my usual slightly larger than tablespoon-sized cookie scoop.
ingredients
2-1/4 cups (281g) all-purpose flour
1/4 cup (30g) Dutch process cocoa powder
1 teaspoon baking soda
1/2 teaspoon salt
1 cup (227g) unsalted butter, at room temperature
3/4 cup (150g) granulated sugar
3/4 cup (165g) light brown sugar
2 large eggs
1 tablespoon pure vanilla extract
1 cup (175g) milk chocolate chips
1 cup (175g) semisweet chocolate chips
1 cup (120g) dried cranberries
Preheat oven to 350°F (177°C).
In a medium bowl, whisk together the flour, cocoa powder, baking soda, and salt. Set aside.
In the bowl of a stand mixer fitted with the paddle attachment, beat the butter and sugars together on medium speed until light and fluffy, about 3 or 4 minutes. Scrape down the sides of the bowl and add the eggs, one at a time, beating well after each. Add the vanilla and beat again to incorporate.
Turn the mixer down to low and add the dry ingredients, mixing until just barely combined. Remove from the mixer and add in the chocolate chips and cranberries, either with a spatula or by hand. I prefer to knead inclusions in by hand to ensure they're distributed evenly.
Using a small cookie dough scoop or by forming the dough into small balls, portion the dough onto the baking sheets about 2 inches apart to allow for spreading. Press each down slightly with the palm of your hand.
Bake for about 13-15 minutes, rotating the baking sheet halfway through the baking time. Allow to cool on a wire rack for a few minutes before removing the cookies from the pan and allowing them to cool completely.