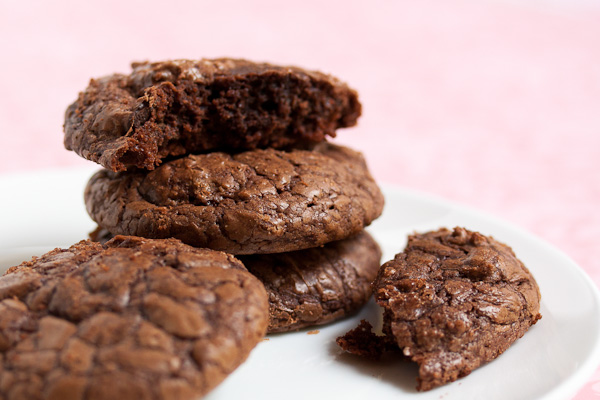 I know this blog is supposed to be about trying new cookie recipes, but there are a few old favourites that really need to be shared. The lemon pistachio biscotti was one. And this is another. When I posted the grammy's chocolate cookies recipe a few weeks ago, I said that while they were a good cookie (and they are!), I prefer a more intense chocolate cookie. This? This is that cookie.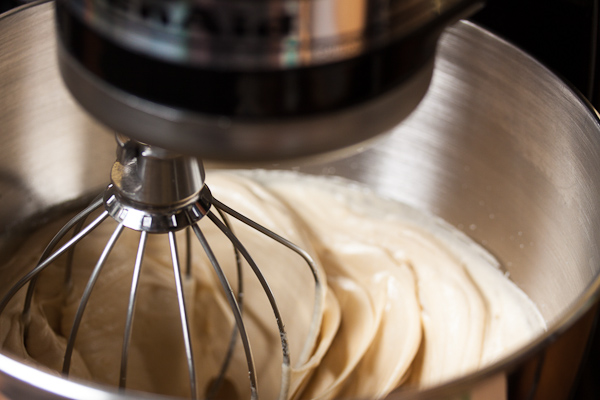 Although really, this is more like a brownie than a cookie. Even the ingredients and mixing instructions are more brownie than cookie – the butter is melted with the chocolate before combining with the eggs, sugar, and a tiny measure of flour. Once mixed, the batter is really thin and must be refrigerated for several hours before it can be scooped for baking.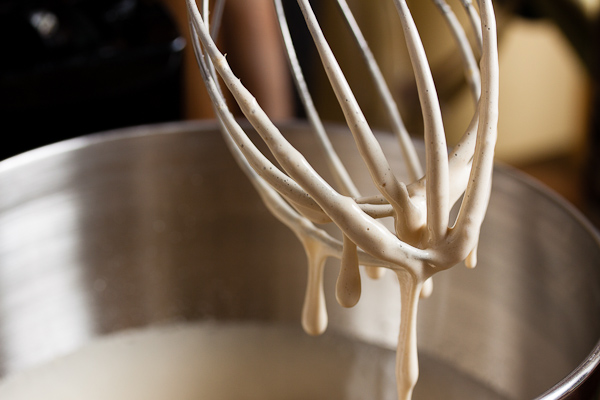 And chocolate? This recipe calls for a full pound of chocolate. Yikes! Be sure you choose a really good one, since that's where all the flavour will be coming from. I used Cacao Barry for the bittersweet and Valrhona for the unsweetened, and they taste amazing. They're dense and chewy and oozing with chocolate.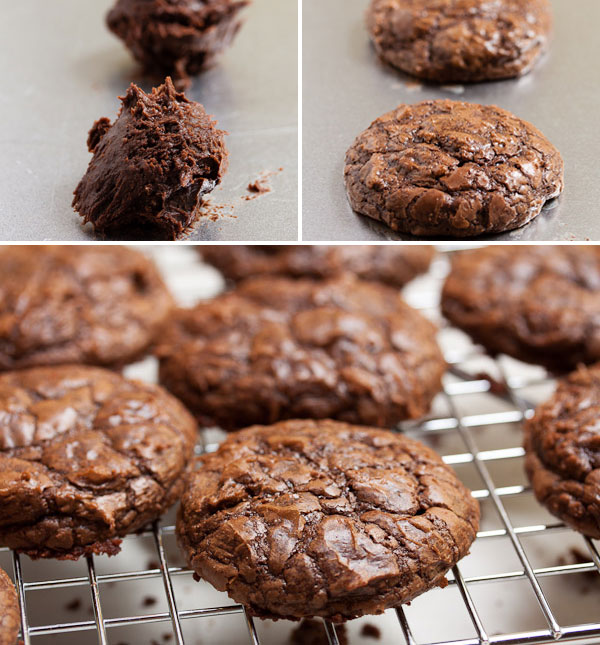 This recipe comes from what I'm pretty sure is the first dedicated baking cookbook I ever bought, Baking with Julia. I bought this book because of Julia Child, but years later I realized that this was my introduction to Dorie Greenspan's awesomeness (you'll see 3 of her books on rotation in the sidebar – go check her out!). It's loaded with wonderful recipes, thoughtful hints, and clear, concise instructions. She's such a great writer.
Confession time – I used a coffee extract instead of the called-for instant coffee. I thought I had a jar of instant coffee on my shelf, but apparently not. By the time I realized, I already had the chocolate melting on the stove. I had no idea how much to sub and I didn't want to add too much additional moisture, so I took a stab and used 2 teaspoons, and it ended up tasting pretty much how I remember it should.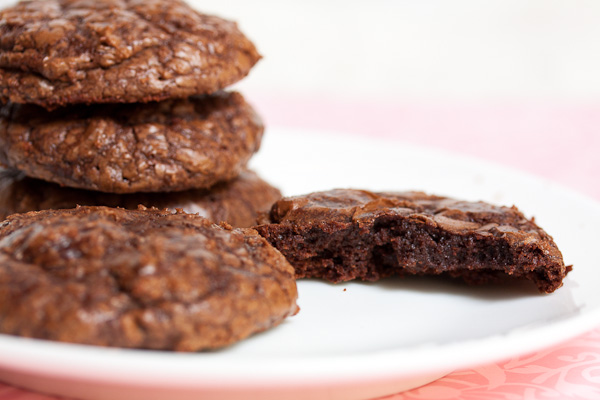 Adapted from Baking with Julia by Dorie Greenspan, recipe contributed by Rick Katz. The recipe says it makes 2 dozen large cookies, but once again I made them small and ended up with just shy of 5 dozen.
ingredients
1/2 cup all-purpose flour
1/2 teaspoon baking powder
1/2 teaspoon salt
12 ounces bittersweet chocolate, cut into larger-than-chip-size chunks
1/2 cup unsalted butter
4 ounces unsweetened chocolate, coarsely chopped
4 large eggs, at room temperature
1-1/2 cups sugar
1-1/2 tablespoons instant coffee powder
2 teaspoons pure vanilla extract
In a small bowl, whisk together the flour, baking powder and salt. Set aside. Also set aside half of the bittersweet chocolate to add to the batter at the end.
In the top of a double-boiler, or in a heat-proof bowl set over a pot of simmering water, gently melt together the remaining 6 ounces of the bittersweet chocolate, the unsweetened chocolate, and the butter.
In the bowl of a stand mixer fitted with the whisk attachment, beat the eggs, sugar, coffee and vanilla extract on high speed for about 10 minutes. The resulting mixture will be thick and will form a thick ribbon when the whisk is lifted and allowed to drizzle back into the bowl.
Turn the mixer down to low and slowly add the melted chocolate, scraping the bowl well with a spatula to get it all. Then add the flour, and continue to mix only until just combined. Remove the bowl from the mixer and stir the remaining bittersweet chocolate in by hand with the spatula. Cover the bowl with plastic wrap and refrigerate for several hours, or overnight. According to the recipe, the batter can be made as much as 4 days in advance of baking.
When ready to bake, preheat the oven to 350°F. Scoop the dough out onto the cookie sheet by tablespoonsful (I used a small scoop), allowing at least 2" space between for spreading. Expect the dough to be really sticky.
Bake for 10-12 minutes, rotating the pan halfway through. When baked, these cookies will puff up, and then collapse and form a shiny, flaky top as they cool, much like a brownie. If you're in doubt about whether they're done or not, it's better to err on the side of underbaking. Allow to cool on a wire rack for a few minutes before removing from the cookie sheet and allowing to cool completely.