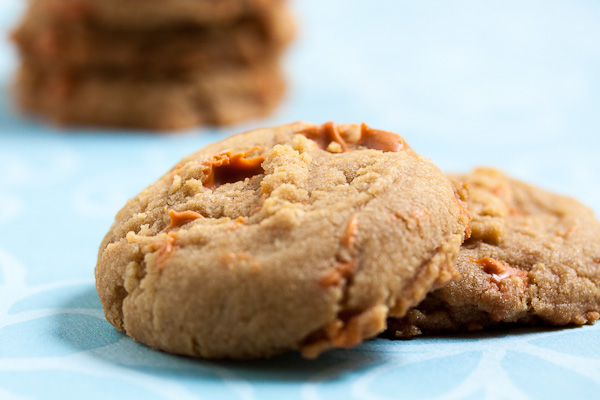 It's turned cloudy and rainy here in Vancouver, and I'm feeling a bit lazy, so this week I looked for a cookie that didn't require any special ingredients or techniques. I had no shortage of options to choose from, but I really liked the sound of this cookie. This is the first recipe I've tried from this book, Simply Sensational Cookies. Flipping through the pages, I see a lot of other recipes I'm eager to try too. It's already filled with post-it notes.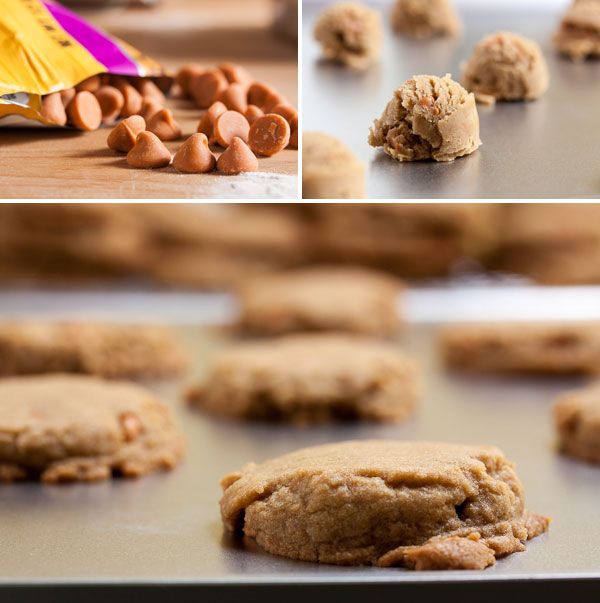 I've never made a cookie using quite this technique before – the butter is softened over heat (stove or microwave) until creamy but not melted, and then the sugar and other ingredients are stirred in. I'm not really sure why it's done this way and not simply creamed in a mixer. There are recipes in this book using both techniques, so it's not just the author's preference. Next time I make these, I'm going to try making them in the mixer and see if there's any difference in outcome.
I had the same issue with these cookies as I did with the snickerdoodles I made awhile ago – they didn't flatten out the way they were supposed to, but instead puffed up and stayed dome-shaped. I don't blame the recipe at all. My oven is typically about 100°F off what the dial says (ah, the joys of a rental with ancient appliances). I don't rely on the dial at all, but use a stand-alone oven thermometer. Maybe it's time to invest in a new one. Or maybe I should have just left them puffed up.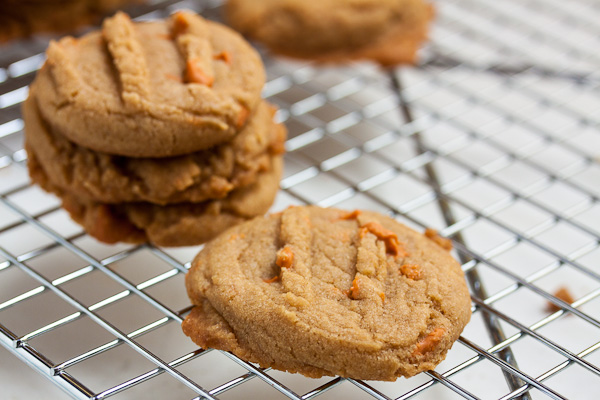 This? Is a nice cookie. The butterscotch flavour is strong, but the brown sugar doesn't get overpowered. It's soft and chewy with a slightly sandy texture. The butterscotch makes them a bit sweeter than I prefer in a cookie, but that didn't stop me from eating three of them before they'd even cooled. I think they'd probably be really good with some toasted pecans or walnuts added. I have a feeling I'll be revisiting this recipe and playing around with additions (I'm already getting repeat requests from my coworkers). The brown sugar dough is a really nice base cookie to work from.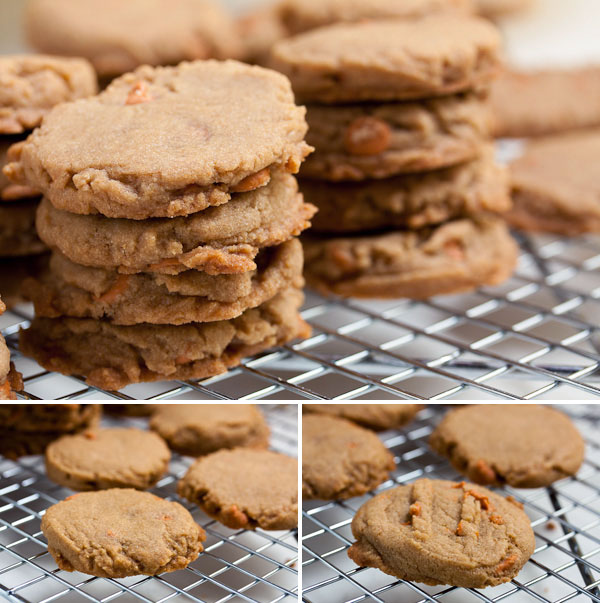 My only complaint? This is not a pretty cookie. Just look at that thing – the combination of butterscotch-chip-orange and the brown-sugar-cookie… Yeah, no. I'm not blaming the recipe though. The Guittard chips I used start out an okay colour, but are almost fluorescent orange when they're baked. I have some butterscotch Chipits too, which are a much paler colour. I'll have to try them another time and see how they compare. Straight out of the bag, I like the flavour of the Guittard better though. Oh well. Live and learn. Also, the way the cookies were shaped when I pressed them down isn't very attractive. The first tray I baked, I pressed them down with my spatula after they'd puffed up and they have an interesting ridged pattern on them. I'm sure if they'd spread the way they should have, they'd be a proper cookie-shape. Nobody else seems to care what they look like though. All I'm hearing are yummy noises.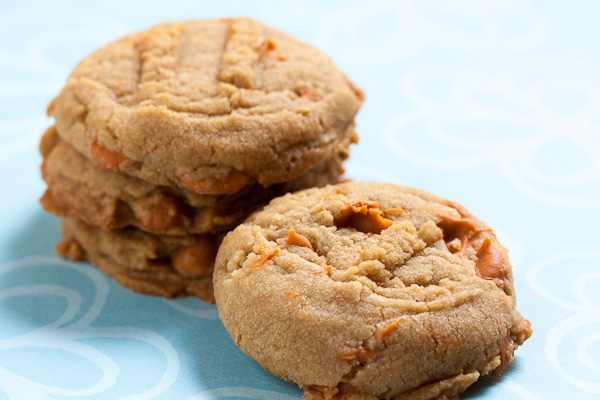 brown sugar butterscotch cookies
Adapted from "One-Bowl Brown Sugar Drops" from Simply Sensational Cookies by Nancy Baggett. The recipe says you'll get about 30 cookies using a 1-1/2" scoop, but I got 40 cookies.
ingredients
14 tablespoons cold unsalted butter, cut into chunks (2 tablespoons shy of 1 cup)
1 cup packed dark brown sugar
1 large egg, at room temperature
2-1/2 teaspoons pure vanilla extract
1/2 teaspoon salt
1/4 teaspoon baking soda
2 cups unbleached all-purpose flour
1 cup butterscotch or peanut butter chips, or a combination
Preheat your oven to 350°F.
In a microwave safe bowl, or in a medium saucepan over medium heat, gently soften the butter, stirring until smooth and creamy, not melted or runny. Add the sugar and beat vigorously. Press out any lumps with the back of your spoon or spatula.
Add in the egg, vanilla, salt and baking soda and mix well. Add in the flour and mix until just combined (I ended up working the flour in with my hands).
Using a 1-1/2" scoop or a tablespoon, scoop the dough out onto your baking sheet, leaving about 2" between for spreading. As I said above, mine didn't spread, so I ended up pressing them down first – maybe I should have just let them puff up the way they wanted to. I'd love to hear if anyone else had this issue. Also, this dough is a great consistency for rolling into balls. I may try that next time instead of scooping.
Bake for 8-12 minutes, rotating the pan halfway. The tops of the cookies should be almost firm to the touch.
Allow to cool for a couple minutes on a wire rack before removing from the cookie sheet, and then allow to cool fully on the rack.