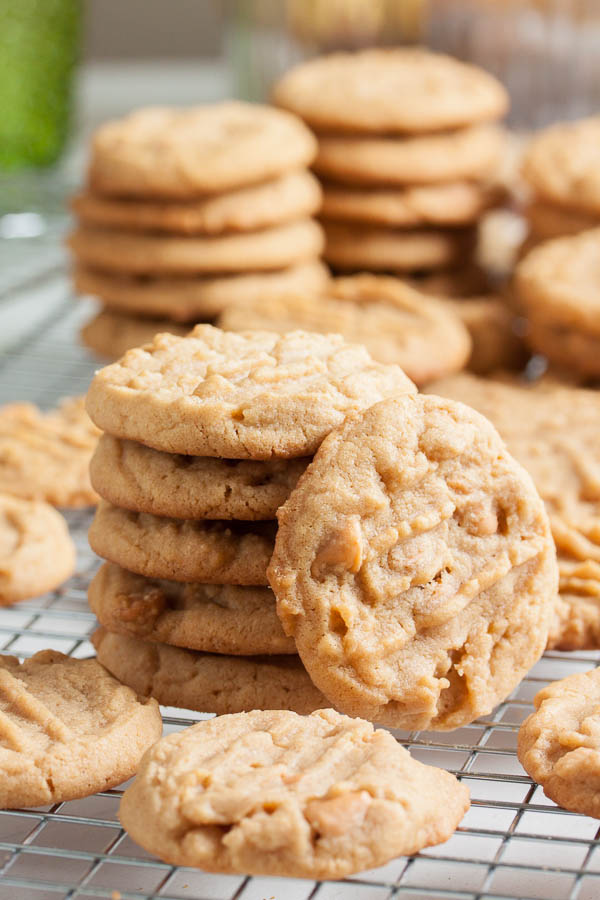 I've got a rule here for this blog – I never make the same recipe twice. Sometimes to my coworkers' displeasure. There have been several times over the past few years that cookies have been specifically requested, and I've had to say "nope." The only exception is when I'm making alterations to a recipe – adding different flavours or inclusions, like I do with these chocolate cookies that have appeared again and again, but never the same way twice. I've never made the exact same recipe twice since I've started this blog. Until today. A few years ago I made what I thought were some pretty amazing cookies – peanut butter with both melted butterscotch chips and whole butterscotch chips mixed in. They were a unique flavour, and had a tender almost creamy texture. So why have people left comments complaining the cookies came out too crumbly? One person went so far as to say it was a bad recipe.
So yes, we're revisiting this recipe to figure out what's going on.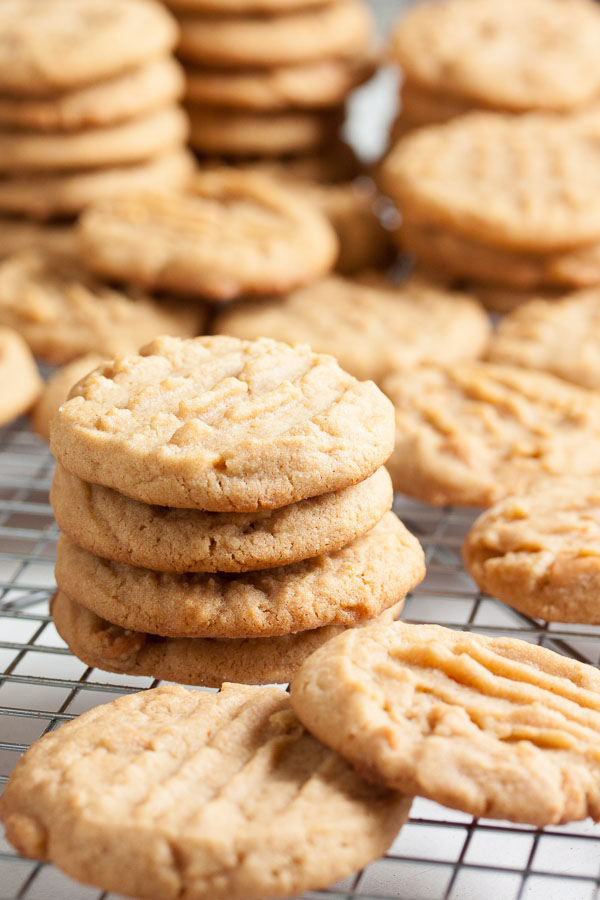 I'll admit, the cookies didn't turn out quite the same this time around. Last time, the butterscotch chips and butter took a few turns in the microwave before they were melted, and the chips never did melt completely. This time, they were completely melted after the first minute of heat. Perfectly smooth. So when I added the second batch of butter, there wasn't enough residual heat to melt it and I had to give it another burst or two in the microwave to finish melting.
From there on out, however, I had no problems. The brown sugar blended in with no problems (it was lump-free this time), and by the time I had all the flour added, I had a beautiful, creamy dough. Way too soft to scoop, as was expected. But when it came out of the fridge, it was perfect.
And then they scooped and baked with no problem too. So what went wrong for the other people? The only thing I noticed is that if I tried to remove the cookies from the baking sheets before they'd fully cooled, yes, they would break apart. But if I left them alone until they were cool, they were just fine. In fact, even after being packed in tupperware and toted in my backpack all the way from my apartment to the office, there was only a single broken cookie. They had that same tender/creamy texture that I remember from last time. And I've gone ahead and put a favourite tag on these (I don't know why I didn't do that last time). I really like this cookie.
I asked all my coworkers to give me detailed feedback on this one. It was overwhelmingly positive. Estelle gave it an A+ rating. Sara says she doesn't usually like peanut butter cookies, but she really likes the addition of butterscotch in this one. People were coming back to the cookie jar again and again. After awhile I stopped making note of the specific comments, because they were all good.
Has anyone else tried this recipe with success? Failure? I'd really like to know why they didn't work out for those other three people. 🙁 Could it be the difference between Canadian and American ingredients? The original recipe is from an American author, so that shouldn't be it. And I used American brand peanut butter (Skippy) and butterscotch chips (Chipits). I'm at a loss. I'm still willing to say this is a good cookie.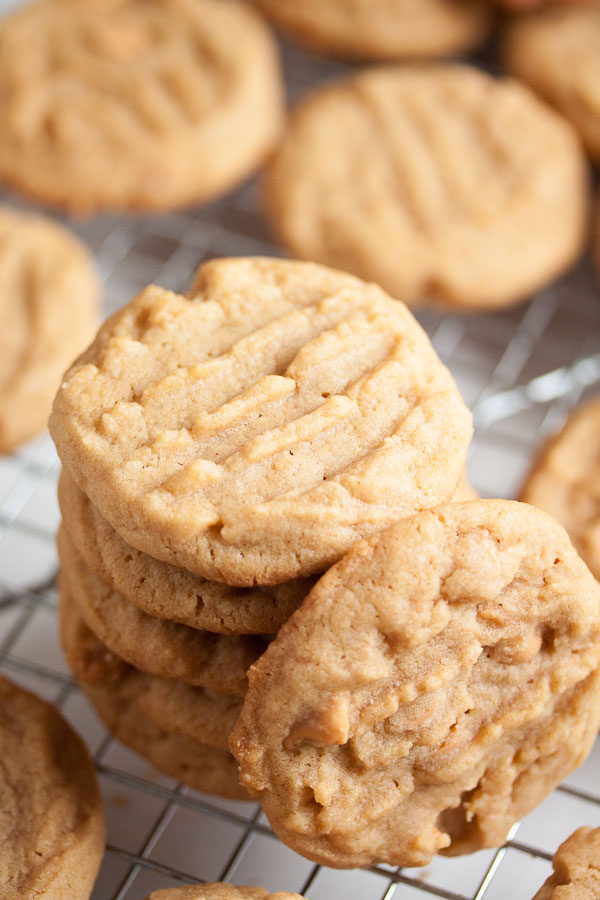 peanut butter butterscotch chip cookies
Adapted from "Peanut Butterscotchies" from Simply Sensational Cookies by Nancy Baggett. The recipe states it makes about 50 cookies using a 1-1/2" scoop, but I got 72.
ingredients
1-1/2 to 2 cups (262-350g) butterscotch chips
1 cup (227g) unsalted butter, cut into chunks
1-1/2 cups (375g) peanut butter, crunchy or smooth, but not natural
1 cup (220g) packed light brown sugar
1 teaspoon baking soda
2 large eggs, at room temperature
2-1/3 cups (292g) unbleached all-purpose flour
In a large microwave-safe bowl, heat 2/3 cup (116g) butterscotch chips and 1/2 cup (113g) butter for about a minute. Stir well, and then continue to heat on 50% power, stirring after every 20 seconds or so, until mostly melted. Remove from the microwave and stir well, squishing the remaining butter and butterscotch chips against the side of the bowl until it's all melted and smooth (the butterscotch chips may never be fully melted, so don't worry if there are a few bits left).
Add the remaining 1/2 cup (113g) of butter and continue to stir until this has melted too (there should be enough residual heat in the bowl to do this).
Add in the brown sugar, peanut butter, and baking soda, followed by the eggs, stirring until smooth.
Add the flour and the remaining butterscotch chips, stirring just until the flour is incorporated.
Cover the bowl and refrigerate about 45 minutes, until the dough is firm enough to scoop.
When ready to bake, preheat oven to 350°F.
Using a small cookie dough scoop or a tablespoon, portion the dough onto the baking sheets about 2 inches apart to allow for spreading. Using a fork, press each mound of cookie dough down slightly. If you like, you can press twice, rotating the fork to form a criss-cross pattern.
Bake for about 9-13 minutes, until lightly golden brown around the edges, rotating the baking sheet halfway through the baking time. These cookies tend to be crumbly before there fully cooled, so be sure to allow them to cool completely on a wire rack before removing the cookies from the pan.