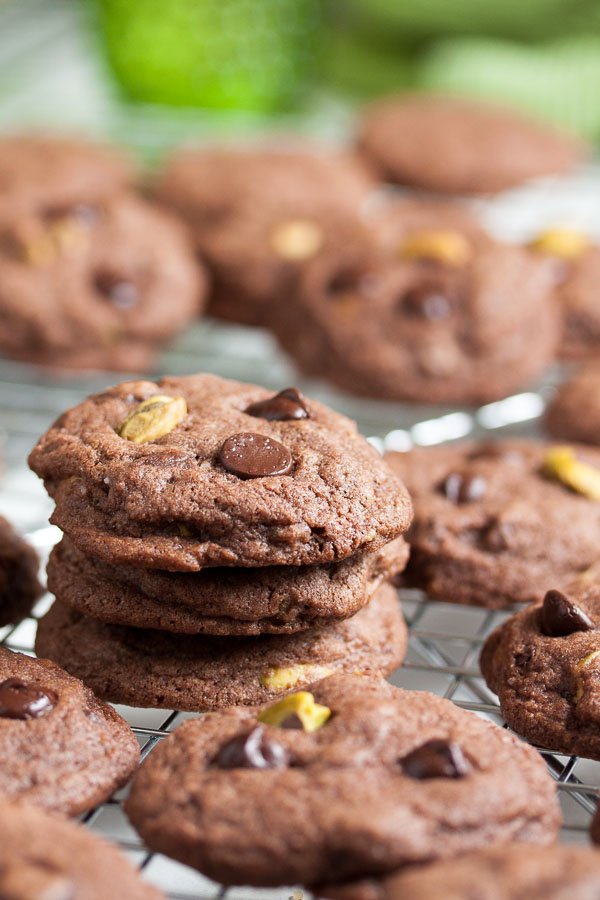 So you know that candied orange peel I made a couple weeks ago? This is the cookie that I needed it for. I've had my eye on this recipe for awhile, but I've never had quite all the ingredients at the same time. I bought a supply of pistachios a while ago with this cookie in mind, but every time I thought to make it, I'd realize I'd forgotten about the candied peel component. This time, however, I made sure I had everything I needed, including some oranges to make that candied peel. And I remembered to actually make the candied peel the day before, too.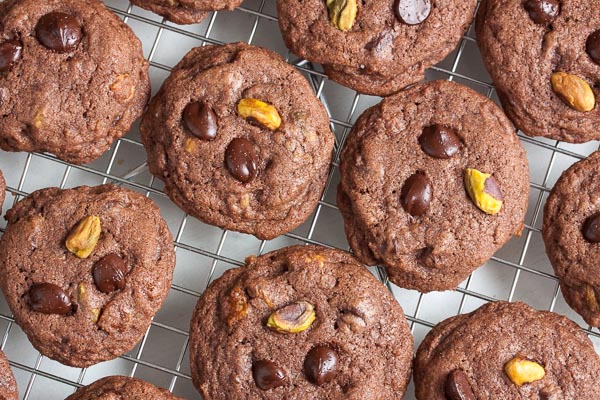 You may have noticed that I haven't posted for a couple weeks. I've been having some intermittent issues with my internet, usually on the weekends when I'm guessing everyone is trying to use the internet at the same time. I thought about calling my ISP a few times, but the first few times it happened there were a lot of outages due to the weather we'd been having. The next few times I figured were lingering issues. And then I was just lazy. I was about to call today, and then I thought "ugh, they're just going to tell me to reset my modem." So I figured maybe I should be proactive and do that first. Well. Apparently that's all I needed.
So embarrassed. I should know better. Oh well. Back to cookies…
This cookie uses the same base chocolate recipe that I've used for several other cookies – like these triple chocolate cranberry cookies and these double chocolate peanut butter swirl cookies. It's always a good cookie with really nice chocolate flavour. That, plus lots of added chocolate chips, plus the pistachios and orange peel (and some orange liqueur!) make for a really great combination. There's something about pistachio that works really well with citrus – like in these lemon pistachio biscotti that have been a favourite of mine for years now. Huh, that reminds me – I really need to make those again soon. I could easily eat a cookie jar full of those myself.
And while I could've eaten a jar of these cookies by myself, too, I didn't have to. My coworkers took care of that, as usual.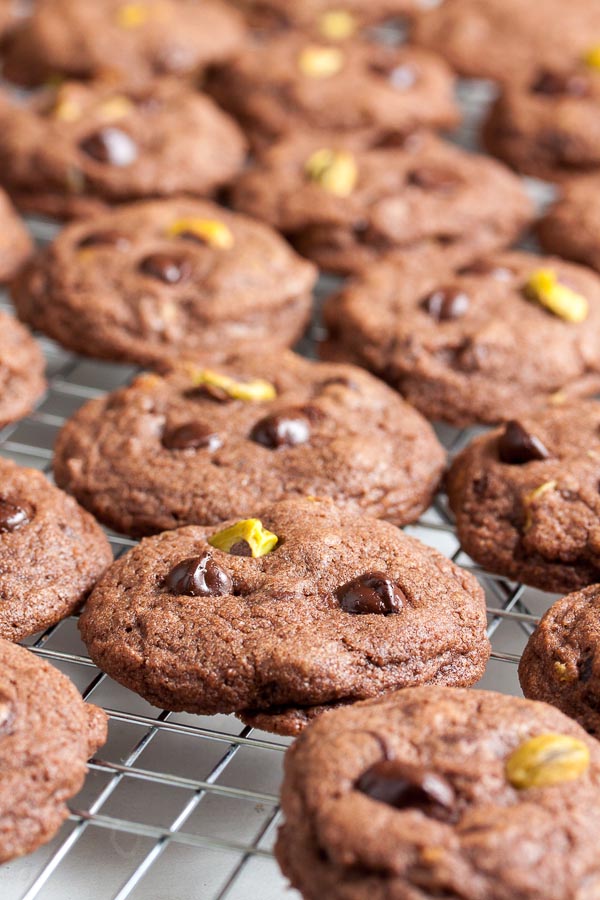 double chocolate pistachio orange cookies
Adapted from "Candied Orange and Pistachio Cookies" from Milk & Cookies by Tina Casaceli. The recipe says it will only make 2 dozen cookies, but this estimate is way off – I got 68 using my usual slightly larger than tablespoon-sized cookie scoop.
ingredients
2-1/4 cups (281g) all-purpose flour
1/4 cup (30g) Dutch process cocoa powder
1 teaspoon baking soda
1/2 teaspoon salt
1 cup (227g) unsalted butter, at room temperature
3/4 cup (150g) granulated sugar
3/4 cup (165g) light brown sugar
2 large eggs
2 tablespoon Grand Marnier (or other orange liqueur)
3 tablespoons finely chopped candied orange peel
2 cups (350g) bittersweet chocolate chips (or semisweet)
1 cup (150g) pistachios
Preheat oven to 350°F (177°C).
In a medium bowl, whisk together the flour, cocoa powder, baking soda, and salt. Set aside.
In the bowl of a stand mixer fitted with the paddle attachment, beat the butter and sugars together on medium speed until light and fluffy, about 3 or 4 minutes. Scrape down the sides of the bowl and add the eggs, one at a time, beating well after each. Add the liqueur and the candied peel, and beat again to incorporate.
Turn the mixer down to low and add the dry ingredients, mixing until just barely combined. Remove from the mixer and add in the chocolate chips and pistachios, either with a spatula or by hand. I prefer to knead inclusions in by hand to ensure they're distributed evenly.
Using a small cookie dough scoop or by forming the dough into small balls, portion the dough onto the baking sheets about 2 inches apart to allow for spreading. Press each down slightly with the palm of your hand.
Bake for about 13-15 minutes, rotating the baking sheet halfway through the baking time. Allow to cool on a wire rack for a few minutes before removing the cookies from the pan and allowing them to cool completely.