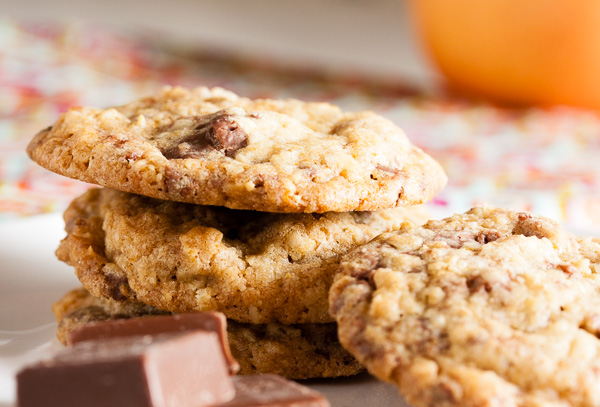 I'm revisiting a recipe from the Milk & Cookies cookbook with a variation of a cookie I made back in September. I've been really happy with all the cookies I've made from this book so far. The only issue I've had (and I've mentioned this every time) is that the actual yield is consistently waaaaaaay higher than stated in the book. This recipe, for example, is only supposed to make 2 dozen cookies. I got 100. Bit of a difference, right?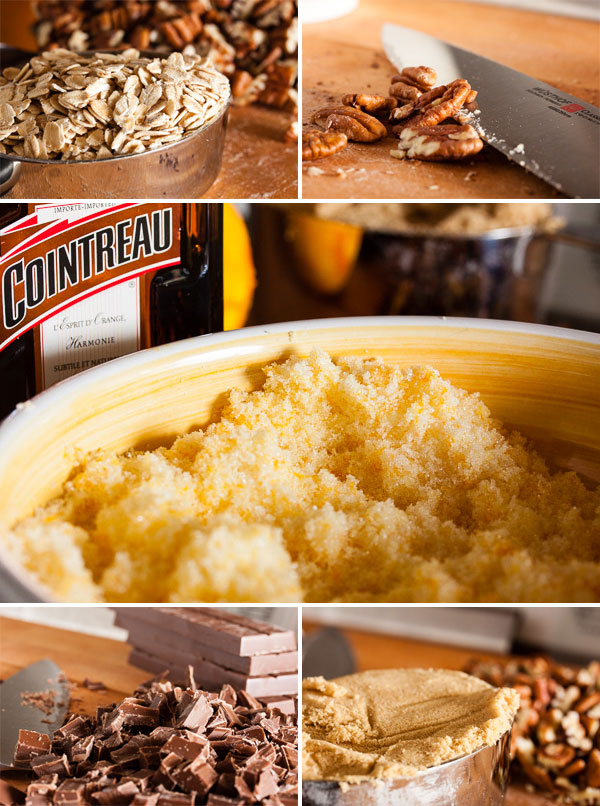 Same as the previous recipes I tried from this book, this is one of several variations on a base recipe – this time for vanilla cookies. This cookie contains more oatmeal than flour, but it's ground so you get the flavour of an oatmeal cookie but not the same texture – I find that a lot of oatmeal cookies fall apart really easily. Not these. These cookies are crispy right out of the oven, but as they cool they get softer overall and chewy.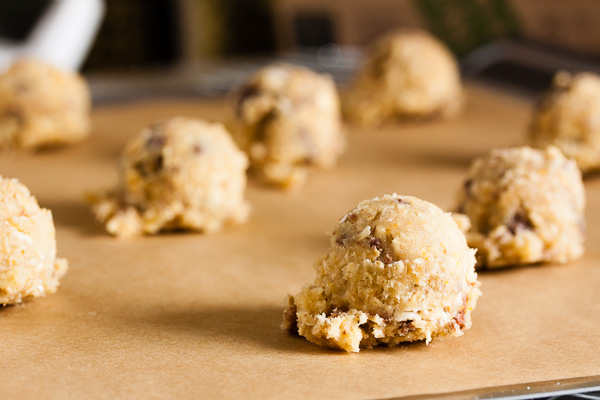 I've been wanting to try this variation for quite awhile now. I'm a big fan of the milk chocolate & orange combo. You know those Terry's Chocolate Oranges that come out at Christmas-time? Love them! Although I guess they're available year-round now… I'm pretty sure they started out as just a seasonal thing, so to me they'll always be associated with Christmas-time.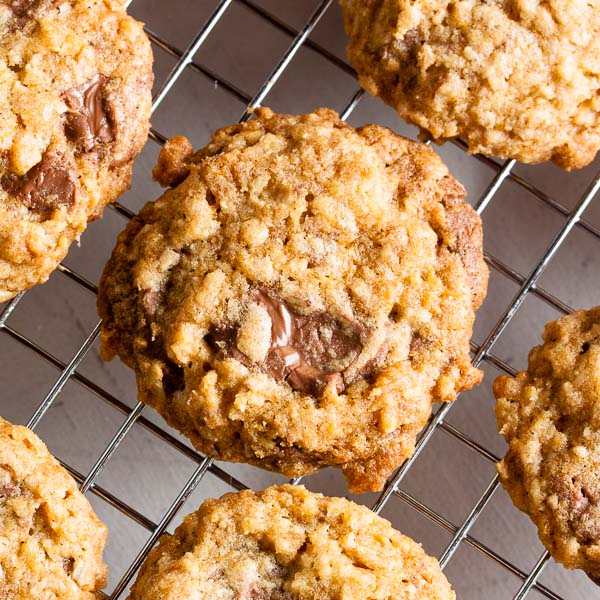 The combination of both zest and orange liqueur gives these cookies a really good orange flavour – even before they went in the oven, the aroma was amazing. People keep opening the cookie jar and just inhaling. And the pecans add butteriness and crunch. I found the milk chocolate to be a bit milder than I was expecting, but at the same time I think dark chocolate might overpower the other flavours too much. Maybe it's just the particular brand of milk chocolate I used. Perhaps a blend of milk and dark would be good – maybe 3:1? I'm going to add a post-it to this recipe to try that in the future.
If you decide to try this recipe, I'd say make it as-is first and see what you think – I'm getting a lot of compliments from my coworkers and they're going fast. I'm afraid I've eaten way more than my share too. So apparently I don't have a big problem with the milk chocolate.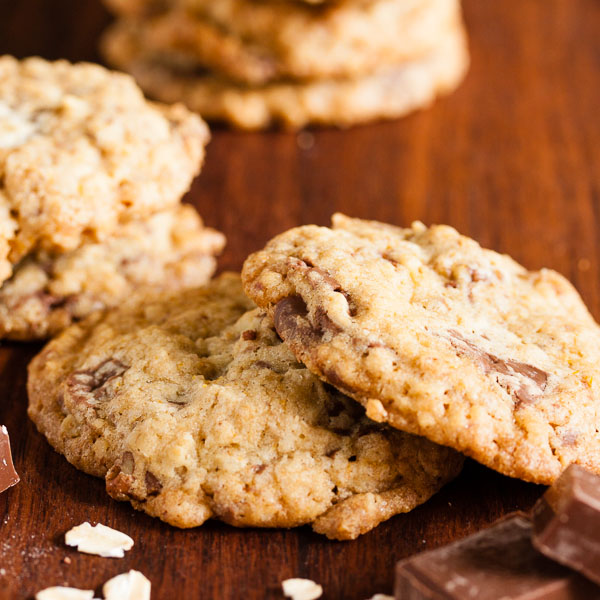 milk chocolate orange cookies
Adapted from Milk & Cookies by Tina Casaceli. The recipe states it makes about 2 dozen cookies, but there's a problem with the yields in this book – I got 100 2-3" cookies.
ingredients
2-1/2 cups old-fashioned rolled oats
2 cups all-purpose flour
1 teaspoon baking powder
1 teaspoon baking soda
1/2 teaspoon salt
1-1/2 cups unsalted butter, at room temperature
1 cup granulated sugar
1 cup packed light brown sugar
2 large eggs, at room temperature
1/2 tablespoon pure vanilla extract
2 tablespoons grated orange zest (about 2 large navel oranges)
2 tablespoons Grand Marnier orange liqueur (I substituted Cointreau)
2 cups milk chocolate chunks or chips
1 cup chopped pecans
Preheat oven to 350°F.
Put the oats in the bowl of a food processor and process until finely ground. In a medium bowl, whisk together the ground oats, flour, baking powder, baking soda, and salt. Set aside.
In the bowl of a stand mixer fitted with the paddle attachment, combine the granulated sugar and orange zest, rubbing the zest and sugar together with your fingers until the zest is distributed and the sugar is fragrant (the original recipe called for the zest to be added later, but I learned this method from Dorie Greenspan and prefer it for avoiding clumps of zest). Add the butter and brown sugar and beat on medium speed until light and fluffy, about 3 or 4 minutes. Scrape down the sides of the bowl and add the eggs, one at a time, beating well after each. Add the vanilla and orange liqueur and beat again to incorporate.
Turn the mixer down to low and add the dry ingredients, mixing until just barely combined. Remove from the mixer and add in the chocolate and pecans, either with a spatula or by hand. I prefer to knead inclusions in by hand to ensure they're distributed evenly.
The recipe didn't call for it, but at this point I thought the dough was a bit soft, so I refrigerated it briefly while I did the dishes. That's right – I have no dishwasher. Sigh.
Using a small cookie dough scoop or a tablespoon, portion the dough into small balls, about 1" to 1-1/2", and place about 2" apart to allow for spreading. Press the balls down slightly with the palm of your hand. Bake for about 15 minutes, until lightly golden brown around the edges, rotating the pan halfway through. Be careful not to overbake these – they should be chewy.
Allow to cool on a wire rack for a few minutes before removing the cookies from the pan and allowing them to cool completely.