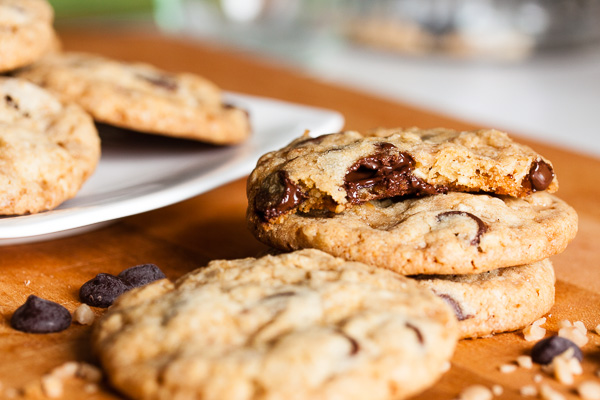 It's still pretty warm here in Vancouver (I'm determined to wear sandals every day for as long as possible), but we're starting to get a bit of rain (finally! we broke a record this summer, did you know that?), it's getting cooler in the evenings and darker earlier, and I'm starting to crave fall flavours. Last week I made some ginger cookies. This week I've gone for rich dark chocolate and buttery toffee.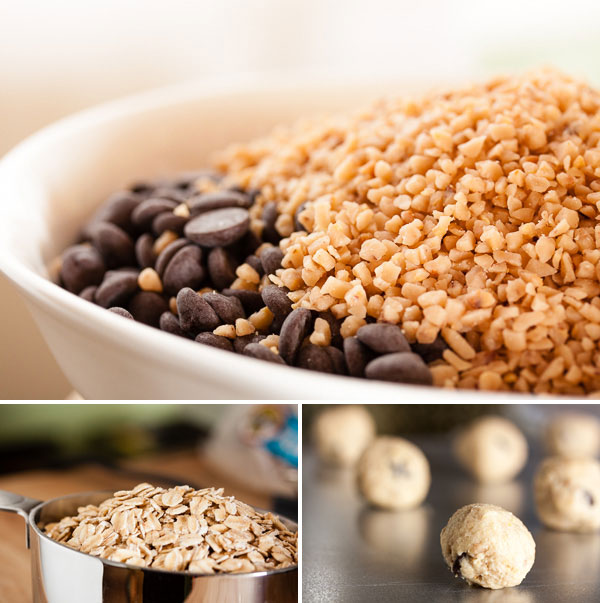 This is the second recipe I've tried from this book, Milk & Cookies, (third, really, but two were just variations on the same recipe) and they've both been great. The recipes are easy to follow, the dough is good to work with, and the final cookie is delicious. My only problem with this book? I think they messed up with the yields throughout. Almost every recipe states that it'll produce about 2 dozen cookies, both the base recipes and the variations with inclusions added.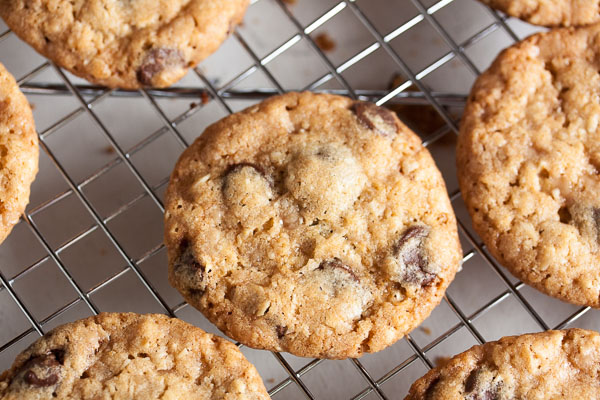 But I knew right off the bat that couldn't be right. This recipe, for example, has over 4-1/2 cups of dry ingredients plus almost 4 cups of other ingredients plus an additional 4 cups of inclusions. There's no way that would make only 24 cookies unless each cookie was humongous. We're talking about half a cup of dough per cookie. And the instruction in the recipe is to measure out about 1 tbsp per cookie.
Yeah, no way that math works out. I ended up with over 100 three-inch cookies. Same thing happened with the other cookies I made from this book too (which were also delicious).
It's not really a complaint though, because it just means more cookies. And trust me, there were none left over by the time my coworkers were through with them.
I don't usually line my baking sheets with parchment paper or anything else, but I need to remember to do that when I bake with toffee bits. The toffee melts in the oven, and once the cookies have cooled enough to safely remove from the baking sheet, the toffee will be firmly stuck. The exact same thing happened last time I baked with them, but I totally forgot about that. After I dealt with the first tray, I actually went back to all the other trays I'd already prepared and re-did them with parchment paper.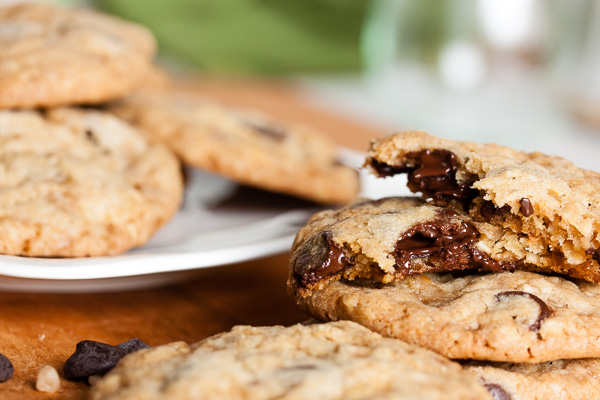 Same as the previous recipes I tried from this book, this is one of several variations on a base recipe – this time for vanilla cookies. This cookie contains a good amount of oatmeal, but it's ground so you get the flavour of an oatmeal cookie but not the same texture – I find that a lot of oatmeal cookies fall apart really easily. Not these. These cookies are crispy right out of the oven, but soft and gooey inside from both the chocolate and the toffee. As they cool, they get softer overall, and the combination of the ground oatmeal and the melted toffee makes for a very chewy texture.
These are really popular with my coworkers. But really, with oats, chocolate and toffee, what's not to love?
dark chocolate toffee cookies
Adapted from Milk & Cookies by Tina Casaceli. The recipe states it makes about 2 dozen cookies, but I got over 100 3-inch cookies.
ingredients
2-1/2 cups old-fashioned rolled oats
2 cups all-purpose flour
1 teaspoon baking powder
1 teaspoon baking soda
1/2 teaspoon salt
1-1/2 cups unsalted butter, at room temperature
1 cup granulated sugar
1 cup light brown sugar
2 large eggs, at room temperature
1/2 tablespoon pure vanilla extract
2 cups dark chocolate chunks or chips
2 cups toffee bits
Preheat oven to 350°F.
Put the oats in the bowl of a food processor and process until finely ground. In a medium bowl, whisk together the ground oats, flour, baking powder, baking soda, and salt. Set aside.
In the bowl of a stand mixer fitted with the paddle attachment, beat the butter and sugars together on medium speed until light and fluffy, about 3 or 4 minutes. Scrape down the sides of the bowl and add the eggs, one at a time, beating well after each. Add the vanilla and beat again to incorporate.
Turn the mixer down to low and add the dry ingredients, mixing until just barely combined. Remove from the mixer and add in the chocolate and toffee, either with a spatula or by hand. I prefer to knead inclusions in by hand to ensure they're distributed evenly.
Form the dough into small balls, about 1" to 1-1/2", and place about 2" apart on a baking sheet lined with parchment paper – these cookies will spread out as they bake. Press the balls down slightly with the palm of your hand. Bake for about 15 minutes, until lightly golden brown around the edges, rotating the pan halfway through.
Allow to cool on a wire rack for a few minutes before removing the cookies from the pan and allowing them to cool completely.