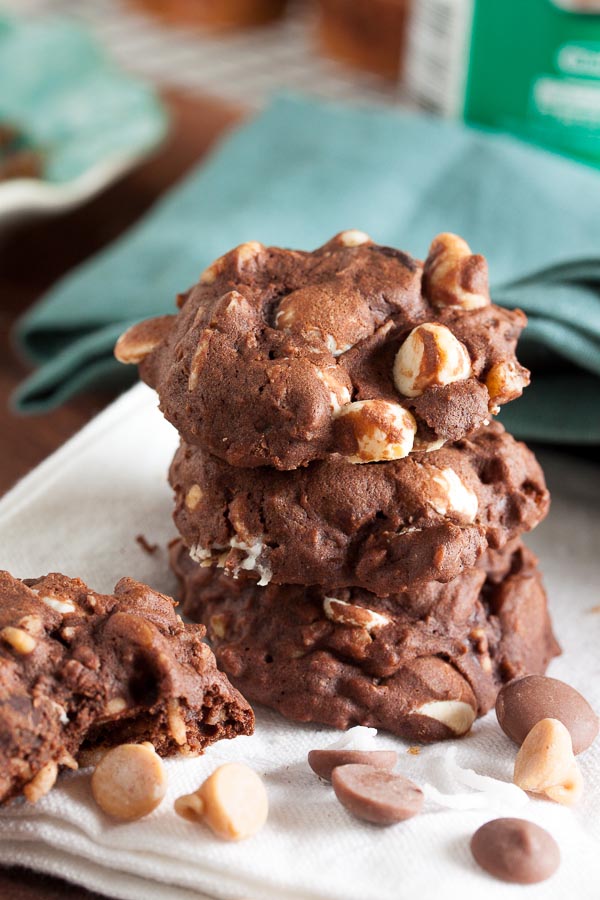 I was planning to do another cookie cutter recipe this weekend, but we're getting a ton of rain today and I wanted to just curl up on the couch and enjoy it (I love a good rainstorm). So I opted to go for a drop cookie – something quick and easy. I've had this particular cookie bookmarked for quite awhile (along with a million other recipes). The combination of flavours caught my eye, but at the same time it was a bit scary. Kitchen sink indeed – there's both melted chocolate and chocolate chips, peanut butter and peanut butter chips, and coconut and pecans and white chocolate chips too. And espresso. OMG. I had no idea whether these flavours would work together or not. It sounds crazy, right? Well I decided it was time to find out.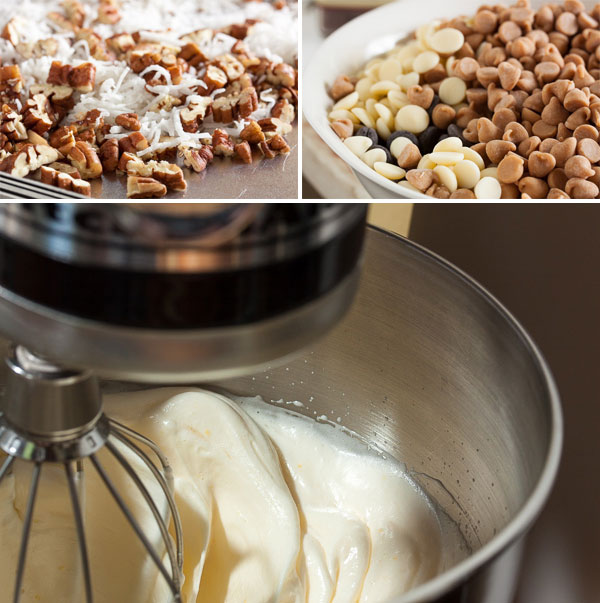 These cookies are ab-so-lutely off. the. hook. (Do the kids still say that? They should – at least about these cookies.) They're ridiculous! They're intensely chocolate-y and peanut-butter-y. There's just a hint of coffee flavour, but it works. And somehow the toasted coconut and pecans blend with the other flavours to create something amazing. And with the melted chocolate and peanut butter, and the almost total lack of flour, these cookies have an amazingly creamy, fudgy texture. One of my coworkers actually just said to me "omg, these are like fudge!"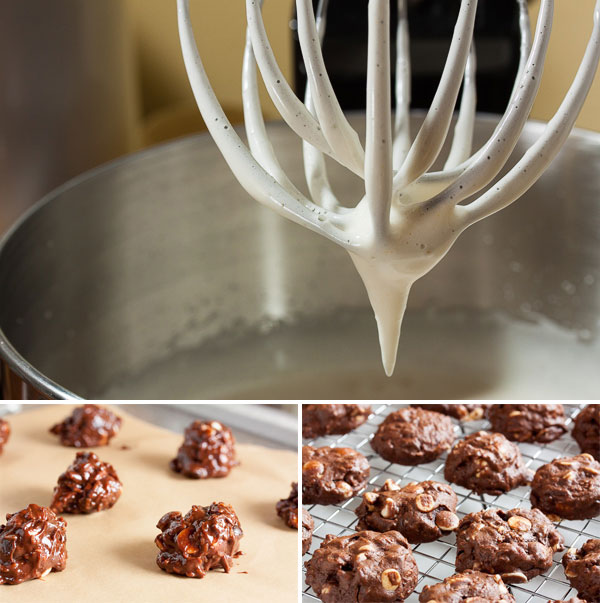 I'm gushing. I'm totally gushing, right? I seriously want to eat all of these cookies myself. I'm going to go out on a limb here and say this may be my absolute favourite cookie to date!
As I mentioned above, there's very little flour in this cookie. Very much like a brownie, there are a lot of eggs, melted butter and melted chocolate, making for a very soft, runny batter. But all the stuff in this cookie helps hold it together. Once baked, they're dense and fudgy. Be sure you try one fresh from the oven – they're amazing.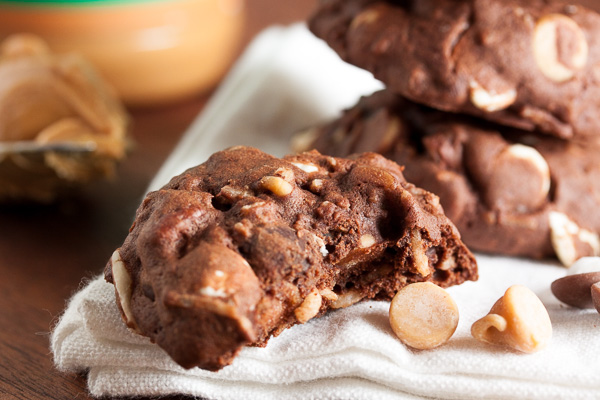 Adapted from "Kitchen Sink Chocolate-Nut Triple Chipsters" from Simply Sensational Cookies by Nancy Baggett. The recipe says it will make about 30 cookies. I got a little over 50 using my standard scoop.
ingredients
1-1/4 cups chopped pecans
1-1/4 cups shredded or flaked sweetened coconut
1/2 cup unbleached all-purpose flour
1/2 teaspoon baking powder
1/2 teaspoon salt
3 cups semisweet chocolate chips (divided in two 1-1/2 cup portions)
5-1/2 tablespoons unsalted butter, cut into chunks
1/4 cup smooth peanut butter
2 teaspoons pure vanilla extract
1 tablespoon instant espresso powder dissolved in 1 tablespoon hot water
4 large eggs
3/4 cup granulated sugar
1 9-ounce package peanut butter chips
1 cup white chocolate chips
Preheat oven to 325°F.
Spread the coconut and chopped pecans in a single layer on a baking sheet and toast them in the oven for approximately 10 minutes, stirring them every couple minutes or so to cook evenly. It'll start to smell fragrant and the coconut will be lightly golden-coloured. The coconut can burn quickly, so keep an eye on it – you don't want it to be too dark. You can do this step and then set them aside to cool while you prepare the rest of the ingredients.
In a small heavy saucepan, gently melt the butter and 1-1/2 cups of chocolate chips over low heat, stirring frequently. Once melted, remove from the heat and add the peanut butter, vanilla, and espresso mixture. Stir until smooth. Set aside.
In a medium bowl, whisk together the flour, baking powder, and salt. Stir in the cooled coconut and pecans. Set aside.
In the bowl of a stand mixer fitted with the whisk attachment, beat the eggs and sugar together on medium speed until foamy, about 2 or 3 minutes. Increase the speed to high and continue to beat until the mixture is light-coloured, thick, and drips in ribbons from the whisk once lifted.
Reduce speed to low and add the melted chocolate mixture, continuing to mix until smooth.
Add the dry ingredients, mixing until just barely combined. Remove from the mixer and add in the peanut butter chips, white chocolate chips, and the remaining 1-1/2 cups chocolate chips, with a spatula. Normally I prefer to knead inclusions in by hand to ensure they're distributed evenly, but this is a very thin batter and they will stir in easily.
Using a small cookie dough scoop or a tablespoon, portion the dough onto the baking sheets about 2 inches apart to allow for spreading.
Bake for about 10-14 minutes, until the tops look a bit cracked and they're almost firm around the edges, rotating the baking sheet halfway through the baking time. It's better to underbake this one slightly than to overbake. Allow to cool on a wire rack for a few minutes before removing the cookies from the pan and allowing them to cool completely.