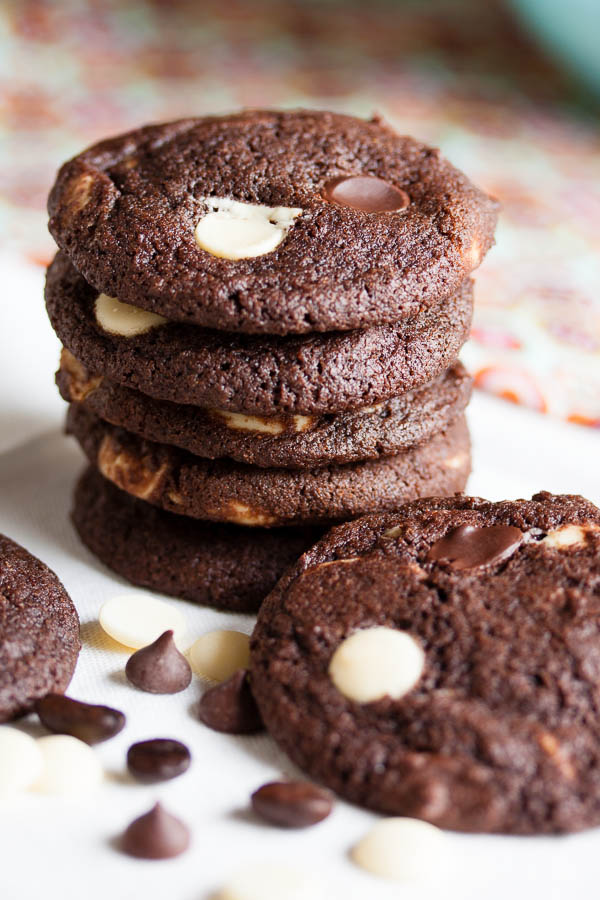 I usually try to explain my reasons for choosing these recipes each week, maybe with a cute background story or something. Not this week. Sorry. I just had a beautiful four day weekend – man I needed this break – I got a lot of things done that I'd been procrastinating about and the weather was gorgeous so I got to just hang out in the sunshine too. On the last day? I was totally into baking cookies, but I honestly didn't care what I made. So I just picked up the first book on the stack and turned to the first post-it on the side. This is what I found…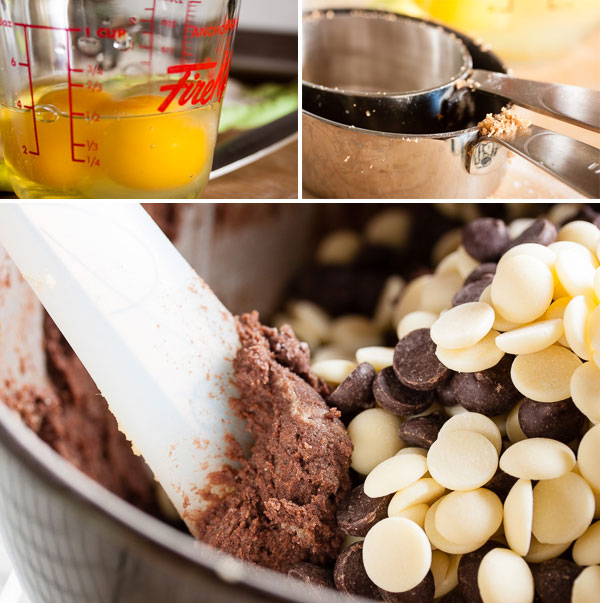 Since this recipe had a post-it on it, I'd obviously already chosen it as one I wanted to try. And I remember it was actually just a few weeks ago that I'd bookmarked it – it was one of several recipes I almost made one weekend but the white chocolate cranberry cookies won out instead.
Luckily, I had all the ingredients. One of the things called for is instant espresso powder. Well I have instant espresso, and I have espresso powder. What's the difference? I honestly didn't know. I googled and apparently they're just different names for the same thing. I've used instant espresso in recipes before, but what I have is quite large-grained and usually needs to be dissolved in water first. This recipe states to just whisk it with the dry ingredients. So maybe the powder is the better choice in this instance? If you only have the regular instant espresso, I'm sure it would still work fine – although you could probably crush it a bit with a mortar & pestle if you have one, or just the back of a spoon.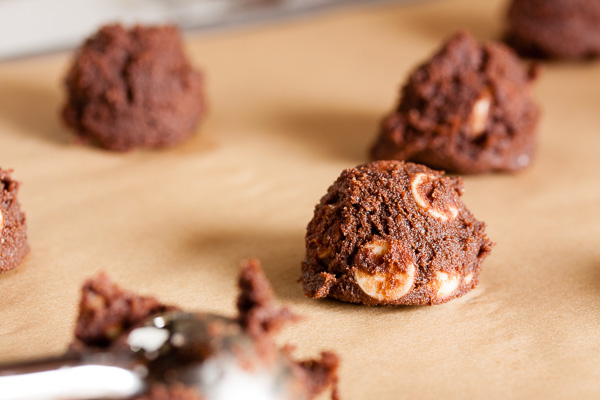 I found the espresso powder at Williams-Sonoma about a year ago in their baking ingredients and decided to give it a shot (thinking it was a totally different thing than instant espresso). I made some caramels with it and the flavour was fantastic, but since then it's just sat on my shelf un-used. According to their site, this is just finely ground espresso, formulated to dissolve in water, which doesn't make sense because coffee grounds do not dissolve in water. Based on my googling, this is actually a finely ground version of instant coffee granules. Anyway, as I mentioned, I decided to try it out in this recipe since it's a powder it will combine better with the flour.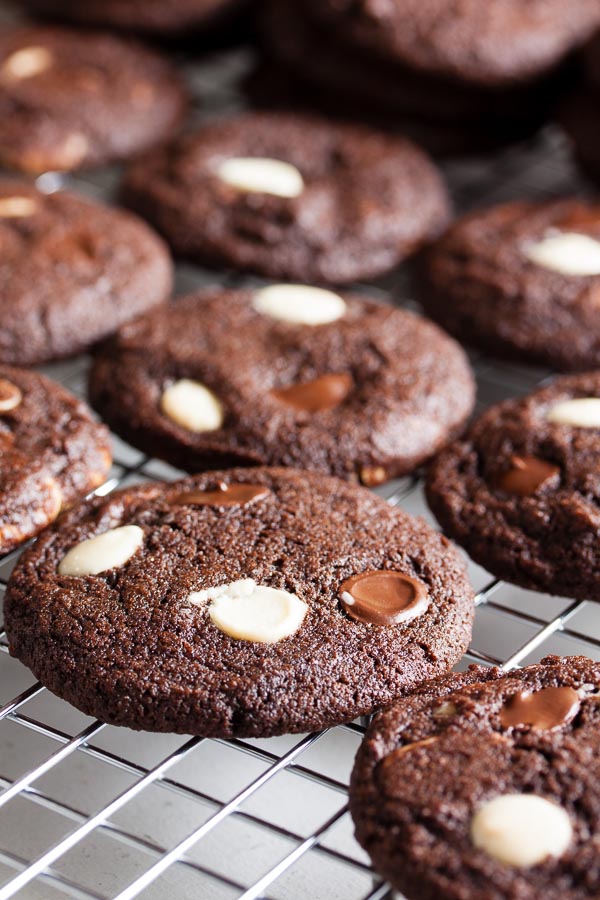 This dough is soft and sticky, but not that difficult to work with. The ratio of chocolate chips to dough is really good – there's no chance of getting a bite of cookie without chips in it. And the combination of flavours is great – chocolate and coffee are made for each other, and the addition of white chocolate chips just gives an extra bit of sweetness (think of it as the whip cream on a mocha).
The cookies spread out and puff up as they bake, and then flatten out a bit as they cool. Fresh from the oven, they're slightly crispy around the edges and soft and full of gooey melted chocolate inside. My recommendation? Eat them fresh! They're still perfectly good the next day (and the next and the next), but this is one of those cookies that's at its best immediately after baking. I ate three of them before they'd even cooled.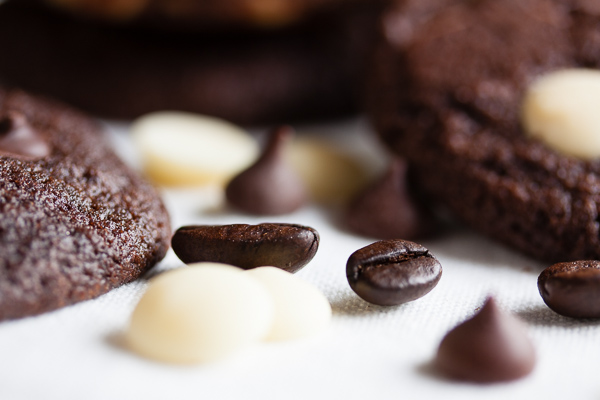 chocolate espresso white chocolate chip cookies
Adapted from Butter Baked Goods by Rosie Daykin. The recipe says it makes 24 large cookies using a medium scoop, but I got 65 cookies using my usual cookie scoop which is slightly larger than a tablespoon.
ingredients
2 cups all-purpose flour
1/2 cup cocoa powder
2 tablespoons instant espresso powder
1 teaspoon baking soda
1 teaspoon salt
1 cup butter, at room temperature
3/4 cup granulated sugar
3/4 cup dark brown sugar
2 large eggs
1-1/2 teaspoons pure vanilla extract
1-1/2 cups white chocolate chips or chunks
1 cup dark chocolate chips
Preheat oven to 350°F.
In a medium bowl, whisk together the flour, cocoa powder, espresso powder, baking soda, and salt. Set aside.
In the bowl of a stand mixer fitted with the paddle attachment, beat the butter and sugars together on medium speed until light and fluffy, about 3 or 4 minutes. Scrape down the sides of the bowl and add the eggs, one at a time, beating well after each. Add the vanilla and beat again to incorporate.
Turn the mixer down to low and add the dry ingredients, mixing until just barely combined. Remove from the mixer and add in the white and dark chocolate chips either with a spatula or by hand. I prefer to knead inclusions in by hand to ensure they're distributed evenly.
Using a small cookie dough scoop or a tablespoon, portion the dough onto the baking sheets about 2 inches apart to allow for spreading. Press down slightly with the heel of your hand.
Bake for about 14-16 minutes, until the cookies are firm at the edges but still slightly soft in the centre, rotating the baking sheet halfway through the baking time. Allow to cool on a wire rack for a few minutes before removing the cookies from the pan and allowing them to cool completely.