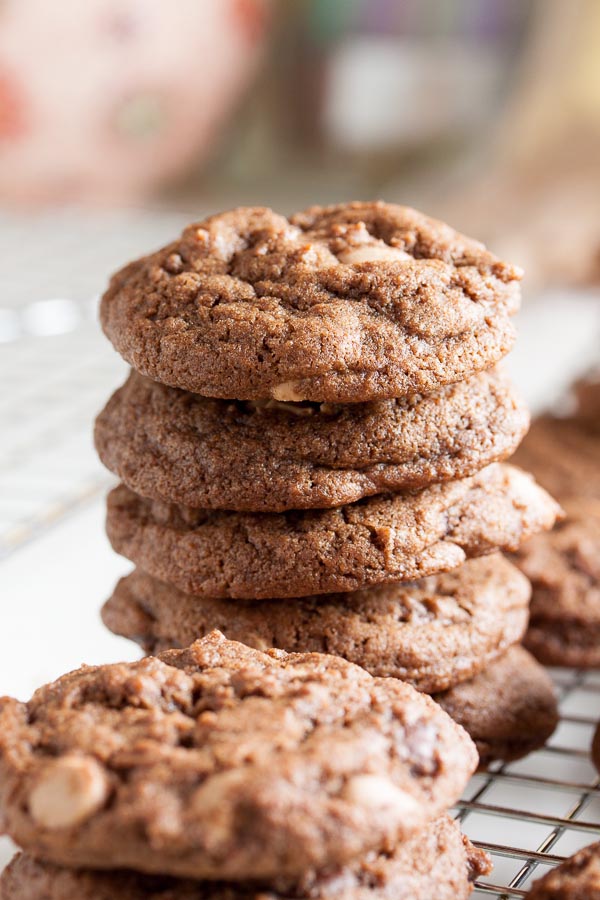 I looove the taste of coffee. Generally I can take it or leave it (I'm not addicted to the caffeine – phew!), but I really enjoy a cup in the morning, especially in the fall and winter. I just don't need to have it. When I do, though, I like it unadulterated. Black. No sweeteners or cream, just strong coffee. If I'm going to have a fancy coffee drink? – which I do really rarely – it's going to be a mocha. No question. I love the combination of coffee and chocolate. Does anyone not? Espresso, chocolate syrup, and as little milk as possible. Perfection. Those two flavours were made for each other. Both great on their own, but even better when combined. And I've also learned that when baking something chocolate, the addition of a small amount of espresso powder will actually enhance the flavours of the chocolate without adding its own flavour. Making brownies? Toss in a teaspoon of espresso powder. You'll love it! And just add more to transform regular brownies into mocha brownies. Baking is awesome.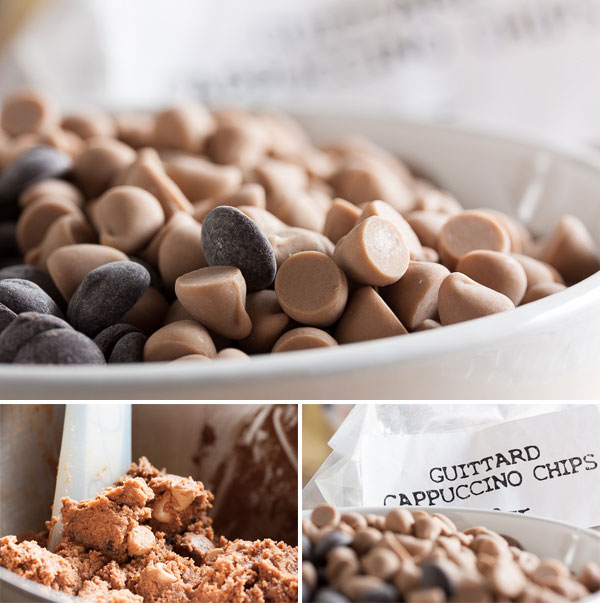 Last week I made some mocha walnut cherry cookies – because doesn't that combination of flavours sound amazing? They were certainly good (my coworkers loved them!), but the mocha flavour was quite subtle. Really, the star of that cookie was the walnuts and cherries. They didn't have that oomph of chocolate and coffee I was hoping for. This cookie? Has it. Oh boy, does it ever. There's not only espresso and cocoa in the cookie itself, there's also a generous helping of both chocolate chips and cappuccino chips.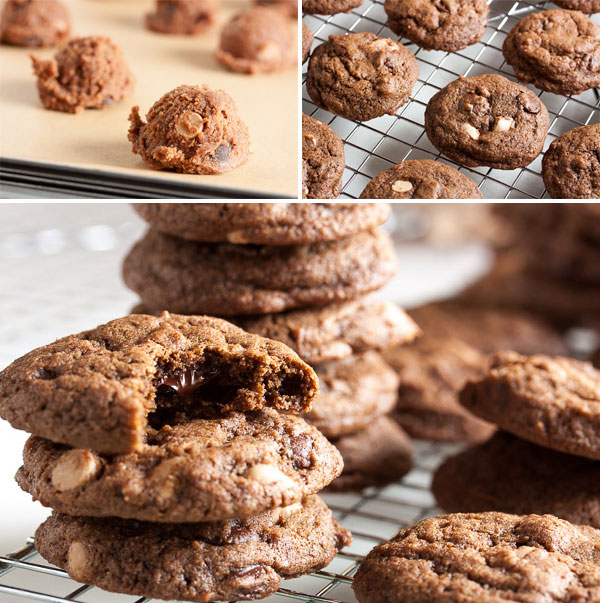 Yes, cappuccino chips. Did you even know such a thing existed? I'd never even heard of them – I happened upon them in a specialty store and they were a total impulse buy. I've never seen them before or since in any regular supermarket. The ones I bought are Guittard, so they're not a crazy obscure brand. And a quick google shows that there are a couple of other brands available, too, including Scott's Cakes and King Arthur Flour. I would think these would be really popular if they were more readily available, but maybe that's just me…
If you can't manage to find any cappuccino chips, though, don't worry about it. Just double up on the chocolate chips and these cookies will still be amazing. There's a lot of espresso powder already in the cookie dough, so the flavour will definitely be there.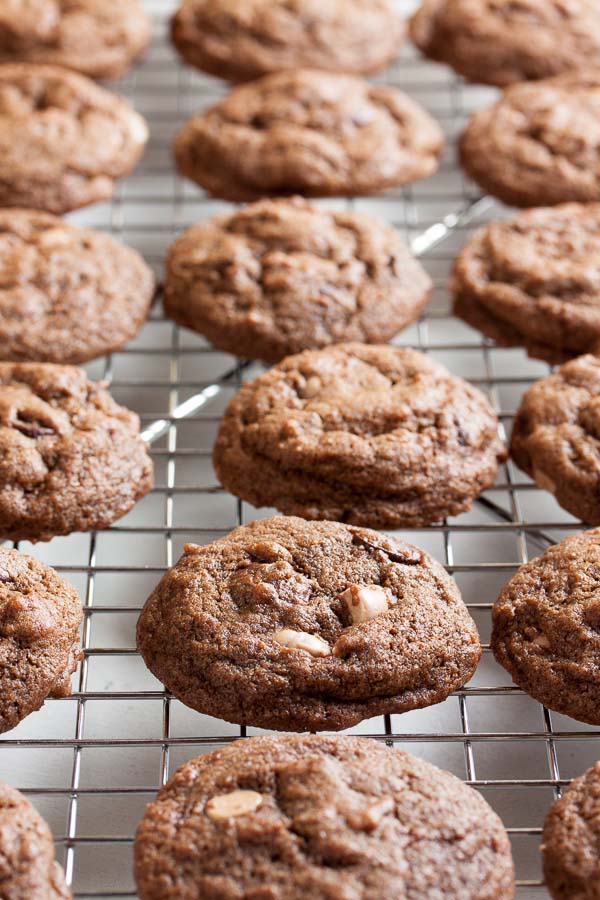 This is only the second recipe I'm trying from the King Arthur Flour Cookie book, and both cookies have been fantastic, with both great texture and flavour. I'm beginning to see why I've heard such good things about this book. I just want to bake my way through the whole thing now. Even as I was making these, my eye kept straying to the recipe on the facing page because it sounded so good. Seriously, I'm very tempted to make those next. So much yumminess in one book.
So yes, if you haven't gathered already, this cookie has great flavour. Fresh from the oven it has a tiny bit of a crisp edge, and it stays soft and moist inside. Everyone is loving this cookie. I saw someone take four at once.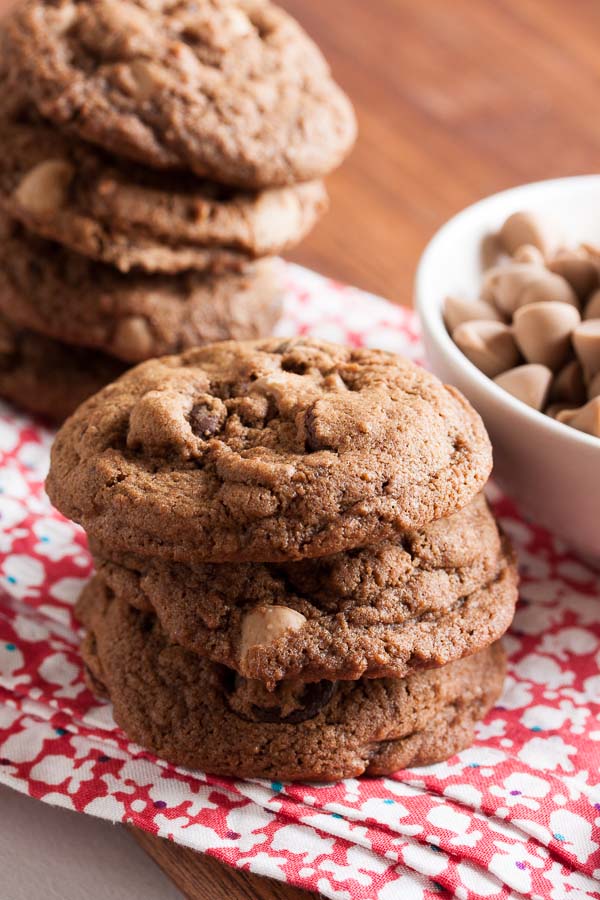 Adapted from "Mocha Mudslides" from The King Arthur Flour Cookie Companion. The recipe states it will make about 48 cookies, but I got 65 2-1/2" cookies using my usual small cookie dough scoop (just over a tablespoon).
ingredients
2-1/4 cups unbleached all-purpose flour
1/3 cup unsweetened natural cocoa powder
3 to 5 teaspoons espresso powder
1 teaspoon baking soda
1/2 teaspoon salt
1 cup unsalted butter, at room temperature
3/4 cup granulated sugar
3/4 cup brown sugar (light or dark)
2 large eggs
1 teaspoon pure vanilla extract
1 cup chocolate chips
1 cup cappuccino chips (or an additional chocolate chips)
Preheat oven to 375°F.
In a medium bowl, whisk together the flour, cocoa powder, espresso powder, baking soda, and salt. Set aside.
In the bowl of a stand mixer fitted with the paddle attachment, beat the butter and sugars together on medium speed until light and fluffy, about 3 or 4 minutes. Scrape down the sides of the bowl and add the eggs, one at a time, beating well after each. Add the vanilla and beat again to incorporate.
Turn the mixer down to low and add the dry ingredients, mixing until just barely combined. Remove from the mixer and add in the chocolate and cappuccino chips either with a spatula or by hand. I prefer to knead inclusions in by hand to ensure they're distributed evenly.
Using a small cookie dough scoop or a tablespoon, portion the dough onto the baking sheets about 2 inches apart to allow for spreading.
Bake for about 8-10 minutes, until the tops are slightly cracked but the cookies are still soft inside, rotating the baking sheet halfway through. Allow to cool on a wire rack for a few minutes before removing the cookies from the pan and allowing them to cool completely.