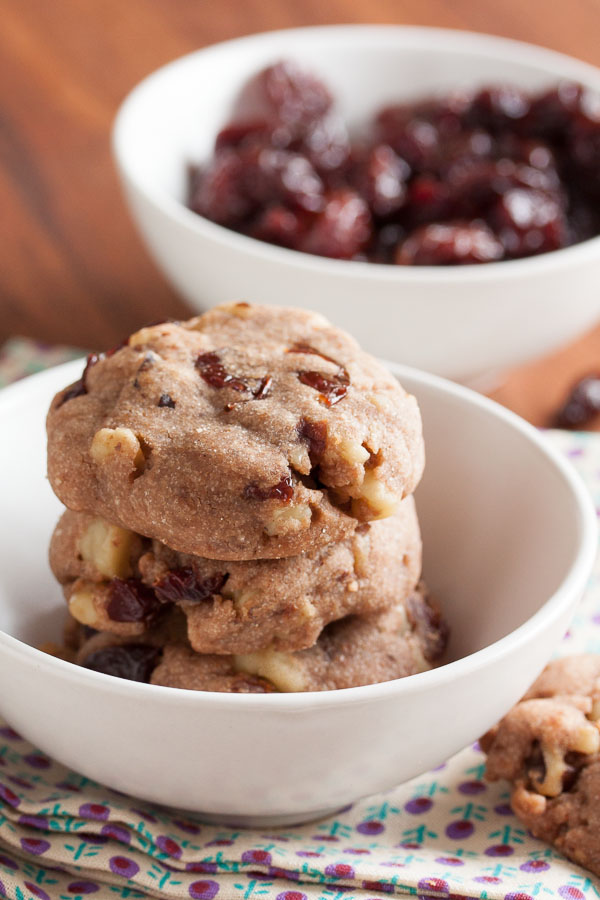 After a summer of no-bake cookies and popsicles (omg, so many popsicles!), I was really starting to miss baking. So when I saw rain and a dip in temperature forecast for the weekend, I got a little excited. Finally, I get to make some proper cookies again! Our summer is far from over though. Vancouver summers usually start late, but then we usually have beautiful weather straight through October. Some years I'm still wearing my sandals in November! So I may not be done with no-bake cookies quite yet. I was hoping to make some whoopie pies, but when it came down to it, I was missing one ingredient. D'oh! And as it was the last day of the long weekend, and raining, and I really didn't feel like leaving my apartment, I decided to shelve that recipe for another day and pick something else. And I gotta tell you, I had a really hard time deciding. After being away from baking for so long (it feels like a long time, anyway – how long has it been?), I wanted to make everything. My coffee table is still completely covered by all the cookbooks I was looking through.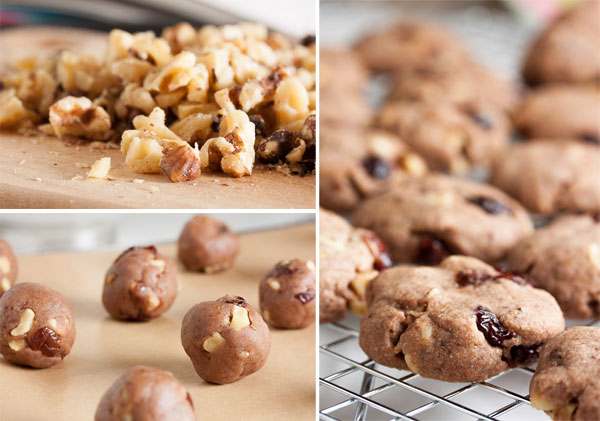 I apparently just skimmed this recipe and was so distracted by the idea of the combined flavours (chocolate, coffee, cherries & walnuts? Yes please!) that I wasn't really paying attention, because I didn't realize until I'd already started prepping the ingredients that there are no leaveners – no eggs, baking powder, or baking soda. So it's essentially a shortbread. I love shortbread cookies! So that's by no means a complaint, I was just caught a bit off guard by it. But that does mean that the cookies come out of the oven about the same size as they go in. So be prepared for some tiny cookies.
Not always, but occasionally I'll google a recipe I'm planning to try to see if anyone else has made it too. Especially if a recipe looks a little different than what I'm used to, I like a little warning of what to expect (if anything). This time I googled because there was an error in the book – they forgot to list the oven temperature. Whoops! I could only find one person who'd made this cookie, and they didn't post the actual recipe so I have no idea what temperature they ended up using. In the end, I just took a guess and used 350°F. It's a very common cookie-baking-temperature, yes? Yes.
One interesting thing about that post that I found is they said the shape of the finished cookies didn't match what was pictured in the book (odd, because my book doesn't have a photo for this particular recipe at all). They posted a picture of their cookies – and they looked like little balls. And guess what? My first tray came out round, just like they went in. I shouldn't have been too surprised though, because shortbread often keeps its shape as it bakes. The next couple trays, I flattened the balls with the palm of my hand before baking, and they came out more traditional-cookie-shaped.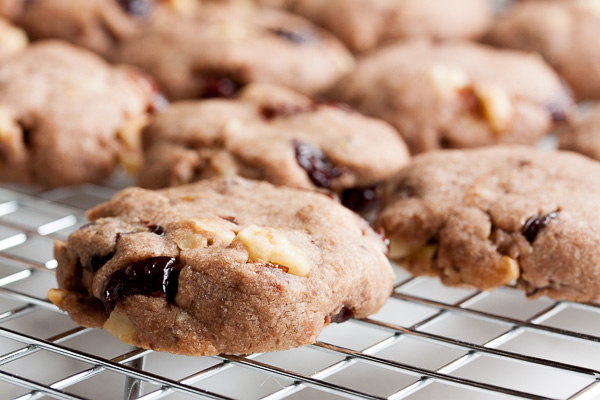 I have to confess, I wasn't a fan of this cookie when I first tried it. In fact, I considered not posting this recipe at all. I just found it kinda bland and flavourless, which I wasn't expecting because the write-up in the book described it as "rich". Wait, come back! As has happened with a few other cookies I've made in the past, this is one of those cookies that apparently needs to fully cool and rest a bit before being eaten. I tried one again the next day, and suddenly I could see the appeal. This is definitely a nice cookie. It still doesn't have that oomph of chocolate that I'd prefer, but it has a nice sandy texture, a delicate flavour, and crunch from the walnuts and sweet chewiness from the cherries. The mocha is more of a backdrop for the flavours of the walnuts and cherries. My coworkers really enjoyed them – I saw one person eat one and then immediately go back for more, and another person confessed that she ate ten of them in the space of two days! These cookies did not last long at all.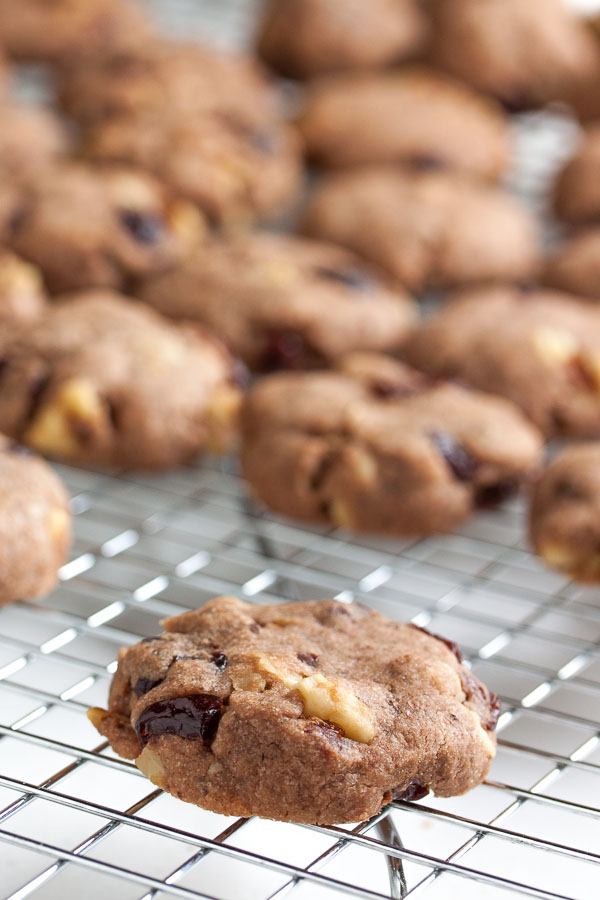 mocha walnut cherry cookies
Adapted from "Mocha-Cherry Drops" from Milk & Cookies by Tina Casaceli. The recipe states it will make about 2 dozen cookies, but I got 39 cookies.
ingredients
1/2 cup dried cherries
2 cups all-purpose flour
1 tablespoon Dutch process cocoa
2 teaspoons espresso powder
1/4 teaspoon salt
1 cup unsalted butter, at room temperature
1/2 cup sugar
1 easpoon pure vanilla extract
1 cup walnuts, coarsely chopped
Preheat oven to 350°F.
Boil some water. In a small heatproof container (I used a pyrex measuring cup), soak the cherries in enough hot water to cover them fully for about 10 minutes. Drain well, and then chop coarsely. Set aside.
In a medium bowl, whisk together the flour, cocoa powder, espresso powder, and salt. Set aside.
In the bowl of a stand mixer fitted with the paddle attachment, beat the butter and sugar together on medium speed until light and fluffy, about 3 or 4 minutes. Scrape down the sides of the bowl. Add the vanilla and beat again to incorporate.
Turn the mixer down to low and add the dry ingredients, mixing until just barely combined. Remove from the mixer and add in the walnut pieces and chopped cherries, either with a spatula or by hand. I prefer to knead inclusions in by hand to ensure they're distributed evenly.
Form the dough into 1-inch balls and place about 2" apart on a baking sheet. You can either bake them as-is and get little ball-shaped cookies, or press the dough down slightly with the palm of your hand to get more traditional cookie-shaped cookies. Bake for about 10-12 minutes, rotating the pan halfway through. Allow to cool on a wire rack for a few minutes before removing the cookies from the pan and allowing them to cool completely.