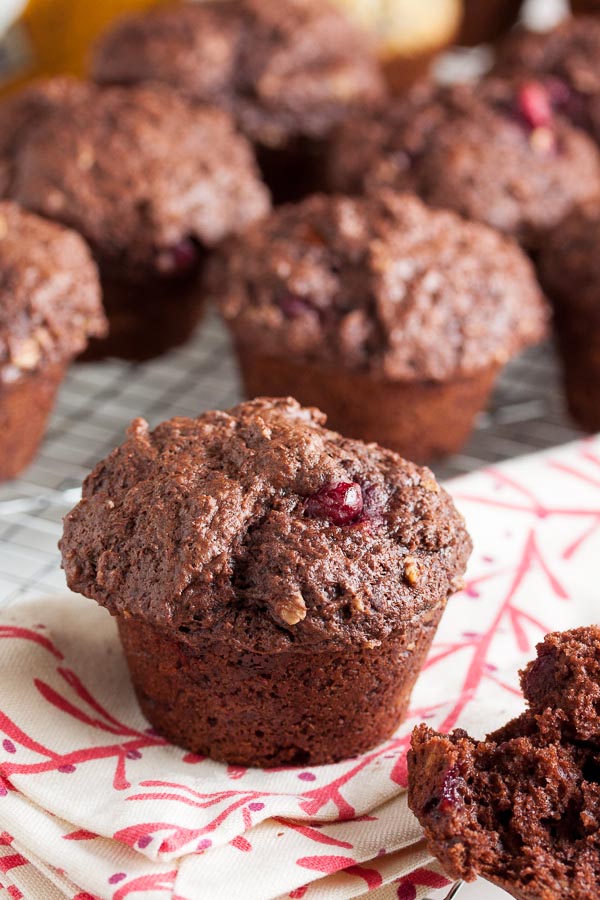 As part of my new "bake more muffins" initiative, this week I have yet another recipe from Dorie Greenspan's Baking: From My Home to Yours. This is a recipe that I've made several times already, so it's not new-to-me, but it is new to the blog. So it totally counts as "new".
While I have tweaked the ingredients of this muffin over the years, the flavour is essentially the same. And oh-so-chocolatey. So, so chocolatey.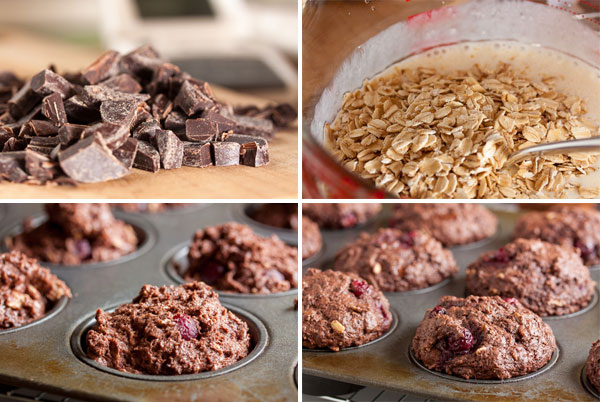 I first made it because… well, chocolate muffin (do I need any other reason?). But then I started to feel a bit guilty about having what's essentially a cupcake for breakfast (unfrosted, but still). So I played around with adding some oatmeal to the mix (oatmeal's healthy, right?). Oatmeal muffins are totally breakfast food! And then one day I added some cranberries, because… well, cranberries (do I need any other reason?).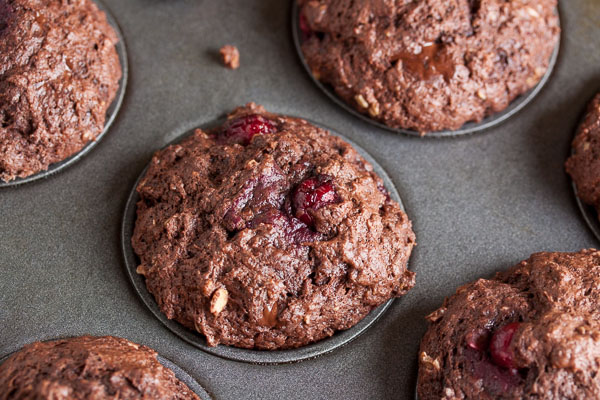 And this muffin is the result. Yes, it's still chocolate. But it's dark chocolate, and that's good for you, right? All those antioxidants? Yeah, we'll go with that. Healthy. And now it's got oatmeal and cranberries too. I totally don't feel guilty about having this muffin for breakfast anymore. Okay, I kinda do, but I'll get over it.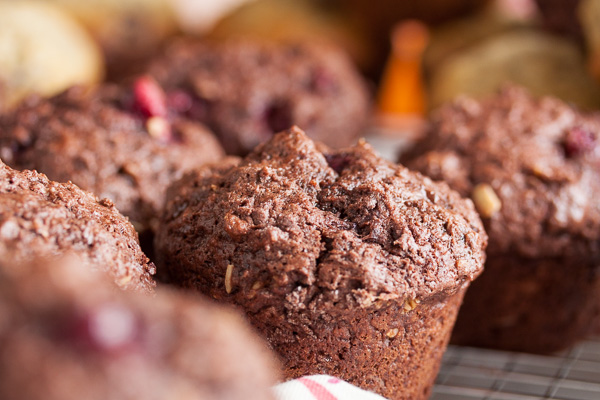 I've mentioned before that most of the muffins I make will be for myself, to have with my morning coffee. But I have several weeks' worth of muffins in the freezer already so I decided to share some of these. And my coworkers loved them.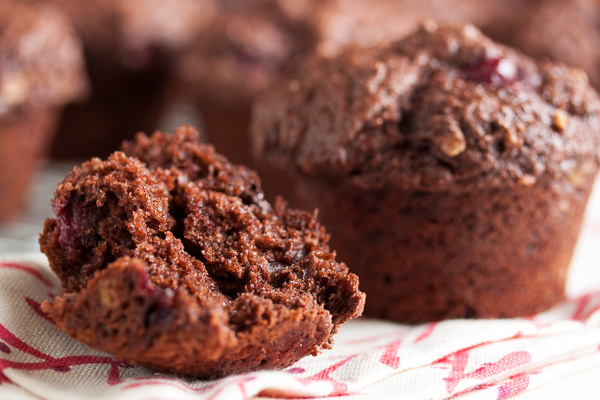 chocolate oatmeal muffins with cranberries
ingredients
6 tablespoons unsalted butter (3/4 stick)
4 ounces bittersweet chocolate, coarsely chopped (2 ounces to melt, and 2 ounces to add to the muffins later)
1-1/4 cups buttermilk
1 large egg
1 teaspoon pure vanilla extract
1/2 cup old-fashioned rolled oats
1-1/2 cups all-purpose flour
2/3 cup sugar
1/3 cup unsweetened cocoa powder, sifted
1 tablespoon baking powder
1/2 teaspoon baking soda
1/2 teaspoon salt
1 cup frozen cranberries
Preheat oven to 375°F. Lightly grease your muffin tin, both inside and along the top edge. I usually use a silicone pastry brush and a bit of vegetable shortening. It just takes a few seconds. Alternately, you could just use paper liners.
Gently melt together the butter and half of the chopped chocolate. You can do this by combining them in a microwave-safe bowl and heating in the microwave 15-30 seconds at a time, stirring well after each burst of heat until smooth. Or in the top of a double-boiler or in a heat-proof bowl set over a pot of simmering water. I usually melt chocolate very, very carefully in a heavy saucepan over very low heat, stirring frequently until the chocolate is just melted. Chocolate can scorch really easily, so best to do this slowly and gently. Once melted, remove from the heat and set aside to cool.
In another bowl or a large measuring cup, lightly beat the buttermilk, egg, and vanilla together. Stir in the oats and allow them to soak while you prep the rest of the ingredients.
In a large mixing bowl, combine flour, sugar, cocoa powder, baking powder, baking soda, and salt. Whisk together well and set aside.
Add the melted chocolate mixture to the rest of the wet ingredients and stir well.
Pour the wet ingredients over the dry, and gently stir together until just blended. It's okay if there are still some streaks of flour – with muffins, undermixing is always better than over mixing.
Fold in the rest of the chopped chocolate and the cranberries.
Using a large spoon or ice cream scoop, portion the batter into the muffin tin. Bake for about 20 minutes, rotating the pan halfway through, until a toothpick inserted in the centre of a muffin comes out clean. Allow to cool on a wire rack for about 5-10 minutes before removing from the muffin tin.