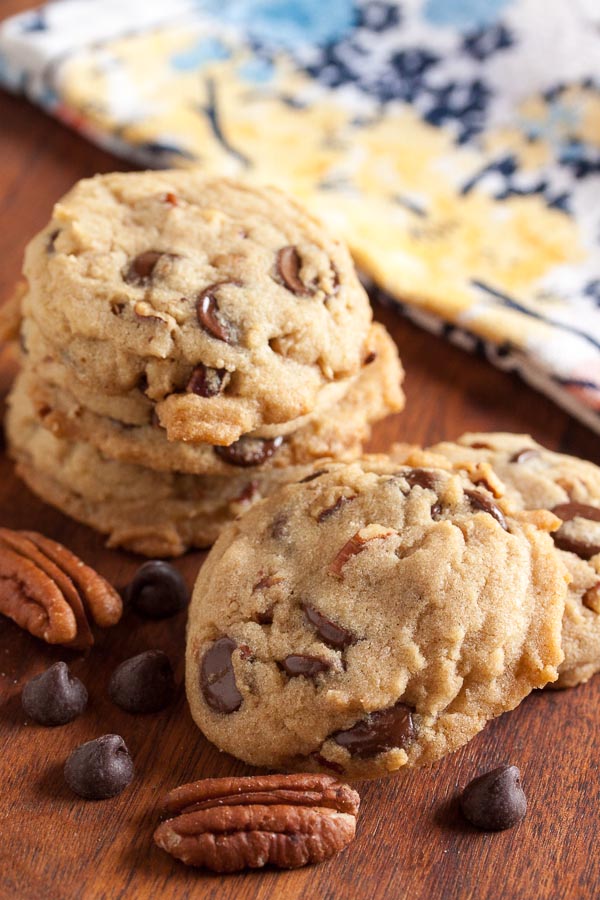 So as I mentioned last week, I have an apartment lined up. Whoo! Trust me, I'm relieved. So relieved. But I'm also bummed. We're heading into this lovely cool rainy fall weather, and all I really wanted to do is hang out and bake – seriously, I had plans for these rainy weekends! But instead I get to focus on purging and minimizing and organizing and packing. And cleaning. Ugh. No fun at all. And then I get to unpack and organize in a brand new place. I can't wait until this is all behind me.
The apartment-hunting totally stressed me out – not only was I not sleeping well, I had no appetite at all. I didn't really feel like myself again until that lease was officially signed. Then I really wanted some comfort food. And what's more comforting than a classic chocolate chip cookie fresh from the oven? You guys, it felt really good to bake again – it feels like it's been forever! Not just the past couple of weeks, but the entire summer before when it was too hot to bake and I was focussed on making popsicles every week. I've really missed it.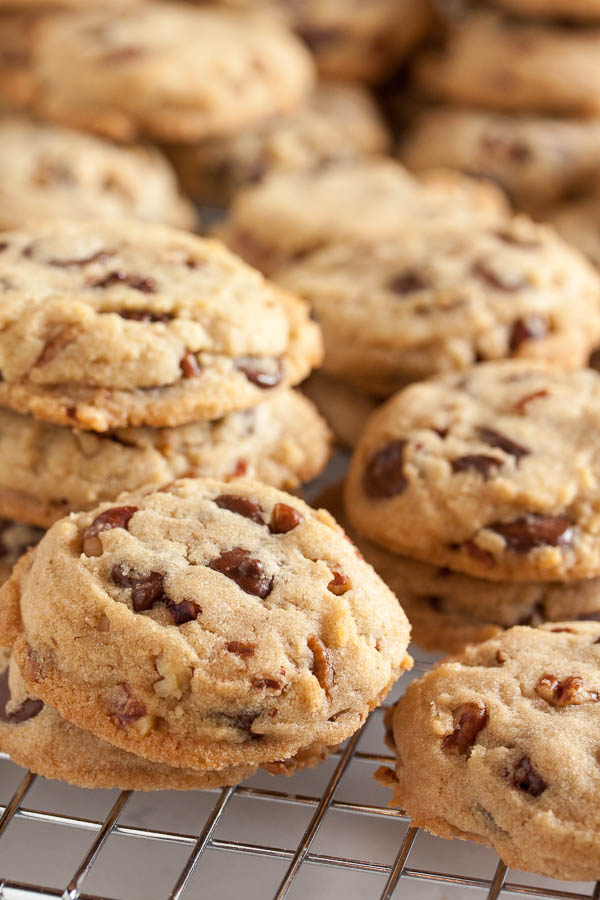 And so have my coworkers. Yes, there have been popsicles every week (and they've definitely enjoyed them – I think the watermelon popsicles were the breakout hit of the summer), but there were a lot of happy people when they saw that cookie jar re-filled finally. And everyone was really happy with this cookie. Soft and chewy, with that perfect chocolate chip cookie flavour. You know what I'm talking about. There are a lot of good chocolate chip cookie recipes out there, but this one has that classic flavour. You just know it when you taste it. I definitely recommend this cookie!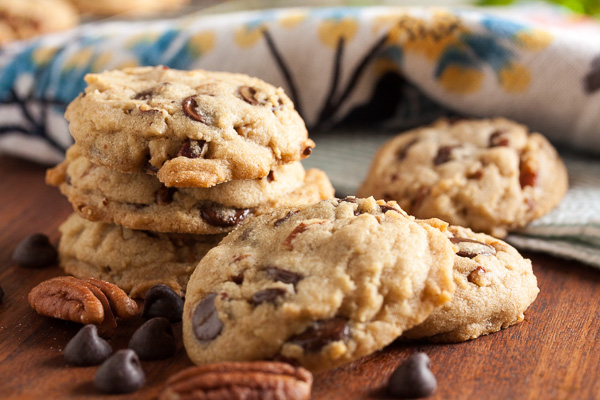 classic chocolate chip cookies
Adapted from Better Homes & Gardens The Ultimate Cookie Book. The recipe said it would make about 60 cookies, and I got pretty close to that with 62.
ingredients
2-3/4 cups (344g) all-purpose flour
1/2 teaspoon baking soda
1/2 teaspoon salt
1/2 cup (113g) butter, at room temperature
1/2 cup (113g) shortening
1 cup (220g) packed brown sugar
1/2 cup (100g) granulated sugar
2 large eggs
1 teaspoon pure vanilla extract
2 cups (350g) semisweet chocolate chips or chunks
1-1/2 cups (180g) chopped walnuts or pecans, toasted (optional)
Preheat oven to 375°F (190°C).
To toast the nuts, spread them in a single layer on a baking sheet and toast them in the oven for approximately 10 minutes, turning them every few minutes or so to cook evenly. Trust your senses – they'll start to smell fragrant when they're ready. You can do this step and then set them aside to cool while you prepare the rest of the ingredients. Once cool, chop them coarsely, or break them up into pieces by hand.
In a medium bowl, whisk together the flour, baking soda, and salt. Set aside.
In the bowl of a stand mixer fitted with the paddle attachment, beat the butter, shortening, and sugars together on medium speed until light and fluffy, about 3 or 4 minutes. Scrape down the sides of the bowl and add the eggs, one at a time, beating well after each. Add the vanilla and beat to incorporate.
Turn the mixer down to low and add the dry ingredients, mixing until just barely combined. Remove from the mixer and add in the chocolate chips and nuts, either with a spatula or by hand. I prefer to knead inclusions in by hand to ensure they're distributed evenly.
Using a small cookie dough scoop or a tablespoon, portion the dough onto the baking sheets about 2 inches apart to allow for spreading.
Bake for about 9-12 minutes, until lightly golden brown around the edges, rotating the baking sheet halfway through the baking time. Allow to cool on a wire rack for a few minutes before removing the cookies from the pan and allowing them to cool completely.