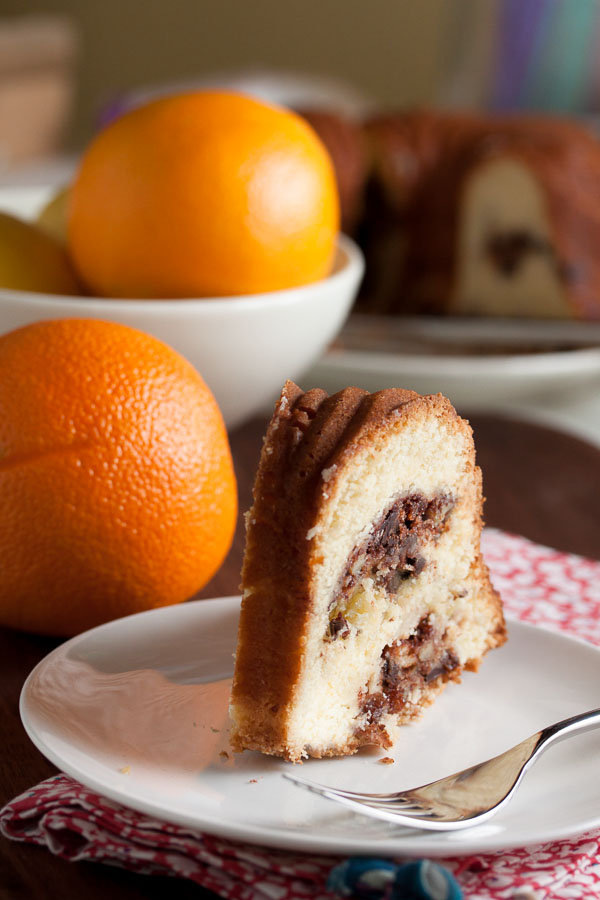 So when I started this blog, my goal was to try a bunch of new recipes. And I have! I'm so proud of myself. And I realize that I've stated several times that I'll be making "mostly cookies, because cookies are meant for sharing". Which still holds true! Cookies are definitely the bedrock of this blog. But I was pulling a baking dish out of my cupboard the other day and had to move my bundt pans to get to it, and I realized that I haven't made a single bundt cake since I started this blog. Whaaaaat? In over two years I've only made a single cake! There haven't even been any brownies. Wow. It's definitely time to pay a bit more attention to diversity. And it's definitely time for cake.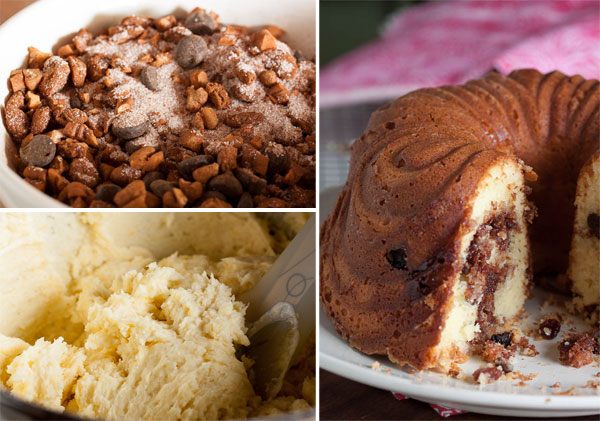 And what better place to start than with one of Dorie Greenspan's recipes (love). There are several bundt cake recipes in this book, and I've made I think 4 or 5 of them so far (and made them several times over because of course they're all delicious). This one in particular, I've been making again and again for years now (have I mentioned how much I love this cookbook?). It's a recipe that gets requested a lot. I've served it to friends, brought it to potlucks and dinners, and everyone loves it. When I brought this cake into work this week, within minutes of eating, people were "omg"-ing and asking for the recipe. Yup, it's definitely a winner.
The cake itself is moist and delicately orange flavoured, and good enough to eat even without the swirl. Seriously, if you wanted you could probably skip the swirl altogether and bake this up in a loaf pan. But the swirl? Now that's what puts this cake over the top. Sugar and cinnamon and raisins and chocolate and nuts… omg, SO good.
The batter for this cake is fairly thick, and as a result I always have a bit of trouble getting the swirl completely covered as instructed (it doesn't want to smooth out nicely – those photos are an embarrassment). But it's okay – once it bakes up, you won't even notice.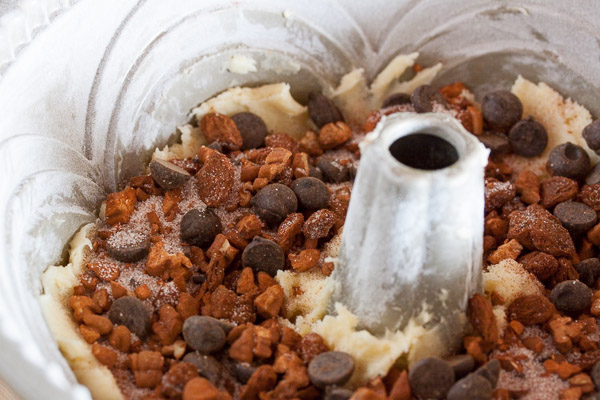 Even if you have a fancy-pants non-stick silicone bundt pan, you're going to want to grease and flour your pan before using. Personally, I never use the non-stick sprays. I don't like using aerosol sprays in general, but I've also heard that non-stick sprays can build up a residue and gum up your pans over time (I don't know how true that is since I've never experienced it personally).
The best thing I've found is to use a pastry brush to apply a thin layer of vegetable shortening (making sure to get in all the little crevices), and then add a bit of flour to the pan. Shake and turn the pan so that there's a coating of flour all over the shortening, and then turn it upside down and pat the pan a few times to get rid of the excess flour. Using this method, I've never had a problem getting cakes out of my bundt pans. Yes, that's plural. I have three of them currently. Trust me, if I had the space, I'd have more. One day I'll have a whole collection and a kitchen where I can proudly display them all on the wall. But for now, they're stacked in the back of my cupboard with all my other cake pans. *sigh*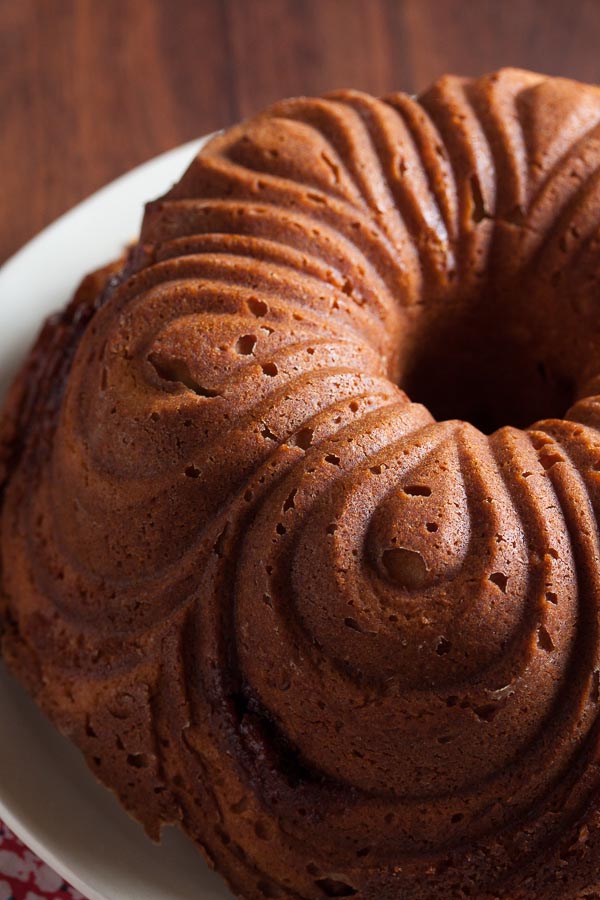 chocolate cinnamon swirl sour cream bundt cake
Adapted from Dorie Greenspan's "Nutty, Chocolaty, Swirly Sour Cream Bundt Cake" from Baking: From My Home to Yours. You'll need a 12-cup bundt pan for this cake.
ingredients
2 cups all-purpose flour
1 teaspoon baking powder
1/2 teaspoon salt
1-3/4 cups sugar
grated zest of 1 orange
1 cup unsalted butter, at room temperature
2 large eggs
1-1/2 teaspoons pure vanilla extract
1 cup sour cream
for the swirl
1/2 cup sugar
1/2 cup chopped walnuts or pecans
2 ounces finely chopped bittersweet chocolate, or 1/3 cup mini chocolate chips
1/3 cup moist raisins or dried currants
2-1/2 teaspoons ground cinnamon
pinch of freshly ground nutmeg
pinch of salt
Preheat oven to 350°F. Prepare a 12-cup bundt pan (9- to 10-inch) by lightly greasing and then tossing with a bit of flour. Turn your pan upside down and tap to remove any excess flour.
Combine all of the swirl ingredients in a small bowl. Stir together well and set aside.
In a medium bowl, whisk together the flour, baking powder, and salt. Set aside.
In the bowl of a stand mixer fitted with the paddle attachment, combine the sugar and orange zest, rubbing them together with your fingers until the zest is distributed and the sugar is fragrant. Add the butter and beat on medium speed until light and fluffy, about 3 or 4 minutes. Scrape down the sides of the bowl and add the eggs, one at a time, beating well after each. Add the vanilla and beat again to incorporate.
Turn the mixer down to low and add the sour cream. Mix well. Add the dry ingredients, and continue mixing until just barely combined.
Spoon about 1/3 of the batter into your prepared bundt pan and smooth out. Top with about 1/2 of the swirl mixture. Layer on another 1/3 of the batter – the batter is pretty thick, so I find this easiest to do by dropping smaller spoonfuls and evening them out as best as I can. Top with the balance of the swirl mixture, and then the rest of the batter. I can never get this last bit of swirl completely covered with batter, but it's never been a problem once the cake is baked.
Bake for about 60-65 minutes, until a thin knife or skewer inserted in the centre of the cake comes out clean, rotating the pan halfway through the baking time.
Allow to cool on a wire rack for about 15 minutes. If you try to unmould it too soon, the cake may fall apart. But if you wait too long, the cake could stick to the pan.
Give the pan a couple of gentle shakes to loosen the cake, then place a plate on top of the bundt pan and flip over. If you coated your pan well, the cake should come right out.
Allow to cool completely.