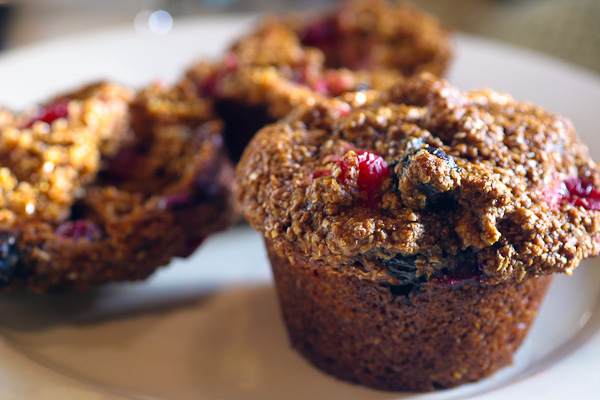 I've baked a lot of bran muffins over the years, and was never really happy with any of the recipes I tried. Most of them were too dry, had no flavour, and I didn't like that so many of them relied on processed ingredients like bran cereal – I mean the whole point of bran muffins is that they're sorta healthy, right? Otherwise why not just eat a chocolate banana muffin… It was like the health aspect was being sacrificed for convenience. I knew there had to be a tasty and healthy bran muffin out there somewhere.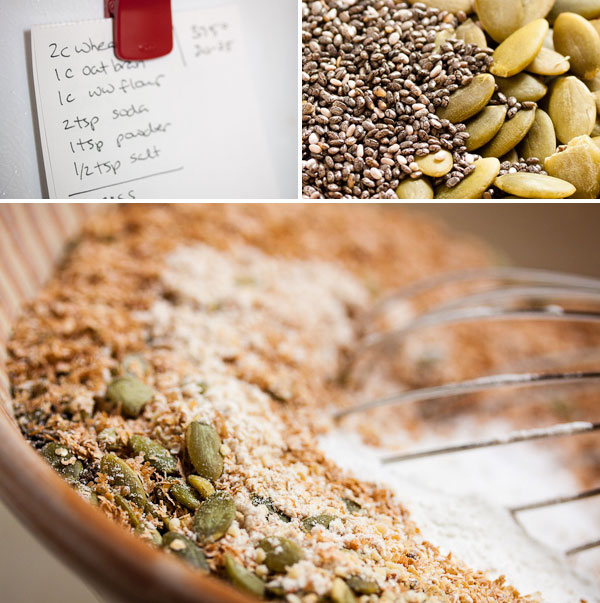 One day I'd just had enough, and I was determined to find a good bran muffin recipe. I pored through my recipe books and googled and came up with a list of 8 recipes I wanted to try.
I spent an entire weekend baking bran muffins.
Oh my god, I had SO many muffins.
None of them were awful, and the bulk of them made their way into my freezer to take to work for breakfast. But one recipe definitely stood out.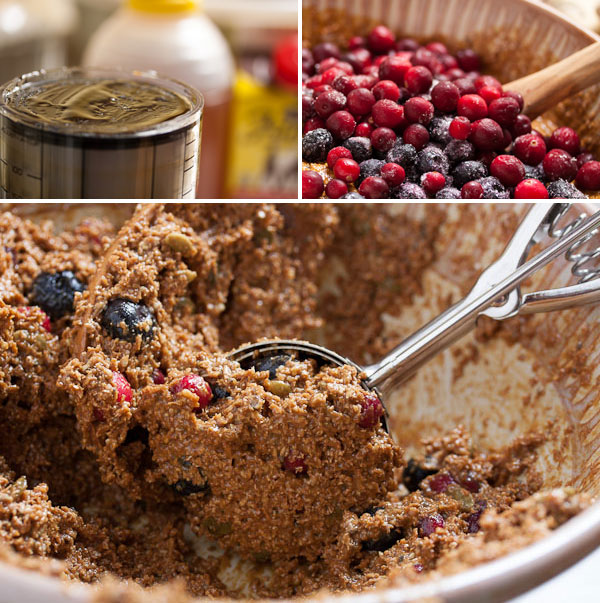 This muffin was, hands down, the winner. It's been my go-to recipe ever since and I almost always have a batch in the freezer. The recipe lives permanently on a piece of notepaper attached to my fridge, but I make it so often I have it memorized. I mess around with it a bit – I don't change the base recipe, but I add things like flax seed and pumpkin seeds and pecans (in no particular amounts – just totally by whim), and I use cranberries instead of just blueberries. But I have never, ever had a problem with it – it takes all that tweaking and works out every time.
It's moist and flavourful and filling. I like to have them with a bit of peanut butter and a drizzle of honey, but they're even good plain.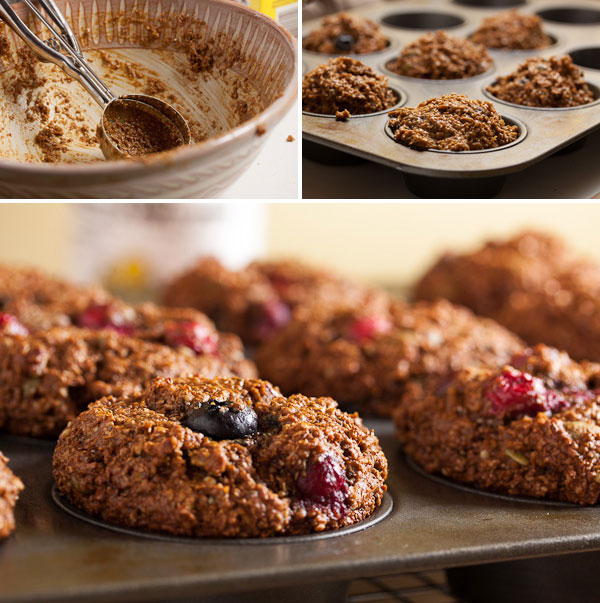 One of the things I love about this recipe is that the ingredients are as close to natural as possible. It uses oat and wheat bran, not bran cereals. It uses a combination of molasses and honey, not white or even brown sugar.
The original recipe calls for safflower oil, and that works fine. But I experimented with different types of oil and for some reason the almond oil makes a really moist muffin. If you can find it, give it a try.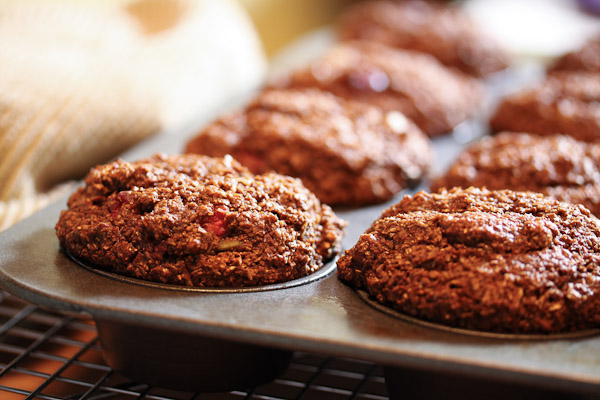 Adapted from Farm Girl Fare. All of the items marked "optional" in the ingredients list are things I added to the recipe, and you can ignore all of them if you like. The measurements for these optional items are all approximate too – I just toss them in without measuring. I don't even add them all in every time. Sometimes I add other things instead. As I said above, this recipe takes really well to tweaking. Don't be afraid to play around with additions. Makes 12 muffins.
ingredients
2 cups wheat bran
1 cup oat bran
1 cup whole wheat flour
2 teaspoons baking soda
1 teaspoon baking powder
1/2 teaspoon salt
2 large eggs
2/3 cup skim milk
2/3 cup plain low fat greek yogurt (or regular yogurt)
1/3 cup molasses
1/3 cup honey
1/3 cup almond oil (or a vegetable oil)
Optional Additions
1 tablespoon ground flax seed
1 tablespoon hemp hearts
1 tablespoon chia seeds
1/4 cup raw pumpkin seeds
1-1/2 cups frozen cranberries
1/2 cup frozen blueberries
Preheat oven to 375°F. Lightly grease your muffin tin, both inside and along the top edge. I've tried skipping this step, and while the muffin will come out, it does stick a bit, even with non-stick muffin tins. I usually use a silicone pastry brush and a bit of vegetable shortening. It just takes a few seconds.
In a large mixing bowl, combine flour, oat bran, wheat bran, baking soda, baking powder, salt, and any other dry additions you'd like to add. Whisk together well.
In another bowl or a large measuring cup, lightly beat the eggs. Add the yogurt and milk and stir well. Then add the molasses, honey and oil and stir until combined – the molasses and honey will have sunk to the bottom, so it will take a minute or two of stirring to get them mixed together.
Pour the wet ingredients over the dry, and gently stir together. At this point you can add the frozen fruit, or even some nuts if you like. Stir together until just blended.
Using a large spoon or ice cream scoop, portion the batter into the muffin tin. Bake for about 22-25 minutes, rotating the pan halfway through. Allow to cool on a wire rack for about 5-10 minutes before removing from the muffin tin, otherwise they'll just fall apart.