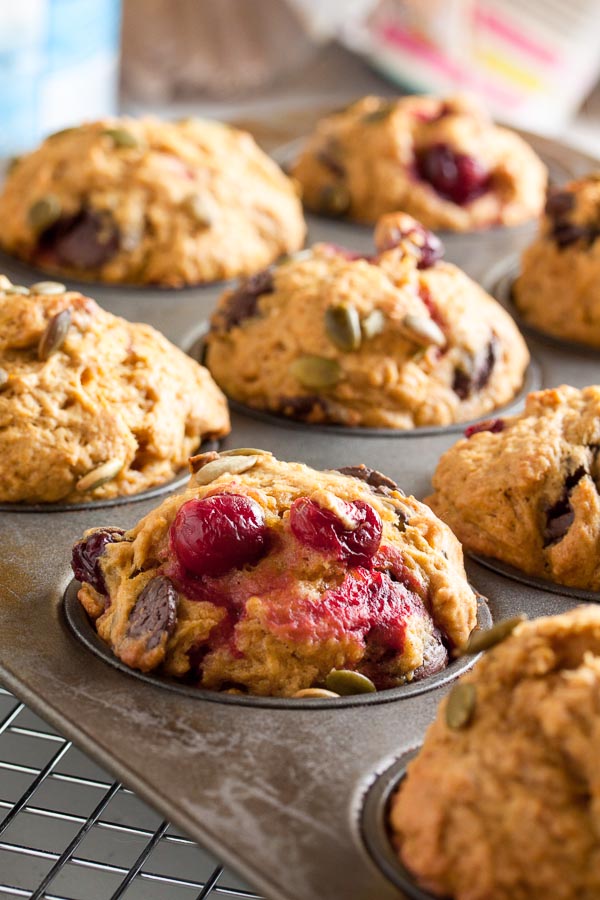 So it's officially fall. The weather is starting to turn cooler, especially in the evenings. And here in Vancouver we're finally seeing rain after a long hot and dry summer. Although it's by no means cold yet – I can still keep my windows open and it's still warm enough to be wearing my sandals (in spite of the rain). Actually, I'm still wearing exactly the same clothes I wore throughout the summer, except now I'm adding a sweater to the mix, because it's that lovely season when it's cool in the morning and evening, but the afternoon is determined to still be summer. But it's definitely baking weather. And it's the season for pumpkin. I know the market is ridiculously inundated with pumpkin spice this and pumpkin spice that. But here's the thing – it became popular for a reason. Because it's awesome. Pumpkin tarts and pumpkin pies and omg pumpkin cheesecakes. And if you've never tried pumpkin with chocolate? Read on. You need to try it.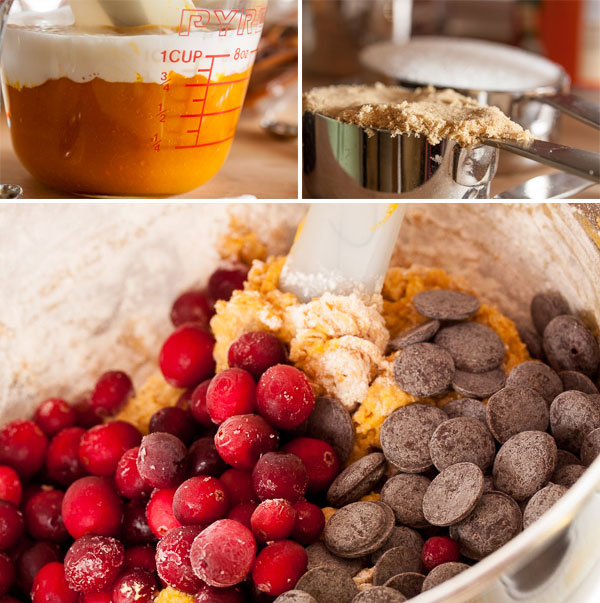 As with most things, for the best flavours, you should go for homemade, or as close to it as possible. So skip the commercially prepared pumpkin treats and make your own. Or at least head to a real bakery. Artificial flavours have their place, but why settle for second best when it's so easy to get the real thing?
And if you really want the best, you can even make your own homemade pumpkin purée. It's totally not difficult, just one more step to the recipe. Fifteen Spatulas did a great comparison between fresh purée and canned pumpkin and found it well worth the effort. I've never done a side-by-side comparison like that, but I have tried both methods over the years. Personally, if pumpkin is the true star of the recipe – like in a pie – I think it's definitely worth the extra time. For something like this muffin, where the pumpkin is combined with so many other ingredients? I think canned purée will do just fine.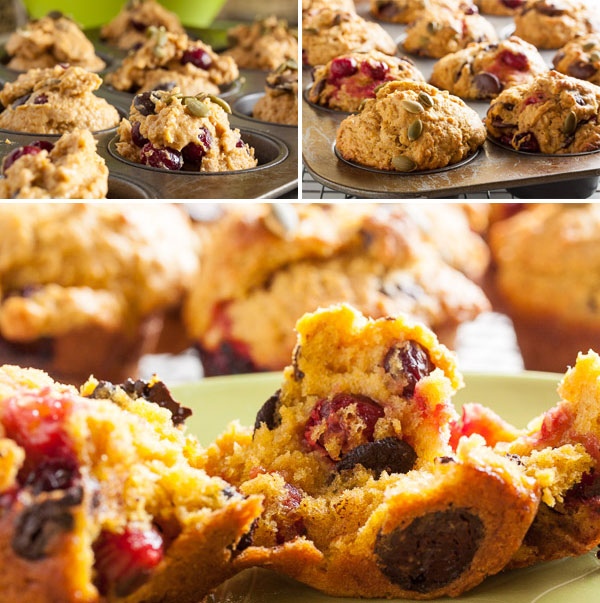 The original recipe for this muffin was actually a more conventional combination of pumpkin with raisins and nuts. Which was great, don't get me wrong. But one day I decided to replace the raisins with cranberries, and it was even better. And then I decided to add some chocolate. Because of course I did. You can't go wrong with chocolate, right? It was a very successful experiment.
This is another recipe from Dorie Greenspan's Baking: From My Home to Yours, which is my absolute favourite all-purpose baking cookbook. I have yet to try a recipe that I don't love.
And fantastic news – Dorie has a new cookbook coming out soon (I'm so excited!) called Baking Chez Moi: Recipes from My Paris Home to Your Home Anywhere. I preordered my copy as soon as I heard about it. I have absolutely no doubt that I'll love this one too.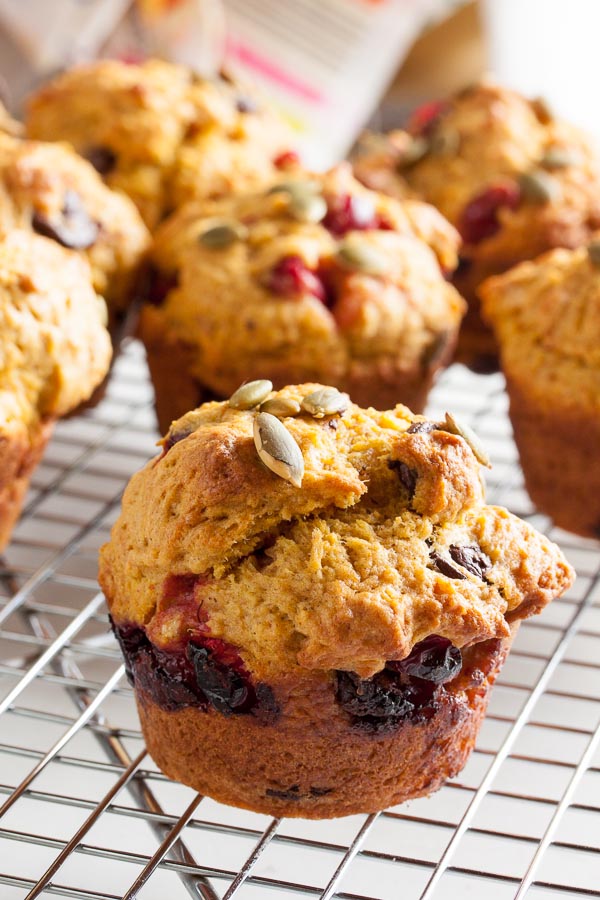 pumpkin muffins with cranberries and chocolate
Adapted from Dorie Greenspan's Baking: From My Home to Yours. This recipe will make 12 standard-sized muffins. Note that 1 can of pumpkin purée is enough to make 2 batches of this recipe.
ingredients
2 cups all-purpose flour
2 teaspoons baking powder
1/4 teaspoon baking soda
1/4 teaspoon salt
3/4 teaspoon ground cinnamon
1/2 teaspoon ground ginger
1/8 teaspoon freshly grated nutmeg
pinch of ground allspice
1/2 cup unsalted butter, at room temperature
1/2 cup granulated sugar
1/4 cup packed light brown sugar
2 large eggs
1/2 teaspoon pure vanilla extract
3/4 cup unsweetened pumpkin purée (NOT pumpkin pie filling)
1/4 cup buttermilk
1/2 cup fresh or frozen cranberries (no need to thaw)
1/2 cup semisweet chocolate chips or chunks
for topping (optional)
pumpkin seeds or sunflower seeds
Preheat oven to 400°F. Lightly grease your muffin tin, both inside and along the top edge. I usually use a silicone pastry brush and a bit of vegetable shortening. It just takes a few seconds. Alternately, you could use paper liners.
In a medium bowl, whisk together the flour, baking powder, baking soda, salt, and spices. Set aside.
In the bowl of a stand mixer fitted with the paddle attachment, beat the butter and sugars together on medium speed until light and fluffy, about 3 or 4 minutes. Scrape down the sides of the bowl and add the eggs, one at a time, beating well after each. Add the vanilla and beat again to incorporate. Turn the mixer down to low and add the pumpkin purée and the búttermilk.
When making muffins, it's especially important to not overwork the batter once the flour has been added, otherwise the muffins can turn out tough and bread-y. If you're careful, you can add the dry ingredients with the mixer on low speed. Personally, I opted to remove the bowl from the mixer at this point and fold the dry ingredients in with a spatula. Add the chocolate and cranberries to the bowl before the flour has been completely incorporated. Stir only as much as absolutely necessary – it's okay if there are still streaks of flour.
Using a large spoon or ice cream scoop, portion the batter into the muffin tin. Sprinkle the tops with pumpkin seeds or sunflower seeds (optional). Bake for about 20-25 minutes, rotating the pan halfway through, until a toothpick inserted in the centre of a muffin comes out clean (although there will likely be streaks of melted chocolate). Allow to cool on a wire rack for about 5-10 minutes before removing from the muffin tin.
These muffins are best when they're still warm and the chocolate is all melty. If you're eating them later, try reheating them for about 15-20 seconds in a microwave.