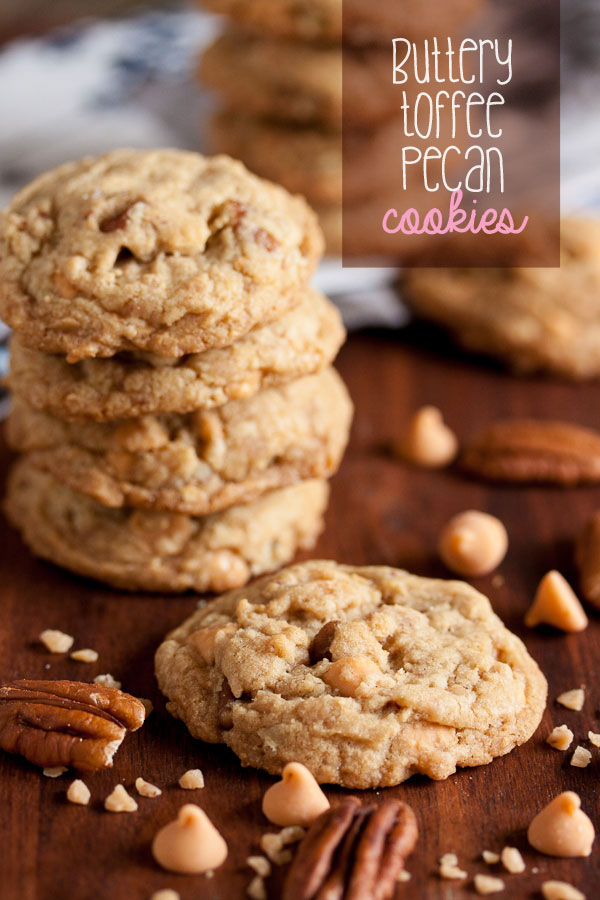 I honestly wasn't sure what to title this recipe. The original name is Butter-Pecan Fantasies, but that name just doesn't do this cookie justice. I thought about calling them toffee pecan cookies, but that doesn't really do them justice either. Plus I've made that exact cookie already (check them out – they're phenomenal!). Such a dilemma, right? This is so much more than what that name implies. It's buttery toffee bits and butterscotch and butter-rum flavouring. And yes, of course, butter. There is a lot of flavour in these little cookies, and I wanted to make sure that was apparent.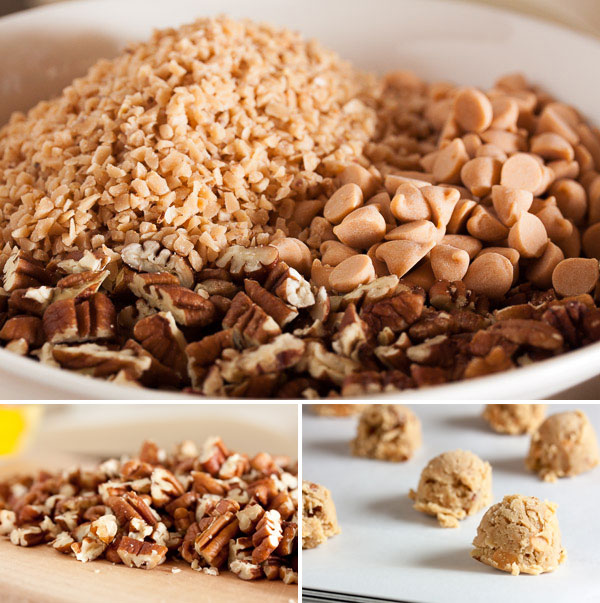 While the original recipe calls for butterscotch chips, it also says you can use whatever other type of chip you prefer. I almost used chocolate chips instead because I thought that would be an amazing combination – chocolate, toffee bits, and pecans? Ooh baby. But then I decided that I wanted the full "butter" experience these cookies have to offer. I'll try them with chocolate chips another day, because I still think that would be fantastic.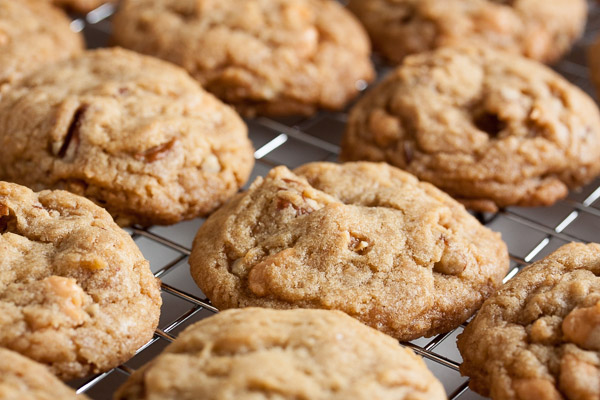 With all the baking I'm doing, I feel like I'm constantly buying ingredients. I wanted to make these cookies a few weeks ago and realized that I'd used up all my toffee bits (had to go shopping). Today I just barely had enough pecans for the recipe. I could have sworn I just bought some! I occasionally lazily think "hmmm, I should set up some sort of inventory of my baking ingredients", but I have no doubt I'd completely forget to update it.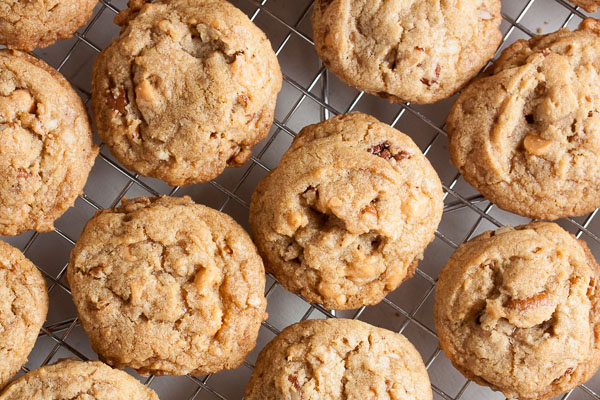 This cookie dough ends up being really thick, and there are a lot of inclusions in this cookie! Three cups of pecans, butterscotch chips, and toffee bits added to just over four cups of cookie dough. You will definitely get a flavour explosion in every bite. And with all those chips and toffee in there, this is a fairly sweet cookie. As much as I'm enjoying the flavour (yum!), I think maybe using semi-sweet chocolate chips instead of butterscotch might tone that sweetness down a bit. Totally personal preference, though – keep in mind that I generally prefer less-sweet things (shocking, right?). And I'm definitely enjoying them as-is anyway! And so is everyone else.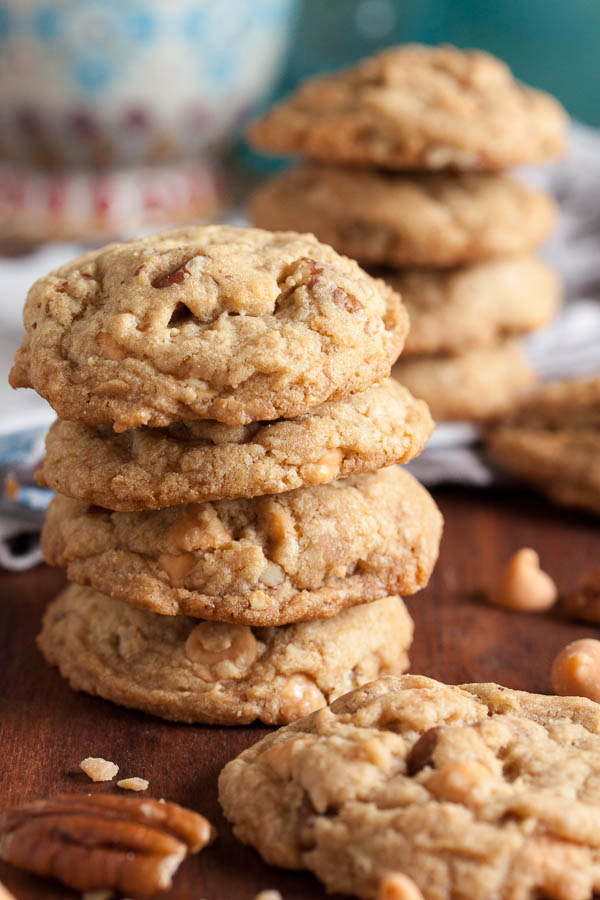 buttery toffee pecan cookies
Adapted from "Butter-Pecan Fantasies" from The King Arthur Flour Cookie Companion. The original recipe states it will make 48 cookies using a rounded tablespoon measure. I got 54 using my usual scoop which is slightly larger than tablespoon-sized.
ingredients
3/4 cup unsalted butter, at room temperature
1-1/4 cups packed brown sugar
1 teaspoon salt
1 teaspoon baking soda
1 large egg
2 teaspoons pure vanilla extract
1/8 teaspoon strong butter-rum or butterscotch flavour (optional)
2-1/4 cups all-purpose flour
1 cup toffee bits
1 cup butterscotch chips (or you could use chocolate chips, white chocolate chips, or cinnamon chips instead)
1 cup chopped pecans
Preheat oven to 375°F.
In the bowl of a stand mixer fitted with the paddle attachment, beat the butter, sugar, salt, and baking soda together on medium speed until light and fluffy, about 3 or 4 minutes. Scrape down the sides of the bowl and add the egg, beating well. Add the vanilla and rum flavouring (if using) and beat again to incorporate.
Turn the mixer down to low and add the flour, mixing until just barely combined. Remove from the mixer and add in the toffee bits, butterscotch chips, and pecans, either with a spatula or by hand. I prefer to knead inclusions in by hand to ensure they're distributed evenly.
Using a small cookie dough scoop or a tablespoon, portion the dough onto the baking sheets about 2 inches apart to allow for spreading.
Bake for about 10-12 minutes, rotating the baking sheet halfway through the baking time. Allow to cool on a wire rack for a few minutes before removing the cookies from the pan and allowing them to cool completely.