November/December is the time of year when all the food blogs explode with cookies and treats and brunch recipes for the holidays. I had a huge list of things I wanted to make! But you may have noticed that my blog has been suspiciously quiet the past few weeks. Interesting thing about me – I hardly ever get sick. Last time I had the flu? Seriously, so long ago I can't even remember! As for colds, I'll maybe get the sniffles for a couple days and that's it. Maybe I've been bragging about this too much, because this year? It kinda bit me in the ass. I wasn't down for the count or anything, but uuuuuuugggghhhhh that stupid cold just would. not. go. away. So all the Christmas baking I was planning to do? Yeah, I really wasn't feeling up for it.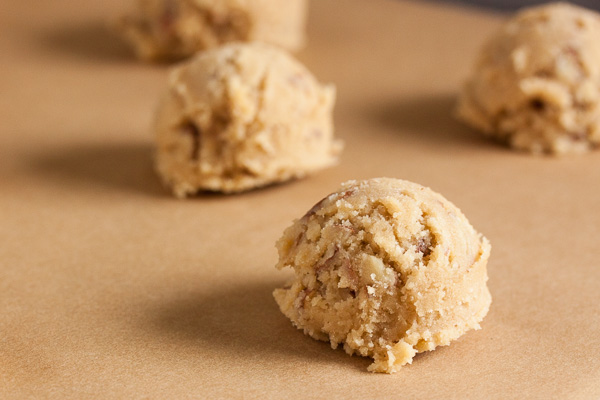 First I had a sore throat for a couple weeks. No, I mean a seriously sore throat – so painful it woke me up in the middle of the night. I actually went to the doctor to assure myself it wasn't anything more serious than a cold. But nope, just had to let it run its course. But still, while I was tired from lack of sleep, it was more annoying than anything else.
Then it finally morphed into a combo head cold and cough. The kind that just sucks out all energy and makes you stupid. So I pretty much just curled up on the couch and watched Netflix for like a month straight. I'm in the middle of Broadchurch right now – I suspect everyone.
I don't want to jinx myself, but I think I may finally be almost over this stupid thing. And boy oh boy, do I have a backlog of recipes I want to be making! I dragged myself to the specialty store the other day and stocked up on supplies (I was totally out of toffee bits, how did that happen?), and now my cupboard is bursting with baking ingredients. Woo! Seriously, it takes so little to make me happy (/nerd).
But in spite of my crippling illness (cough cough), I managed to get a little bit of baking done. Including these butterscotch cookies I brought to our office potluck. I was just incredibly careful about cleanliness, washing my hands several times during the process, and leaving the room any time I had to cough (and washing my hands again afterwards). With all the treats that were being brought into the office pre-Christmas break, I was expecting to have some left over. But they were pretty much inhaled. All bakers know how gratifying that is – it always makes me happy.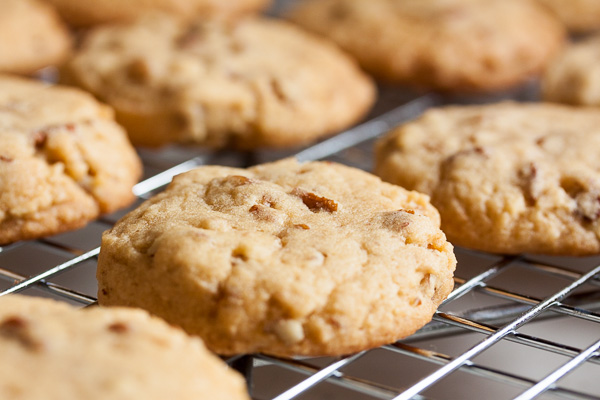 One of the reasons I chose this recipe is that the directions are ridiculously, ridiculously straightforward and simple. Given my state of mind (pretty much non-existent), that was incredibly important. Seriously, the day I took these to work, I accidentally broke a glass. And then just sort of sat there staring at it pathetically because I just could not deal. It was sad.
But don't think that because these cookies are easy to make that they're not going to be as good as more complex recipes. Some of my most popular cookies have been the absolute simplest to make.
These cookies are soft and very chewy. In fact, one of my coworkers asked me "omg, how do you get cookies to be chewy like this?" Basically, it's the amount of moisture the cookie retains. One thing that helps a cookie stay nice and chewy is the sugar, especially brown sugar. In this case, it's also the addition of a bit of corn syrup.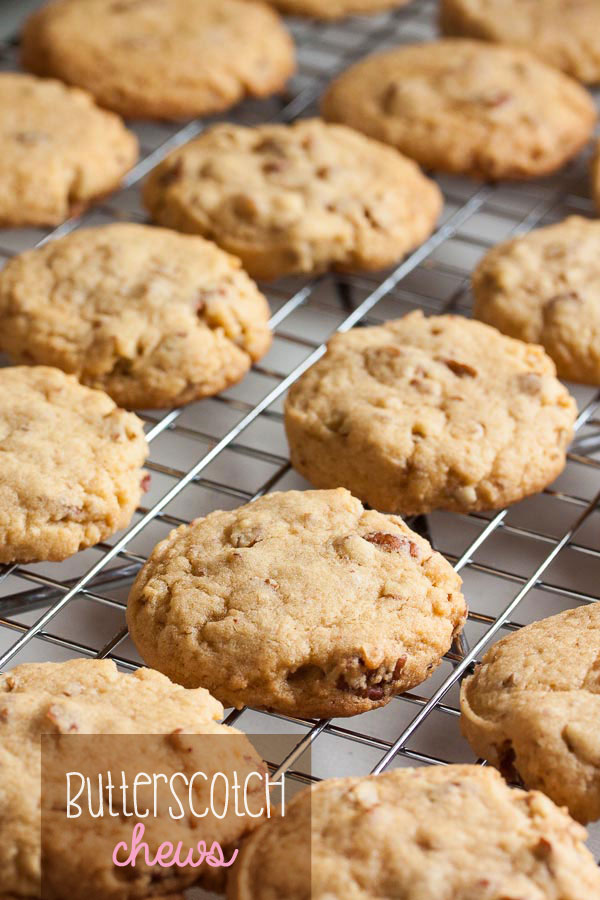 ingredients
1/2 cup unsalted butter, at room temperature
1 cup brown sugar
2 tablespoons light corn syrup
1/2 rounded teaspoon salt
1 teaspoon pure vanilla extract
1/8 to 1/4 teaspoon strong butter-rum or butterscotch flavour
1/4 teaspoon baking soda
1/2 teaspoon baking powder
1 large egg
1 cup finely chopped pecans
1-3/4 cups all-purpose flour
Preheat oven to 375°F.
In the bowl of a stand mixer fitted with the paddle attachment, beat the butter, sugar, corn syrup, salt, vanilla, flavouring, baking soda, and baking powder together on medium speed until light and fluffy, about 3 or 4 minutes (basically everything except the flour and the pecans). Scrape down the sides of the bowl and add the egg, beating well.
Turn the mixer down to low and add the chopped pecans and the flour, mixing until just barely combined. Remove from the mixer.
See? I told you it was simple!
Using a small cookie dough scoop or a tablespoon, portion the dough onto the baking sheets about 2 inches apart to allow for spreading. Using the palm of your hand, flatten each ball slightly.
Bake for about 8-10 minutes, until lightly browned around the edges, rotating the baking sheet halfway through the baking time. Allow to cool on a wire rack for a few minutes before removing the cookies from the pan and allowing them to cool completely.