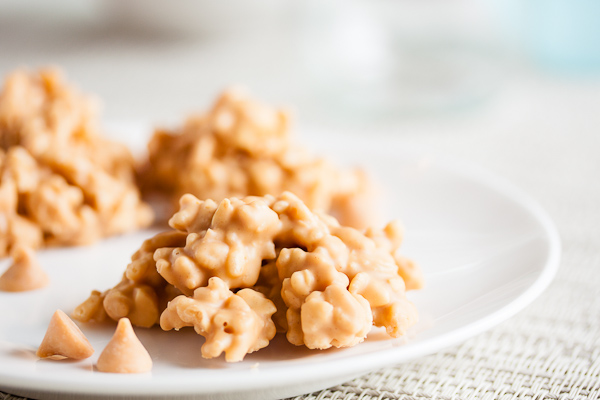 It's another no-bake week! Not just because it's too hot, but because I'm all baked out. A friend of mine asked me to supply a couple hundred cookies for an event on the weekend and I ended up baking Friday night and most of the day Saturday as well. So Sunday? No-bakes.
This is one of the few recipes I remember my mom making when I was a kid. I've mentioned it before, but she has never really enjoyed baking. I'm not saying she's not good at it, but there are a million things she'd rather be doing instead. As a result, she's always been a big fan of no-bake recipes. I've already made her chocolate peanut butter no-bake cookies, and I remember a few others that I'll get to soon.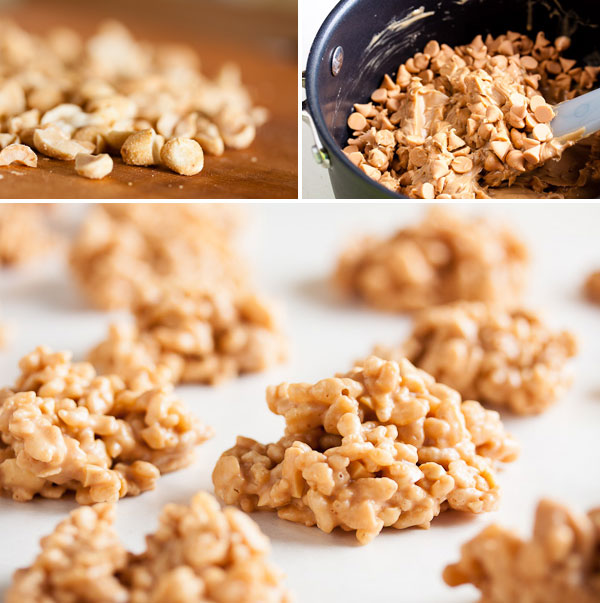 My mom used to make these with corn flakes – I think mainly because she always had corn flakes on-hand. I opted to use rice krispies instead. Why? Because that's what I had. I'm sure these would be fine with most "neutral" un-flavoured cereals. They'd probably be good with oats as well. I'll have to experiment with that in the future.
I had some trouble getting the butterscotch chips to melt completely, so in the end there were some tiny lumps of butterscotch left in the mixture. Flavour morsels! No one will ever know.
Just fyi, one of my coworkers has decided these should be called "crackies" instead of cookies. Because they're addictive like crack.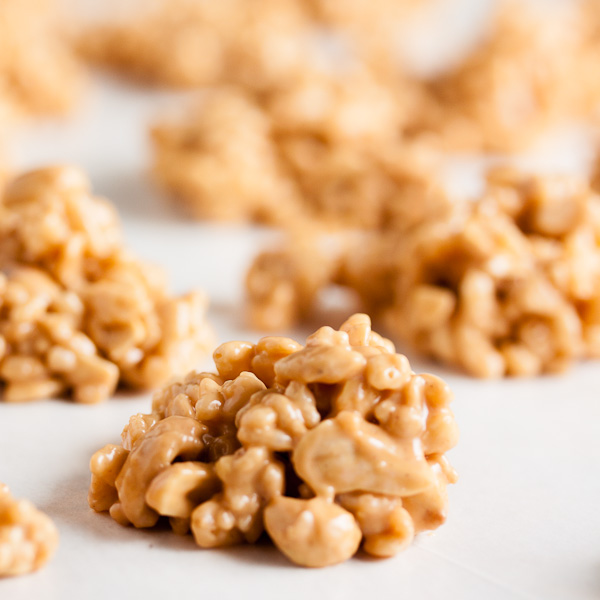 peanut butter butterscotch no-bake cookies
This is a recipe that I got from my mom ages ago, but a quick google will turn up lots of similar recipes online.
ingredients
1 11-ounce package butterscotch chips
1 cup peanut butter (any type)
1 cup salted peanuts, coarsely chopped
4 cups rice krispies or other cereal
Gently, over low heat, melt the butterscotch chips and peanut butter together until smooth. Remove from heat and stir in the cereal and the peanuts. Spoon out onto sheets of wax paper or parchment paper and allow to set up. When I made them, they were still a bit soft even after sitting out for several hours; I needed to refrigerate them to get them to set up completely, and then they seemed fine at room temperature after that. That may just be because it's so warm here though.