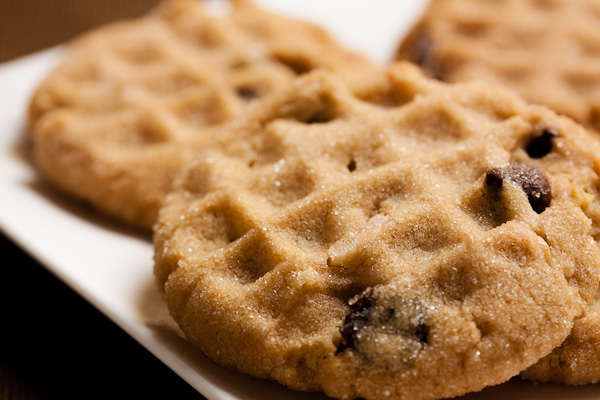 I think there are two main camps when it comes to peanut butter cookies. Those who love them soft and chewy, and those who love them crisp. This is a crisp peanut butter cookie. Okay, I'll admit, soft chewy cookies are okay. But growing up, our peanut butter cookies were always crunchy and crumbly, almost like a sablé. And that association will always be there.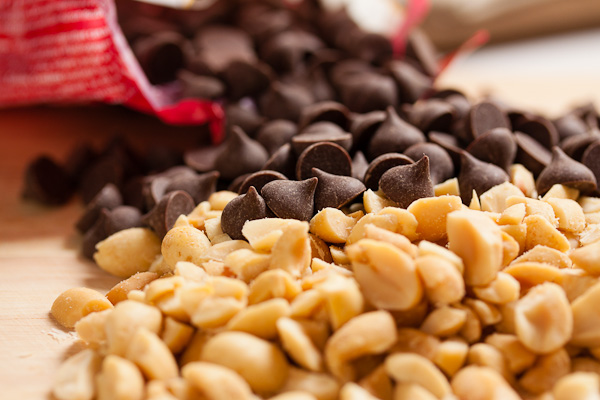 This recipe is from Dorie Greenspan's Baking: From My Home to Yours. I adore this book. I use this book so often I don't even bother putting it back on my bookshelf anymore – it lives permanently in my kitchen. There's flour caught in the spine and several of the pages are stuck together and stained. I love it.
It's full of simple home-style treats like muffins, cookies, bars & bundt cakes, which is exactly the type of baking I like to do. There's a thread over on eGullet dedicated to this book, and Dorie has popped in a few times to answer questions and give advice. She seems like such a down-to-earth and lovely person. It just makes me cherish her books even more. Seriously, if you only buy one baking cookbook? Make it this one.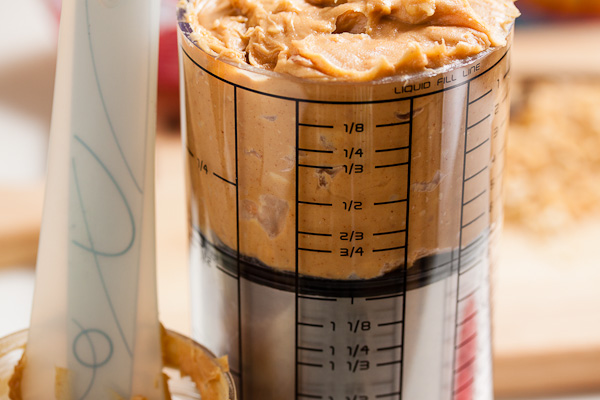 I'm going to give you guys a tip – for measuring syrupy or sticky ingredients ike molasses and peanut butter, you can't beat an adjustable measuring cup like this one. The plunger pushes the ingredients out cleanly. No digging and scraping with a spatula.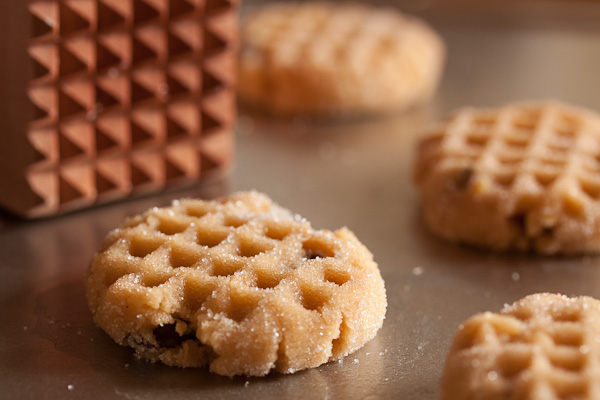 I got the idea of using a meat tenderizer to press down the cookies from the Miette cookbook. I thought it was such a cute pattern and a nice change from the fork marks that I've always used. And the pattern holds up really well after baking. This is another book I can already see I'll be returning to again and again. I've only made a few recipes from it so far, but every one has been wonderful. And it's such a gorgeous book!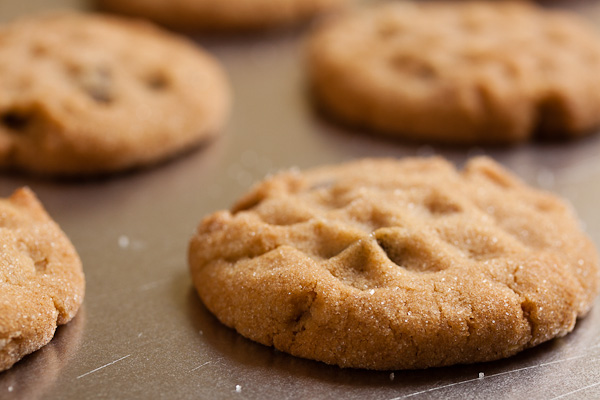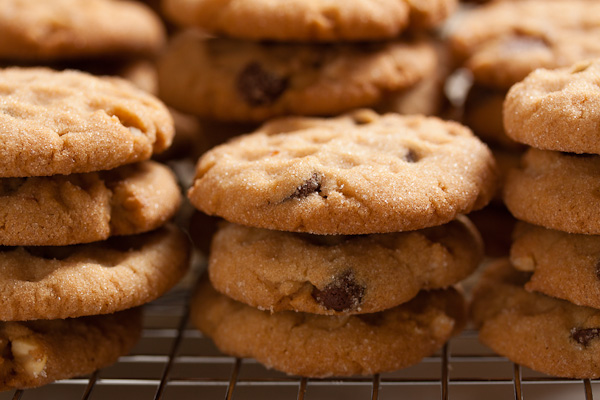 peanut butter chocolate chip cookies
Adapted from Dorie Greenspan's "Peanut Butter Crisscrosses" from Baking: From My Home to Yours. The original recipe didn't include chocolate chips, but… do I really need to explain that decision? The book says this makes about 40 cookies, but I ended up with about 80 smaller cookies.
ingredients
2-1/2 cups all-purpose flour
1 teaspoon baking soda
1/2 teaspoon baking powder
1/4 teaspoon salt
pinch of freshly grated nutmeg
1 cup unsalted butter, at room temperature
1 cup peanut butter – crunchy or smooth, but not natural
1 cup packed light brown sugar
3/4 cup sugar
2 large eggs
1 cup chopped salted peanuts (original recipe called for 1-1/2 cups)
1 cup chocolate chips
For Coating
about 1/2 cup sugar
Preheat oven to 350°F. Combine flour, baking soda, baking powder, salt and nutmeg in a bowl and whisk together.
In the bowl of a mixer with a paddle attachment, cream the butter on medium speed for a minute or two. Add the peanut butter and cream for another minute. Add the sugars and continue to beat for about 3 minutes more. Add the eggs one at a time, mixing well after each addition. Scrape down the sides of the bowl and gradually add the dry ingredients on low speed, mixing only until combined. Mix in the peanuts and chocolate chips.
Form the dough into small balls, about 1" diameter, and roll each in sugar. Place about 2" apart on a baking sheet. Press each ball down with a fork – press a second time in the opposite direction to create the crisscross pattern in the title.
Bake for about 12 minutes, rotating the pan halfway through, until cookies begin to turn golden. Allow to cool on a wire rack before removing from the baking sheet.