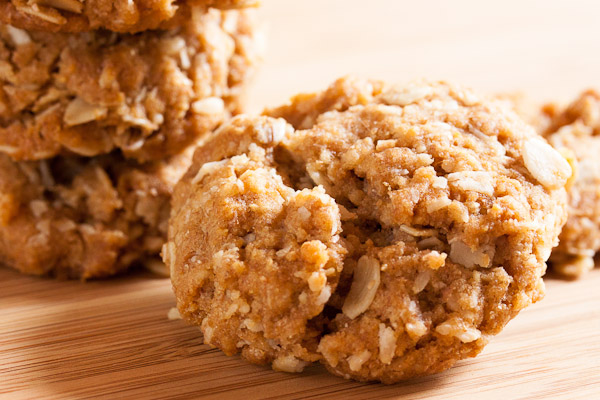 According to the cookbook, this recipe is based on the Australian Anzac cookies. I'd never heard of them, but of course now that I have, I'm seeing the recipe all over the place. I have a Donna Hay recipe that looks very similar to this that I'll try at some point in the future.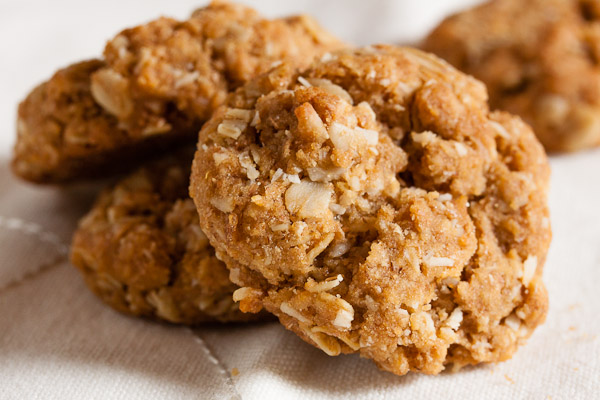 This is a very odd cookie recipe in that the butter is melted and poured on top of the dry ingredients, and there are no eggs to act as a binding agent. The dough is incredibly crumbly and doesn't hold together at all. It reminded me of granola more than anything.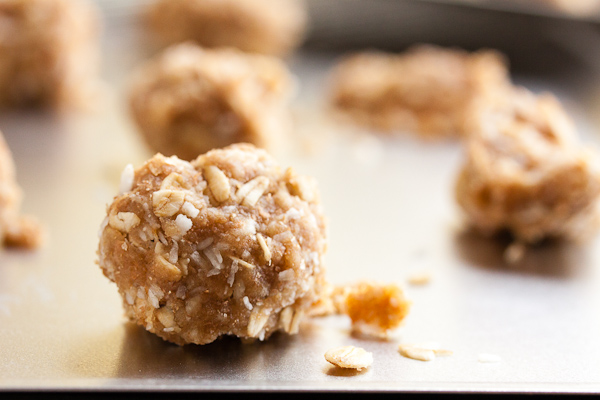 I was actually really worried about how these would turn out because when I tried to roll the dough into balls, they just crumbled apart. I ended up squeezing it into lumpy-ball-like shapes and carefully placing them on the baking sheet before they could fall apart again.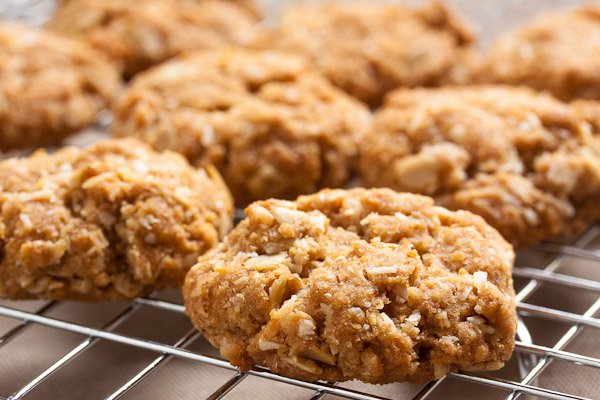 When they first came out of the oven, I was still worried, because the cookie didn't feel set at all. Once they'd cooled, however, they were fine. Amazing considering the only thing holding them together is butter and melted sugar.
They're crunchy and crumbly with a chewy center and all the flavours of oatmeal and brown sugar and coconut come through strong. Flavour-wise these are fantastic. One of my coworkers declared this her favourite cookie. It's definitely one I'll want to make again.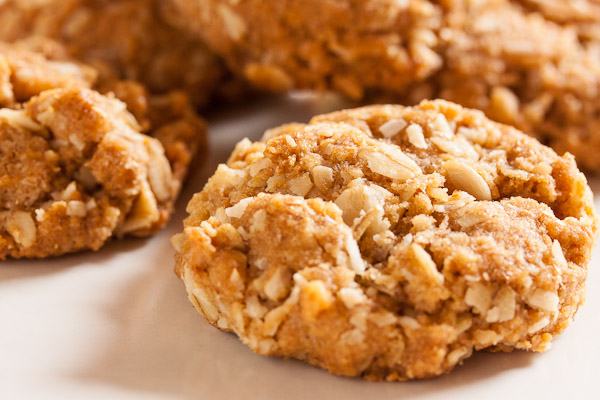 ingredients
1/2 cup unsalted butter
1 tablespoon golden syrup or light corn syrup
1/2 teaspoon baking soda
2 tablespoons boiling water
1 cup whole wheat flour
1 cup dried coconut
1 cup light brown sugar
1-1/3 cups rolled oats
pinch of salt
Preheat oven to 325°F.
Combine flour, coconut, brown sugar, rolled oats and salt together in a large bowl and whisk together.
In a small saucepan, heat the butter and syrup, stirring until the butter has melted. Mix the baking soda with the 2 tablespoons of boiling water and add to the butter mixture. Pour this over the dry ingredients and blend together. It's easiest to just use your hands at this point.
Form the dough into small balls and place about 2" apart on a baking sheet. Bake for about 15 minutes, rotating the pan about halfway through, until golden.