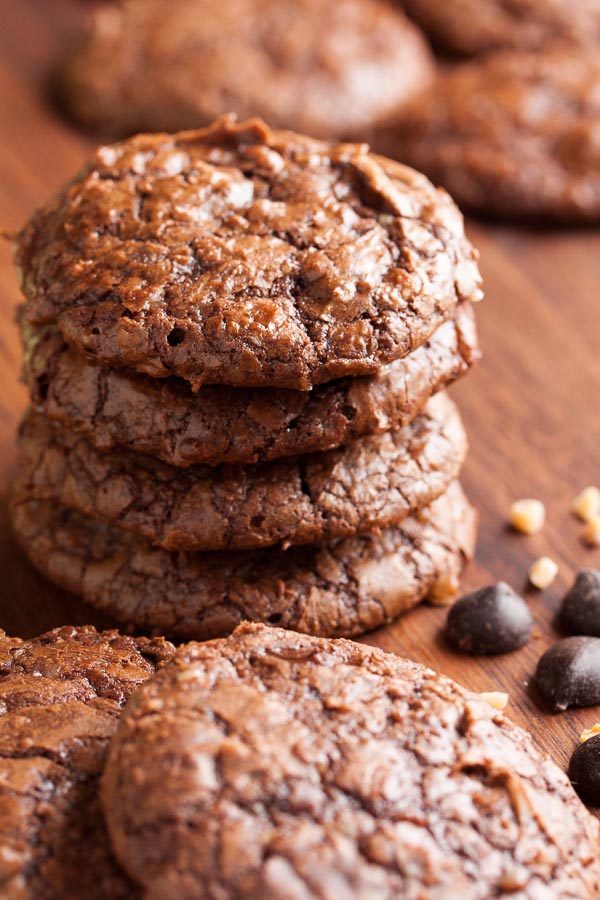 Once again I was going to make a cookie requested by one of my coworkers. Last week, I couldn't make it because I didn't realize the dough needed to be refrigerated. This time I knew that, but I just procrastinated too long. Oops. In my defence, I was binge-watching Archer on Netflix. Important stuff.
So we're having chocolate cookies instead!
This is one of those recipes that's like a brownie in cookie form (which reminds me – I need to make brownies one of these days). There's a tiny bit of butter melted with chocolate (a half pound of chocolate! woof!), then mixed with sugar, eggs, and just a quarter cup of flour. And then? Two full cups of add-ins are stirred in to just over 2 cups of dough. I like those proportions!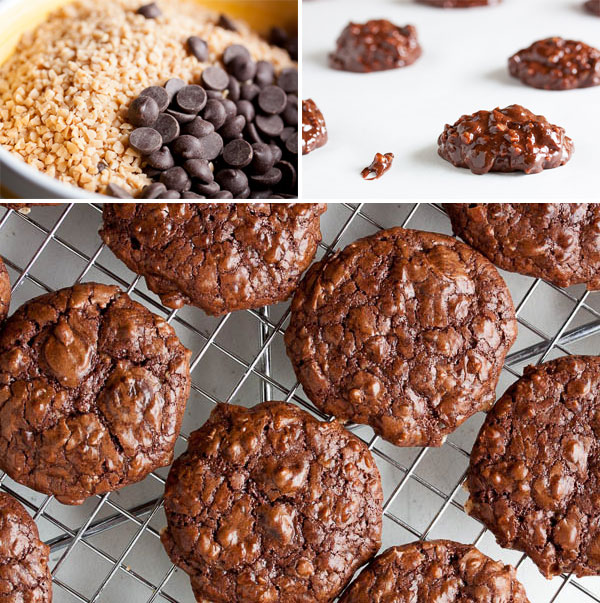 I've made gooey brownie-like cookies before and they're always a hit – like these double chocolate cookies and chocolate peanut butter cup cookies – and if you prefer cake-y brownies, check out these chocolate crackle cookies. That one became the go-to chocolate cookie recipe for one of my coworkers.
The dough ends up being incredibly thin – seriously, just like a brownie batter. You might worry that the cookies will spread out and join together into one big flat cookie, but those little blobs of dough spread just enough and rise to form beautiful little cookies. And you know that lovely dry cracked flaky top that forms on the top of dense chocolate-y brownies? This cookie's got that too. Look how pretty!
And just like those brownies, they are dense and chewy. The additional chocolate chips make an already incredibly chocolate-y cookie even more chocolate-y, and all those toffee bits add bursts of sweetness. In short? This is a very good cookie.
I ate way too many of these cookies fresh from the oven, when they were still soft and gooey. And everyone at work loved them.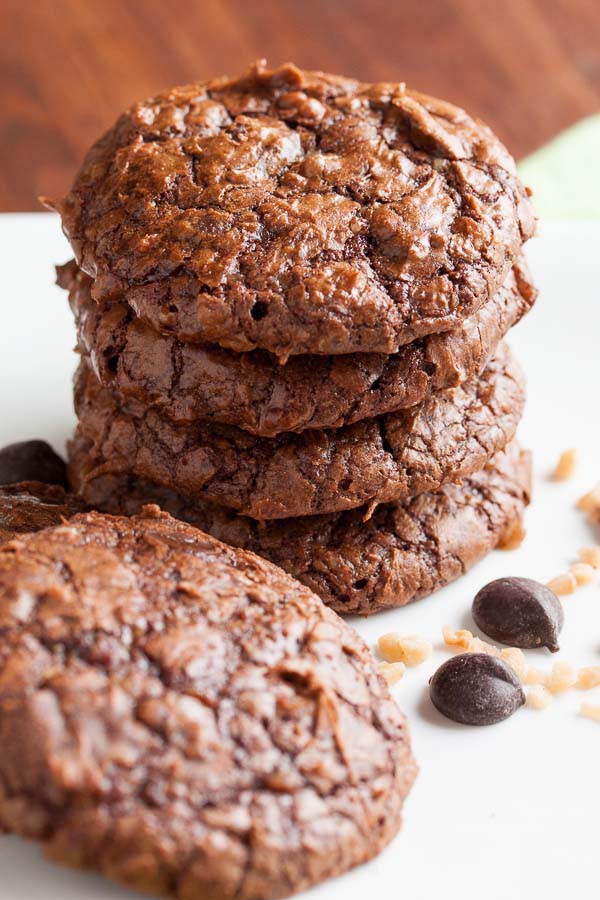 ingredients
8 ounces (225g) bittersweet chocolate, coarsely chopped (about 1-1/4 cups)
2 tablespoons (28g) unsalted butter
3/4 cup (170g) light brown sugar
2 large eggs
2 teaspoons pure vanilla extract
1/2 teaspoon baking powder
1/8 teaspoon salt
1/4 cup (31g) unbleached all-purpose flour
1 cup (150g) toffee bits
1 cup (175g) semisweet chocolate chips
Preheat oven to 350°F.
Gently melt together the chopped chocolate and butter. You can do this by combining them in a microwave-safe bowl and heating in the microwave 15-30 seconds at a time, stirring well after each burst of heat until smooth. Or in the top of a double-boiler or in a heat-proof bowl set over a pot of simmering water. I usually melt chocolate very, very carefully in a heavy saucepan over very low heat, stirring frequently until the chocolate is just melted. Chocolate can scorch really easily, so best to do this slowly and gently. Once melted, remove from the heat and set aside to cool.
In the bowl of a stand mixer fitted with the paddle attachment, or in a medium bowl working by hand, beat the brown sugar, eggs, vanilla, baking powder, and salt together. Scrape down the sides of the bowl and add the cooled melted chocolate. Beat well again.
Fold in the flour, toffee bits, and chocolate chips, and gently stir until just combined.
Using a small cookie dough scoop or a tablespoon, portion the dough onto the baking sheets about 2 inches apart to allow for spreading.
Bake for about 12 minutes, until the tops look cracked, rotating the baking sheet halfway through the baking time. Allow to cool on a wire rack for a few minutes before removing the cookies from the pan and allowing them to cool completely.