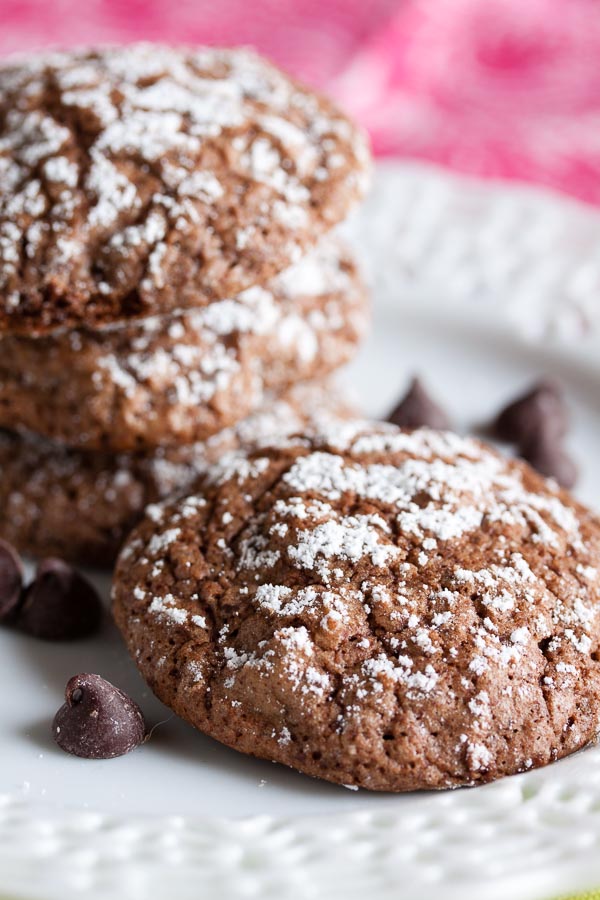 This week, I felt like something chocolate. Like chocolate chocolate. Really chocolate-y. You get the picture. This recipe was in the first book I picked up, and it looked so good I didn't bother to search any further. A chocolate cookie with chocolate chips? Perfect.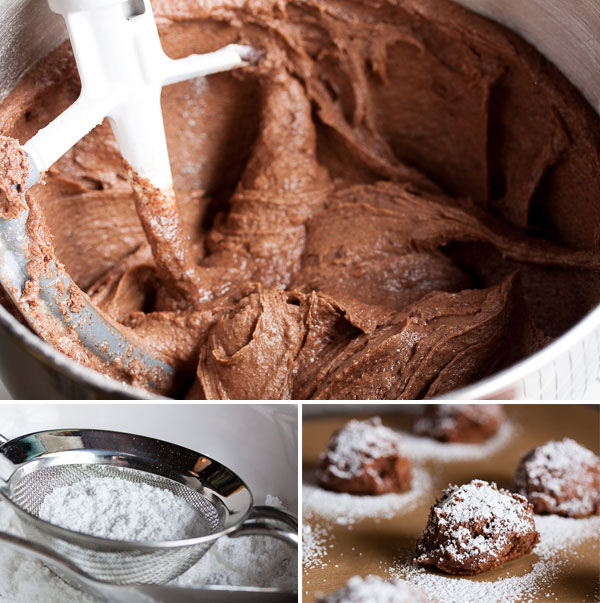 When I saw that the recipe only makes 2 dozen cookies, I thought I'd have to make a second batch after a couple days (there's no way they'd last the week with my coworkers!). But I actually ended up with almost 2 cookie jars full. That must be 2 dozen really big cookies. I made them my usual size (maybe just shy of 3″ diameter?) and got over 60. Quite a difference, eh? I've mentioned it before, but I always prefer to make cookies on the smaller size. People can always take more than one, but if they're big cookies, they often get broken in half or quarters. Not pretty to have a cookie jar full of broken cookies.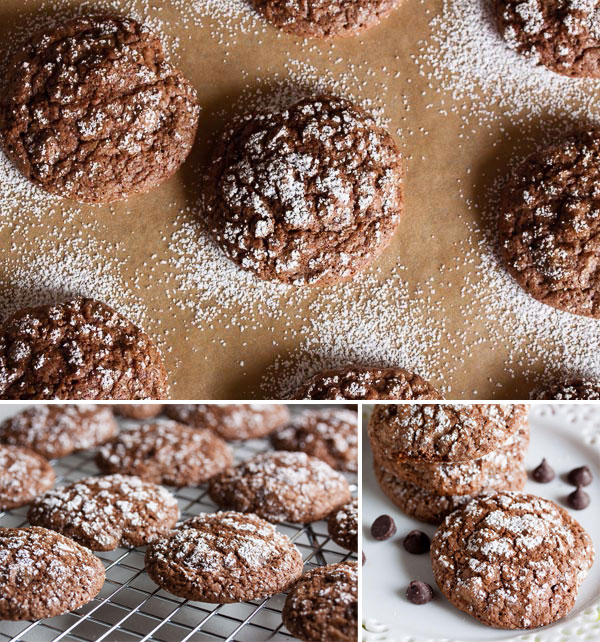 These cookies are soft and moist – they really remind me of a slightly cake-y brownie. So much so, that I think these would be fantastic with chopped walnuts added. Aaaaand I'm making a note to try them again in the future. I'm getting a lot of compliments and several requests for the recipe, and I've heard more than one "whoah!". The cookie itself is nice and chocolatey, made with both cocoa powder and melted unsweetened chocolate, and the addition of chocolate chips pushes it to another level. Just what I was looking for this week.
I thought I used lots of confectioners' sugar to coat these, but I didn't get that beautiful cracked pattern I was hoping for. See how much I used? You should use more than that.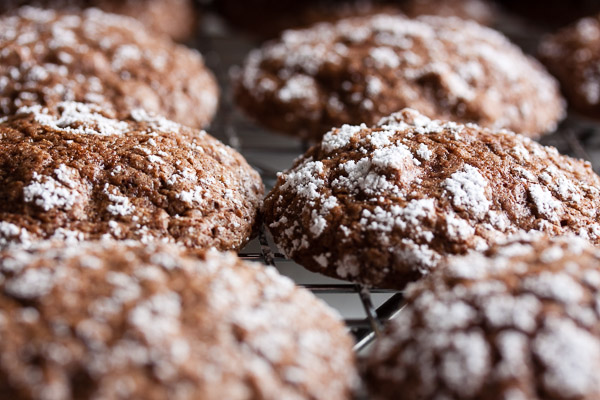 Note that this recipe calls for natural cocoa powder, not Dutch processed. For one thing, natural cocoa is much lighter in colour, but the important difference between the two when it comes to recipes is in the acidity. Natural cocoa powder is acidic, while Dutch processed cocoa has had the acid neutralized. Generally natural cocoa powder is paired with baking soda (baking soda requires an acid to react with), but this recipe uses baking powder (which is essentially baking soda with an acid already added). I'm guessing natural is specified because, while lighter in colour, it actually has a deeper flavour. You could probably substitute Dutch process cocoa, but the flavour wouldn't be as intense. But if you can't find natural cocoa powder, what can you do? I live in a major city and have trouble finding it sometimes.
Fun fact – while most recipes you'll see for red velvet cake make use of food colourings to get that lovely colour, one theory is that it originally got its name because there's a chemical reaction between natural cocoa powder and the buttermilk and/or vinegar in the recipe (both acids) which turned the batter red. It happens with Dutch process powder too, but to a much lesser degree. The redness was then enhanced with the addition of concentrated beet juice. Science!
Joy the Baker has a much more in-depth breakdown of the differences between the two, as does David Lebovitz.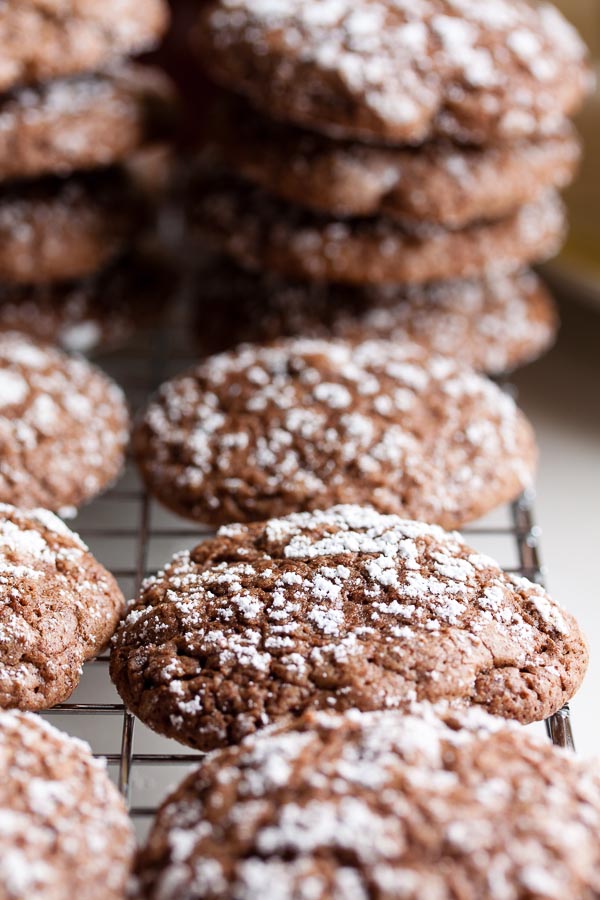 ingredients
4 oz unsweetened chocolate, chopped
1-3/4 cups all-purpose flour
2 tablespoons natural cocoa powder (not Dutch processed)
1-1/2 teaspoons baking powder
1/2 cup unsalted butter, softened
1 cup granulated sugar
1 cup light brown sugar, packed
2 teaspoons pure vanilla extract
1/4 teaspoon salt
4 large eggs
1-1/4 cups chocolate chips
for coating
confectioners' sugar for dusting
Preheat oven to 375°F.
Gently melt the unsweetened chocolate either in the microwave, or the top of a double boiler on the stove, stirring frequently to prevent the chocolate from burning. Once it's completely melted, remove from the heat but keep it warm until ready to add to the dough.
In a medium bowl, whisk together the flour, cocoa, and baking powder. Set aside.
In the bowl of a stand mixer fitted with the paddle attachment, beat the butter, sugar, salt, and vanilla together on low speed for about 3 minutes. Scrape down the sides of the bowl and add the eggs, one at a time, beating for about a minute each. Continue to beat at low speed for an additional 2 minutes. Add the melted chocolate and beat for about another minute, until incorporated.
Add the dry ingredients, continuing to mix on low speed until just barely combined. Remove from the mixer and fold in the chocolate chips with a spatula. Normally I prefer to knead inclusions in by hand to ensure they're distributed evenly, but this dough is like a cake batter and far too sticky to work with by hand.
Using a small cookie dough scoop or a tablespoon, portion the dough onto the baking sheets about 2 inches apart to allow for spreading. Dust the tops very generously with confectioners' sugar. Allow to sit for about 10 minutes before baking (not sure, but I think this is to ensure the confectioners' sugar has adhered to the top of the cookie).
Bake for about 8-10 minutes, until the cookies are puffed up and cracked, rotating the baking sheet halfway through. Allow to cool on a wire rack for a few minutes before removing the cookies from the pan and allowing them to cool completely.