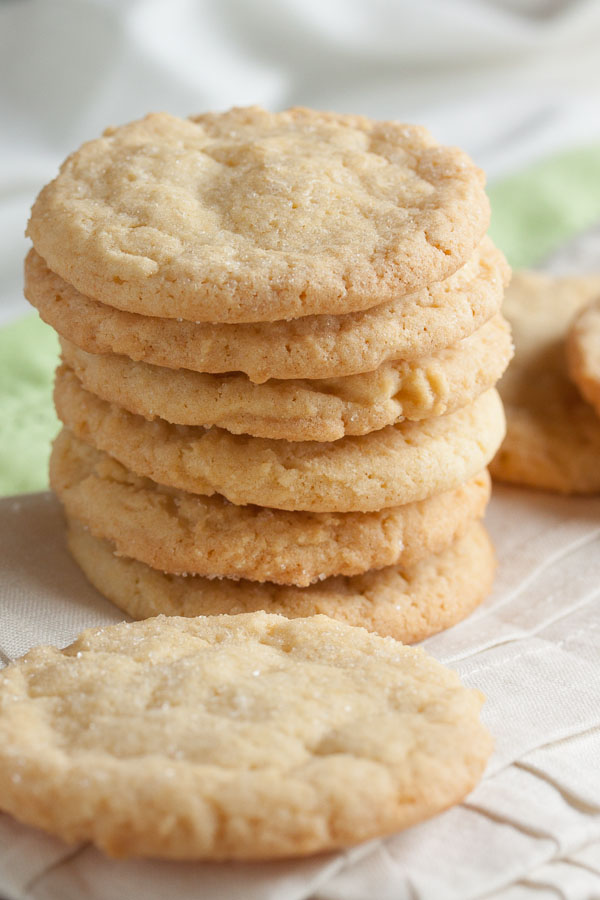 I usually only make one cookie a week (only! ha!), but this week I was baking some cookies to take to a friend who wasn't feeling well, and sugar cookies are her favourite. And I've had my eye on this recipe for awhile. The only sugar cookies I've ever made have been roll-out cookies – which are great when I want to play with my cookie cutters, but it's a bit more time-consuming than I wanted for a mid-week cookie. I wanted something quick. And I loved the idea of starting with a drop cookie and just sprinkling it with sugar before baking. Simple. Gotta love simple recipes.
And gotta love sugar cookies. Sometimes the most basic cookies are the best, right?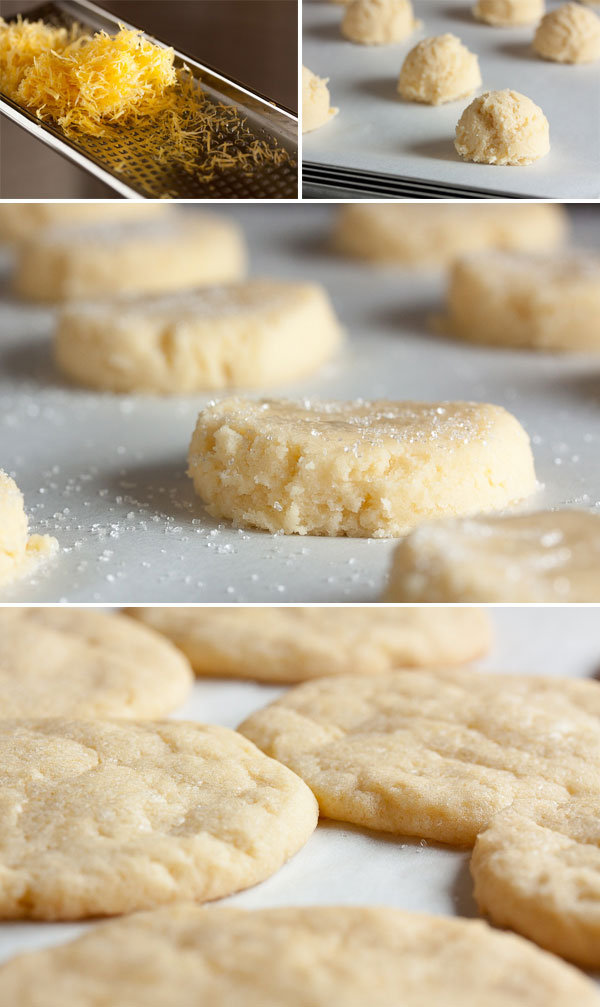 And while I may have baked these with one particular person in mind, she really didn't need me coming over with 5 dozen cookies (it's a bit much for one person, yeah?), so they got divided between her and my coworkers (you're welcome). These cookies didn't even last a day. It was ridiculous. I filled the cookie jar, turned around, and suddenly there were only four left! Whaaat? People were loving the crispy topping and the hint of lemon.
In stark contrast to last week's cookie, this one spread out beautifully. They puffed up a bit as well, but by the time they were ready to come out of the oven, they'd flattened back out again. The sugar coating melts to form a lovely crispy exterior, but they stay soft and chewy inside. And with both lemon zest and lemon juice included, they have a lovely flavour – something just a bit more than a regular sugar cookie.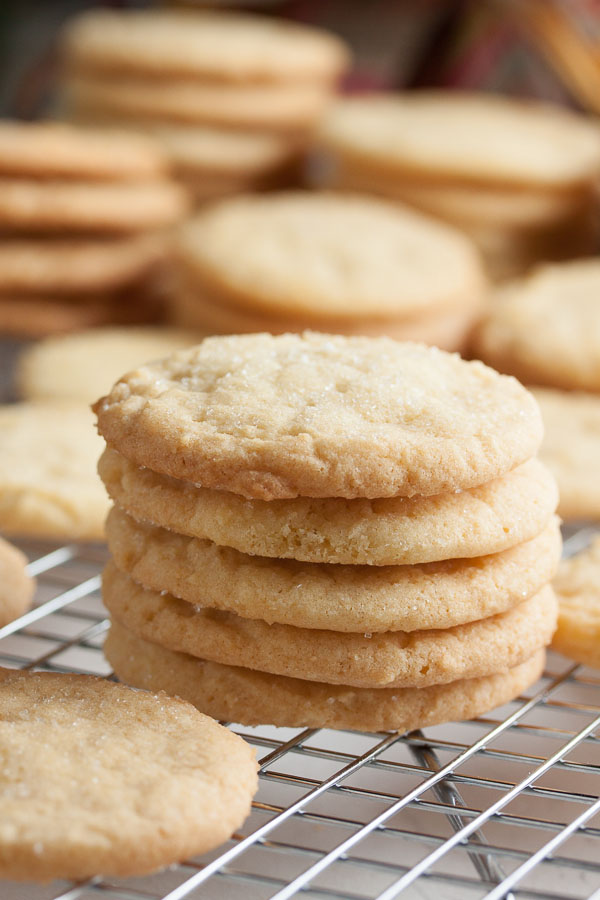 old-fashioned sugar cookies
Adapted from Martha Stewart's Cookies; the recipe is also on the Martha Stewart site. The original recipe says it makes about 30 cookies using a 2-inch scoop, but I got 56 with a scoop slightly larger than a tablespoon.
ingredients
3 cups all-purpose flour
1 teaspoon baking soda
1/4 teaspoon salt
1-3/4 cups granulated sugar
1 tablespoon finely grated lemon zest (about 1 lemon)
1/4 cup packed light brown sugar
1 cup unsalted butter, at room temperature
2 large eggs
1 tablespoon fresh lemon juice (about 1/2 lemon)
for sprinkling
sanding sugar
Preheat oven to 350°F.
In a medium bowl, whisk together the flour, baking soda, and salt. Set aside.
In the bowl of your stand mixer, combine the granulated sugar and lemon zest, rubbing them together with your fingers until the zest is distributed and the sugar is fragrant (the original recipe called for the zest to be added later, but I learned this method from Dorie Greenspan and prefer it for avoiding clumps of zest).
Add the brown sugar and butter, and with the paddle attachment, beat on medium speed until light and fluffy, about 3 or 4 minutes. Scrape down the sides of the bowl and add the eggs, one at a time, beating well after each. Add the lemon juice and beat again to incorporate.
Turn the mixer down to low and add the dry ingredients, mixing until just barely combined.
Using a small cookie dough scoop or a tablespoon, portion the dough onto the baking sheets about 2 inches apart to allow for spreading. Press down slightly with the palm of your hand. Sprinkle each cookie with sanding sugar, brush lightly with a wet pastry brush, and sprinkle with even more sugar.
Bake for about 15 minutes, until lightly golden brown around the edges, rotating the baking sheet halfway through the baking time. Allow to cool on a wire rack for a few minutes before removing the cookies from the pan and allowing them to cool completely.