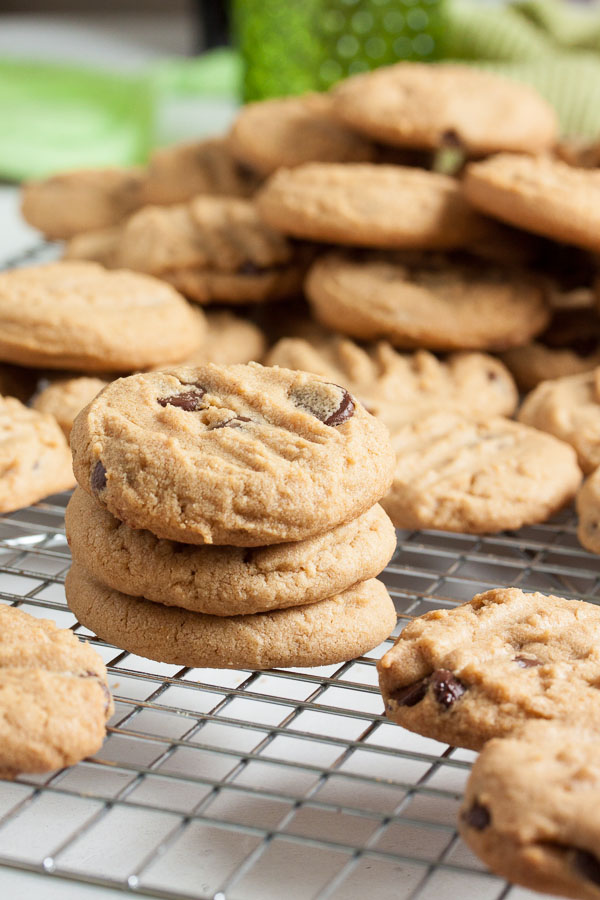 I know I just made some peanut butter cookies a few weeks ago (at the request of a pregnant co-worker), but I was totally craving something peanut buttery this week. I'd always believed that the best peanut butter cookies were the crumbly kind. But I've made lots of different peanut butter cookies over the years, and I've discovered a new favourite peanut butter cookie, which was surprisingly soft and chewy and had just a hint of cinnamon. That is still definitely a favourite, but this cookie has earned the new top spot for the crumbly shortbread-y texture. Wow, is this ever a good cookie. It has amazing peanut butter flavour, the perfect amount of chocolate, and it seriously does melt in your mouth. I totally want to bake another batch just for me.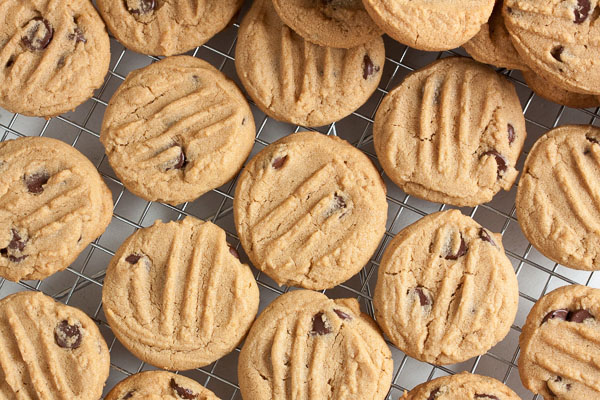 I'm not the only one who thought this cookie was awesome. People kept coming back for more, and the cookie jar emptied out really quickly.
I have to admit, even if I hadn't been craving peanut butter this week, this may have been one of the few cookies I could've actually made. Why? I kinda lost track of my baking supplies and barely had the 1-1/2 cups of flour required for this recipe. There's no way I could've made a recipe that called for anything more than that. There was a moment of real panic when I opened the flour canister and saw how low the level was. Oops. I've not only stocked up on flour now, but all the sugars. I've got all the basics covered now.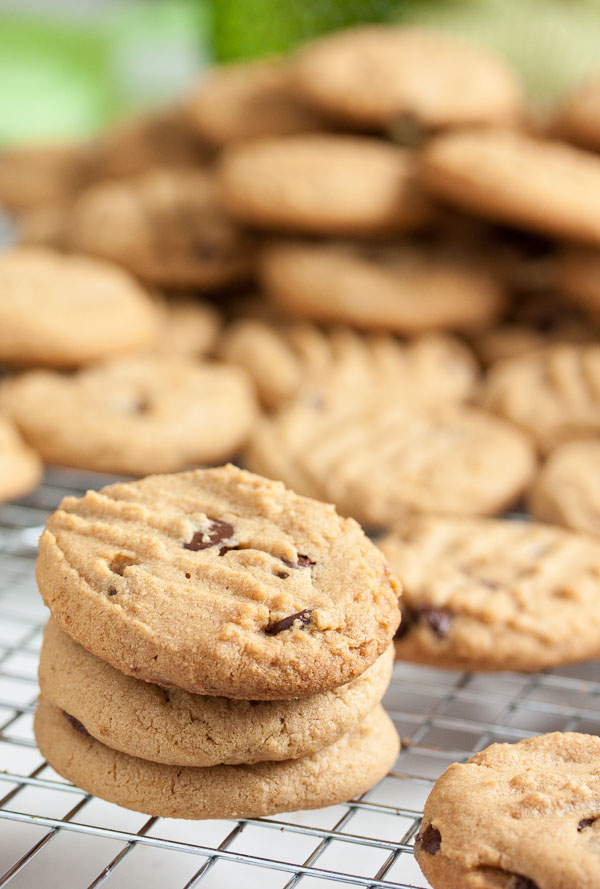 melt-in-your-mouth peanut butter chocolate chip cookies
Adapted from Tate's Bake Shop: Baking For Friends, by Kathleen King. The original recipe said it would make about 2-1/2 dozen cookies. I got 54 using my usual slightly larger than tablespoon-sized scoop.
ingredients
1-1/2 cups (188g) all-purpose flour
1 teaspoon baking soda
1/4 teaspoon salt
1/4 cup (57g) butter, at room temperature
1/4 cup (57g) vegetable shortening or coconut oil
1 cup (220g) firmly packed dark brown sugar
1 large egg plus 1 large egg yolk
1/2 teaspoon pure vanilla extract
1 cup (250g) smooth peanut butter
1-1/2 cups (262g) chocolate chips
Preheat oven to 325°F (165°C).
In a medium bowl, whisk together the flour, baking soda, and salt. Set aside.
In the bowl of a stand mixer fitted with the paddle attachment, beat the butter, shortening or oil, and sugar together on medium speed until light and fluffy, about 3 or 4 minutes. Scrape down the sides of the bowl and add the eggs, one at a time, and then the vanilla, beating well after each. Add the peanut butter and beat to incorporate.
Turn the mixer down to low and add the dry ingredients, mixing until just barely combined. Remove from the mixer and add in the chocolate chips either with a spatula or by hand. I usually prefer to knead inclusions in by hand to ensure they're distributed evenly, but this dough was so fluffy that I had no problem mixing them in with just a spatula.
Using a small cookie dough scoop or by forming the dough into small balls, portion the dough onto the baking sheets about 2 inches apart to allow for spreading. Press the balls down slightly with the tines of a fork.
Bake for about 20 minutes, until lightly golden brown around the edges, rotating the baking sheet halfway through the baking time. Allow to cool on a wire rack for a few minutes before removing the cookies from the pan and allowing them to cool completely.