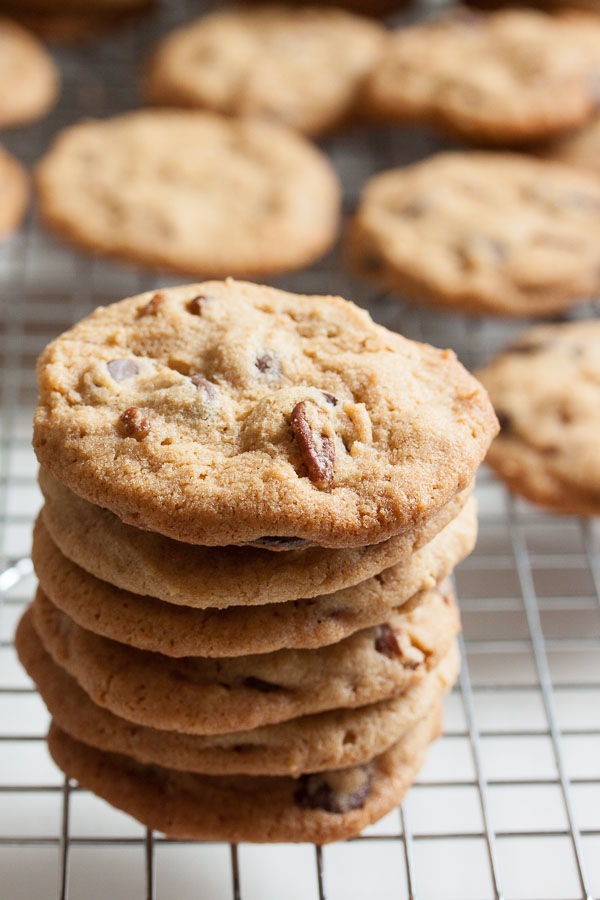 Finally, after weeks of not being able to bake and a summer of making popsicles, we have COOKIES. I mentioned last week that this was not the recipe I started out with, but I seem to have misplaced a couple of ingredients in the move so I had to go to plan B. And plan B was a huge success. Honestly, I wasn't surprised at all – everyone loves chocolate chip cookies, and everyone loves peanut butter cookies, and this recipe combines the two and adds crunchy pecans to the mix. My coworkers were very happy. My first choice will hold until next week (after I do a bit of shopping and replenish my cupboards).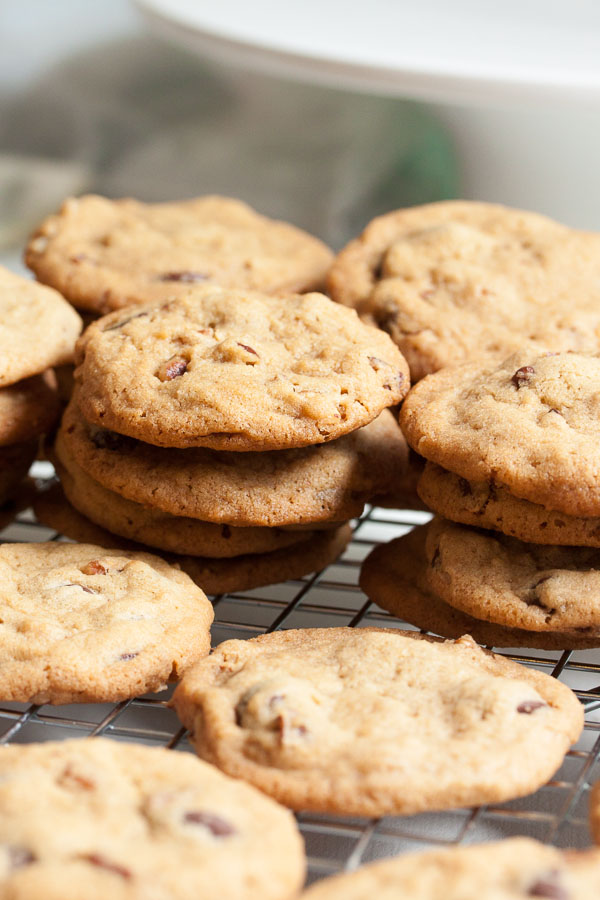 I also mentioned last week that I haven't quite got a handle on my new oven yet. These cookies ended up a too overdone – a little too much colour, and a bit crisper than I was expecting. I don't mind crunchy cookies at all (sometimes I prefer them), but I wasn't sure how my coworkers would feel about them.
I needn't have worried. The flavour of these cookies is fantastic, whether they're soft or crisp, and my coworkers were just thrilled to have cookies again. The cookie jar was emptied in just 2 days. And there were a lot of cookies!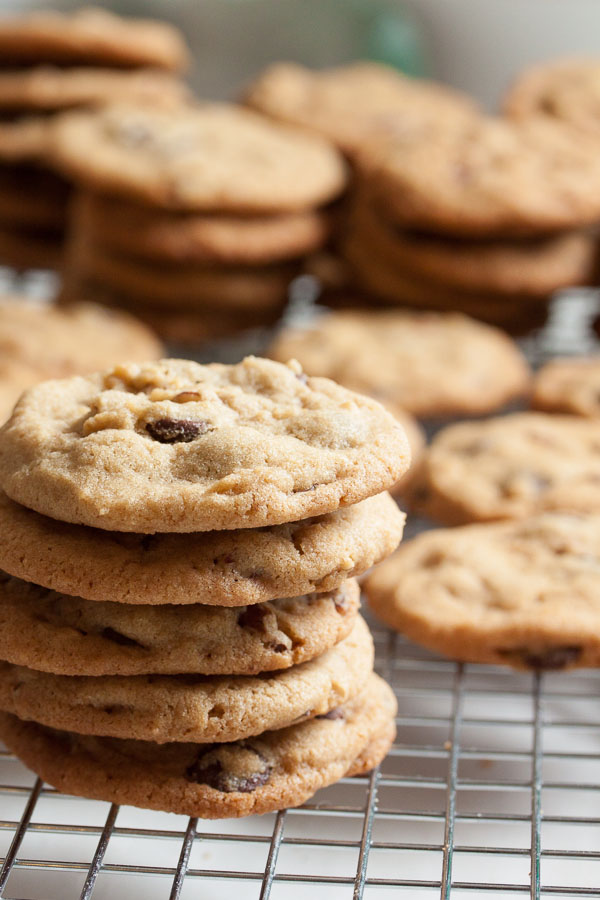 peanut butter chocolate chip and pecan cookies
Adapted from "Bake Shop Chocolate Chip Cookies" from Better Homes & Gardens The Ultimate Cookie Book. The original recipe says it will make 24 large cookies, but I used my usual slightly larger than tablespoon-sized cookie scoop and got about 70 cookies.
ingredients
2-1/4 cups (281g) all-purpose flour
1 teaspoon baking soda
1 teaspoon salt
1 cup (227g) unsalted butter, at room temperature
2/3 cup (168g) creamy peanut butter
1 cup (200g) granulated sugar
1 cup (220g) packed brown sugar
2 large eggs
2 teaspoons pure vanilla extract
2 cups (350g) semisweet chocolate chips or chunks
1-1/4 cup (150g) chopped pecans
Preheat oven to 325°F (165°C).
In a medium bowl, whisk together the flour, baking soda, and salt. Set aside.
In the bowl of a stand mixer fitted with the paddle attachment, beat the butter, peanut butter, and sugars together on medium speed until light and fluffy, about 3 or 4 minutes. Scrape down the sides of the bowl and add the eggs, one at a time, beating well after each. Add the vanilla and beat to incorporate.
Turn the mixer down to low and add the dry ingredients, mixing until just barely combined. Remove from the mixer and add in the chocolate chips and pecans, either with a spatula or by hand. I prefer to knead inclusions in by hand to ensure they're distributed evenly, but this batter was fluffy enough that a spatula worked just fine.
Using a small cookie dough scoop or a tablespoon, portion the dough onto the baking sheets about 2 inches apart to allow for spreading.
Bake for about 12-15 minutes, until lightly golden brown around the edges, rotating the baking sheet halfway through the baking time. Allow to cool on a wire rack for a few minutes before removing the cookies from the pan and allowing them to cool completely.