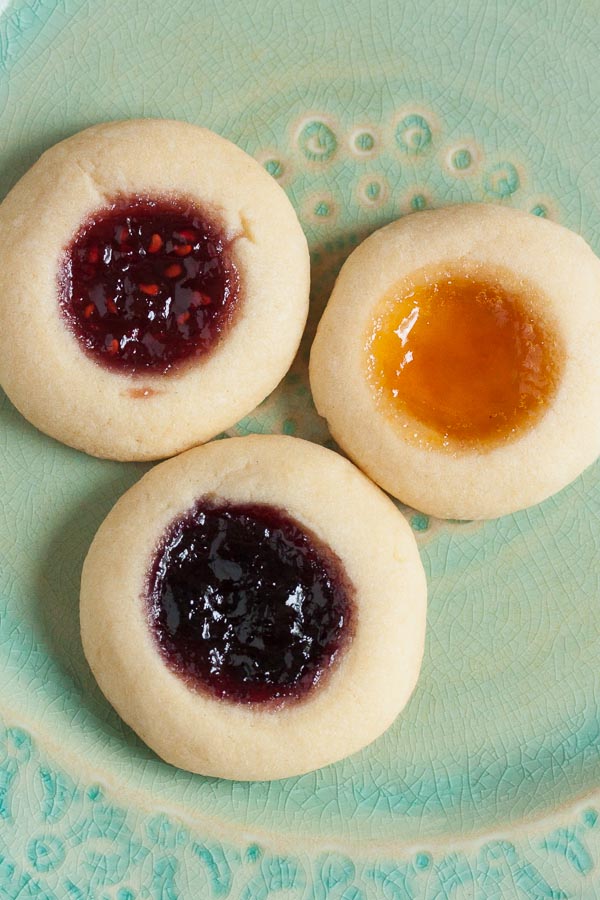 It's cookie swap season, y'all! I was so disappointed to find out that the Food Blogger Cookie Swap wouldn't be happening this year. I really enjoyed it the last two years I participated – sharing cookies and meeting other bloggers – and I was really looking forward to doing it again. Boo. Hopefully they'll start it up again next year. I've heard about another group doing one, but sadly I didn't find out in time to join this year. On a more local front, I've been organizing a cookie swap with my coworkers for the last few years as well, and that one definitely happened this year. With more participants than ever before!
This year as we were discussing what to make, I threw out the idea of making some jam thumbprint cookies. The response was pretty enthusiastic. This is the only time of year I ever see them. Why is that? They're such awesome little cookies!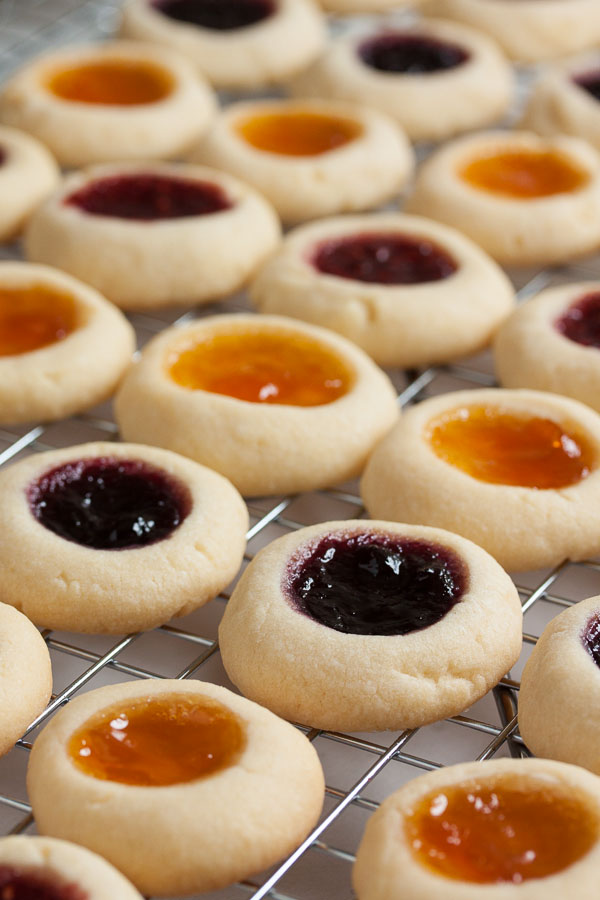 I've posted a thumbprint cookie recipe once before that I made a couple years ago and everyone loved them. I wanted to try something a little different this time, and there's no shortage of variation with thumbprint recipes. Some have a cookie that's practically a shortbread, so it doesn't spread at all. Some have ground nuts added to the dough. Some are rolled in ground nuts before baking. Sometimes the jam is added after baking the cookie. Sometimes they're not even filled with jam, but with ganache or lemon curd. Which is the right way? Whatever you want! It's a cookie, not rocket science.
I wanted to make sure I had enough cookies for my swap, so I doubled the recipe and got a whopping 98 cookies. I only actually needed 45, so… oops. There were a lot left over for the rest of the coworkers in the office. They didn't last. At all. Everyone seems to love these cookies.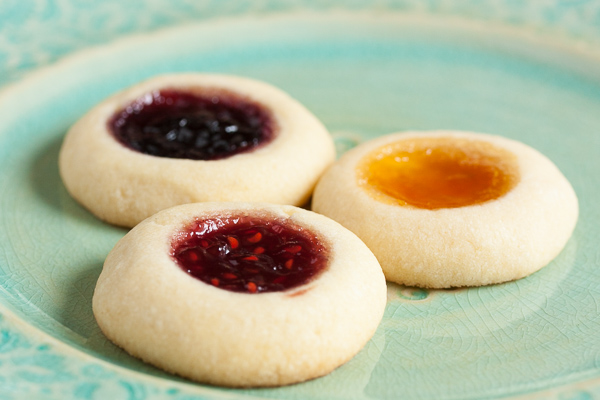 mrs. fields jam thumbprint cookies
ingredients
2-1/2 cups (312g) all-purpose flour
1 cup (227g) salted butter, at room temperature
1 cup (200g) white sugar
1/2 teaspoon baking powder
1 large egg
2 teaspoons pure vanilla extract
approx. 1 cup jam (I used apricot, blueberry, and raspberry)
Preheat oven to 325°F (165°C).
In the bowl of a stand mixer fitted with the paddle attachment, beat the butter, sugar, and baking powder together on medium speed until light and fluffy, about 3 or 4 minutes. Scrape down the sides of the bowl and add the egg, beating well. Add the vanilla and beat to incorporate.
Turn the mixer down to low and add the flour, mixing until just barely combined.
Roll the dough into balls about 1" diameter and place about 1" apart on the baking sheet. They don't spread a lot, but they do need a bit of breathing room. My recommendation is instead of rolling all the balls and then going back and making all the indentations at the same time, to make the indentation right away while the dough is still soft from rolling into a ball with your hands – there's less chance of it cracking. If you have a wooden spoon with a rounded handle, or a melon baller or round measuring spoon, you can use those. I always just use my thumb. My hands are already covered with dough, so why dirty another tool?
Fill each indentation with the jam of your choice – stir it first to smooth it out. As the cookies bake and spread out, the jam will flatten out a bit as well, so you'll want to slightly over-fill them. You don't want the jam to overflow, but it should be a bit rounded rather than level with the top of the cookie.
Bake for about 20 minutes, rotating the baking sheet halfway through the baking time. Allow to cool on a wire rack for a few minutes before removing the cookies from the pan and allowing them to cool completely.