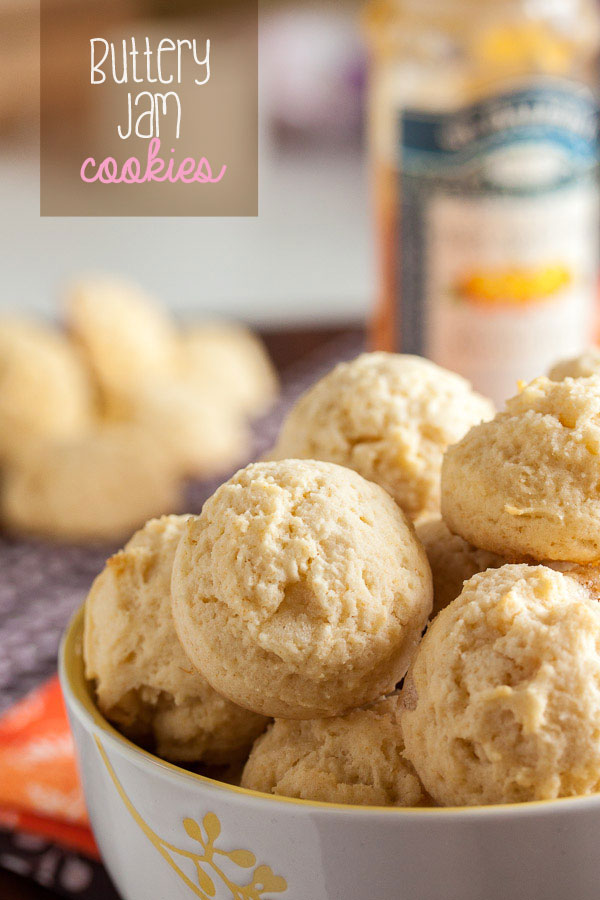 This is one of the many many recipes I had planned to make over the winter holidays, but didn't get to because of that stupid cold. Seriously, all I did for the entire break was curl up on my couch and watch Netflix. I did nothing constructive. I think I'm finally back up to about 98% health now (still have a wee bit of a cough in the morning), but my coworkers are still dropping like flies, so I'm really hoping I don't get caught up in a second wave. But enough about colds! Let's talk cookies! Yay, it's cookie time again! This is another recipe from my favourite baking book, Dorie Greenspan's Baking: From My Home to Yours.. I've made so many recipes from this book, and yet somehow I've barely made a dent. Not even counting the cakes and pies and tarts that I rarely bake, there are still so many cookie recipes to go! And I have yet to hit a dud.

This cookie just sounded so good, and unlike anything I've made before – with jam blended right into the cookie dough. Yum! Variety is the spice of life, right?
And speaking of spice, there's not a lot of it here. This cookie has a really delicate flavour – just a hint of ginger – which makes them really easy to eat one-after-another. Too easy, really. They're soft and cake-y, yet somewhat dense and a little bit chewy. These cookies would be amazing with an afternoon tea. People are definitely loving them. I'm definitely loving them!
I made them with apricot jam, as suggested in the recipe, but you can use whatever jam you'd like. If your jam has big chunks of fruit in it, you'll want to purée it before adding to the batter. Personally, I'd strain out any seeds as well so they don't mess with the lovely texture of this cookie.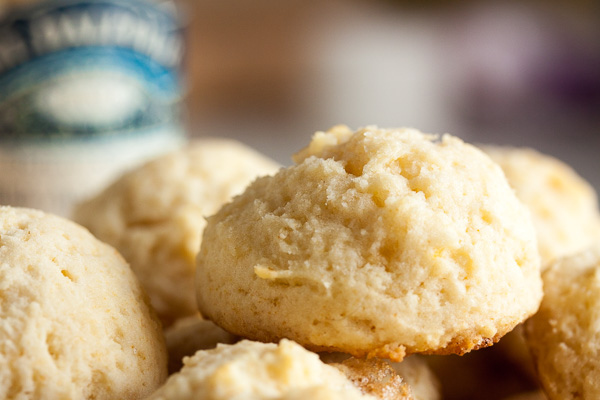 Adapted from Dorie Greenspan's Baking: From My Home to Yours. The recipe states it makes about 45 cookies using a rounded teaspoon; I got about that many using my usual tablespoon-sized scoop.
ingredients
2 cups all-purpose flour
1 teaspoon baking powder
1/2 teaspoon ground ginger
1/4 teaspoon salt
1/2 cup unsalted butter, at room temperature
2/3 cup sugar
1 large egg
2 tablespoons milk
1/2 teaspoon pure vanilla extract
1/4 cup apricot jam (or other flavour)
Preheat oven to 375°F.
In a medium bowl, whisk together the flour, baking powder, ginger, and salt. Set aside.
In the bowl of a stand mixer fitted with the paddle attachment, beat the butter and sugar together on medium speed until light and fluffy, about 3 or 4 minutes. Scrape down the sides of the bowl and add the egg, beating well until smooth. Add the milk and the vanilla and beat again to incorporate. The mixture will probably look a bit chunky after adding the milk. Don't worry.
Turn the mixer down to low and add the jam and continue mixing for about a minute.
With the mixer still on low speed, add the dry ingredients, mixing until just barely combined.
Using a small cookie dough scoop or a tablespoon, portion the dough onto the baking sheets about 2 inches apart to allow for spreading.
Bake for about 10-12 minutes, until lightly golden brown around the edges, rotating the baking sheet halfway through the baking time. Allow to cool on a wire rack for a few minutes before removing the cookies from the pan and allowing them to cool completely.