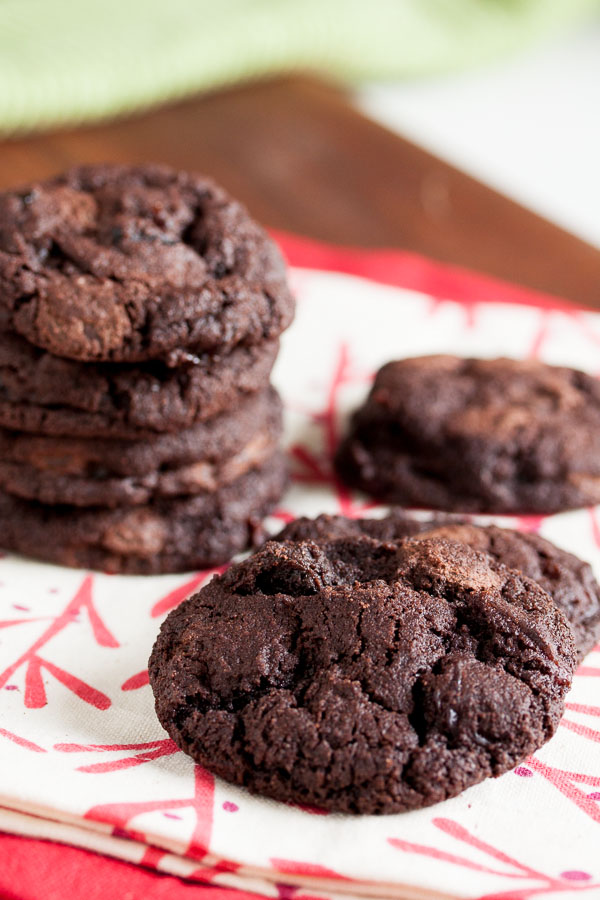 I was informed by one of my coworkers that I had to make a nut-free cookie for her this week (she's dealing with some allergy tests right now). So demanding, right? She's lucky I love her (I have awesome coworkers, seriously). So even though I really wanted to make a certain recipe this week – went out and bought ingredients and everything – I'm putting it off until next week and instead made a reeeeally chocolate-y cookie this week.
And I do mean chocolate-y. In my experience, chocolate cookies made with just cocoa powder tend to be milder than ones that are made with melted chocolate. Not this one, though. For one thing, there's almost as much cocoa powder in this cookie as there is flour. That's a lot! And the flavour? Amazing. All that cocoa plus the addition of bittersweet chocolate chunks makes for an incredibly rich and chocolate-y cookie.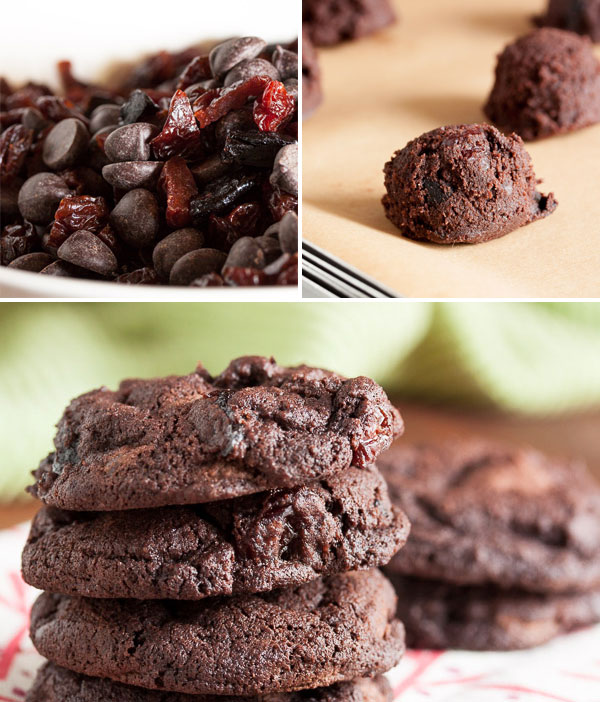 I still had some sour cherries left over from the cookies I made for the cookie exchange, so I thought this would be a perfect recipe to use them up. Unfortunately, I didn't have quite enough (it's always something, right?), so I made up the difference with some dried bing cherries. Still good, still delicious cherry flavour, just more sweet than tart. Either way, they're a nice contrast to the chocolate.
The original recipe is for some large-sized cookies (a whopping 1/4 cup of dough each). But as usual, I wanted to make smaller cookies because they're just easier for sharing. To ensure that the cherries had a chance to be distributed evenly in the smaller-sized cookies, I decided to chop them a bit – most of them just in half, but the larger cherries I cut into quarters.
The dough for this cookie is fudge-y and sticky and so SO dark from all that cocoa powder. Seriously, almost black. They puff up quite a bit as they bake, but then they flatten back out again as they cool out of the oven. Making for a soft, chewy cookie. Big fat thumbs up from me for this recipe. And several of my coworkers agree. There were lots of compliments, both from fans of the chocolate-y-ness and fans of the tart sour cherries in there.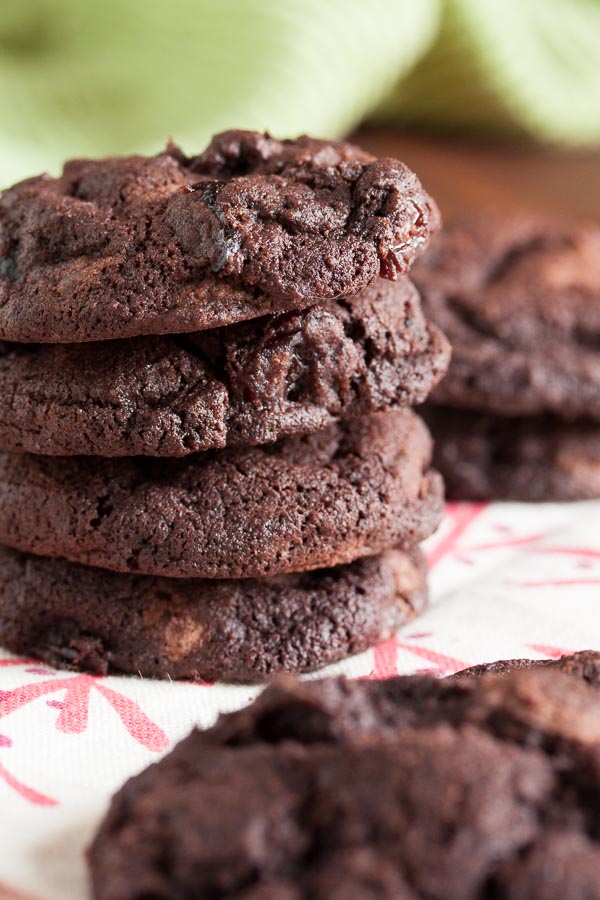 dark chocolate sour cherry cookies
Adapted from Martha Stewart's "Dark Chocolate Cookies with Sour Cherries" from her Cookies book. The recipe states it will make 36 large cookies using a whopping 1/4 cup of dough each. I got 80 three-inch cookies using my usual tablespoon-sized scoop.
ingredients
1-3/4 cups all-purpose flour
1-1/4 cups Dutch-process cocoa powder
2 teaspoons baking soda
1/4 teaspoon salt
1-1/4 cups unsalted butter, at room temperature
1-1/4 cups granulated sugar
3/4 cup dark brown sugar, firmly packed
2 large eggs
1/4 teaspoon pure vanilla extract
12 ounces bittersweet chocolate, coarsely chopped
1-1/4 cups dried sour cherries, firmly packed (if making smaller cookies, you'll want to chop these coarsely)
Preheat oven to 350°F.
In a medium bowl, combine the flour, baking soda, and salt. Sift in the cocoa powder (don't skip this step – cocoa powder often has lumps that whisking alone will not get out). Whisk together well. Set aside.
In the bowl of a stand mixer fitted with the paddle attachment, beat the butter and sugars together on medium speed until light and fluffy, about 3 or 4 minutes. Scrape down the sides of the bowl and add the eggs, one at a time, beating well after each. Add the vanilla and beat again to incorporate.
Turn the mixer down to low and add the dry ingredients, mixing until just barely combined. Remove from the mixer and add in the chopped chocolate and dried cherries, either with a spatula or by hand. I prefer to knead inclusions in by hand to ensure they're distributed evenly.
Using a small cookie dough scoop or by forming the dough into balls, portion the dough onto the baking sheets about 2 inches apart to allow for spreading. I made my cookies using a tablespoon-sized scoop, but you can make them larger if you like.
Bake for about 9-11 minutes, until they're puffed up and the tops are cracked, rotating the baking sheet halfway through the baking time. Allow to cool on a wire rack for a few minutes before removing the cookies from the pan and allowing them to cool completely.