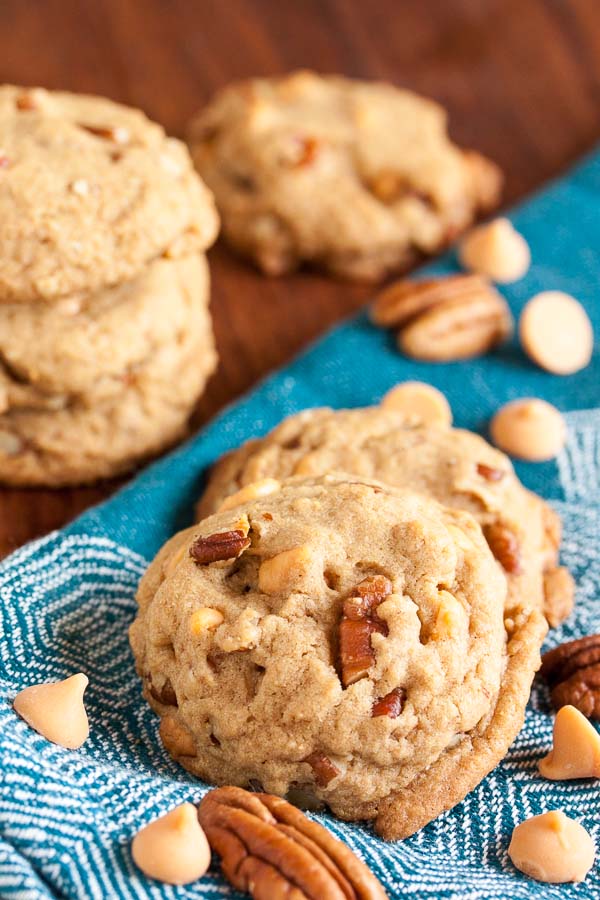 I didn't have anything particular in mind this week, so I made myself comfortable and flipped through a few of my cookbooks looking for inspiration. This particular recipe is a cookie that I've been wanting to make for awhile (I say that a lot, don't I? well it's true – there are a lot of cookies I want to make!). Doesn't this cookie sound amazing? Not sure why I kept bumping it, but I suspect laziness and that one extra step of cooking the pecans in melted butter. Yup, you read that right. The pecans are cooked in butter first. Which honestly? Took no time at all. You just melt the butter, and then cook for a few minutes. Pfft, done. And it was totally worth it. They smelled absolutely amazing, and added another layer of flavour to an already delicious cookie (brown sugar, butterscotch chips, and buttery salted pecans? yes please!)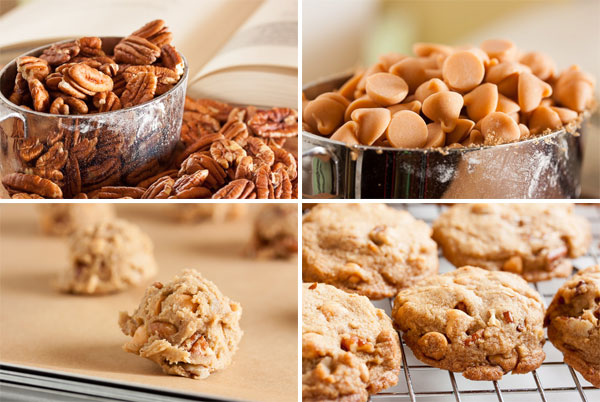 Soft and chewy, sweet and butterscotch-y, with a hint of salt from the pecans. And seriously, an aroma to die for. People keep lifting the lid of the cookie jar and just inhaling (yes, I might be one of those people).
Every week when I bake cookies, I have to sample them fresh from the oven (what? I have to). That's a lotta cookies, so I try not to indulge the rest of the week. This cookie, however, I've broken that rule for a few times. I'm not usually a fan of sweet things (other than chocolate), but something about butterscotch just speaks to me. Apparently it's saying "eeeeeeat meeeeeee".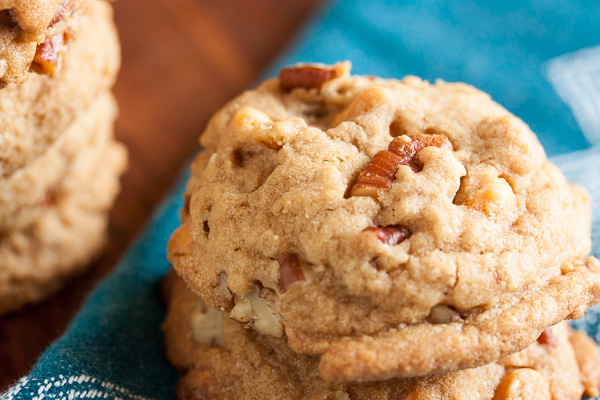 butterscotch sundae cookies
ingredients
3 tablespoons (42g) plus 3/4 cup (170g) unsalted butter, at room temperature
2 cups (220g) small pecan halves, or coarsely chopped pecans
3/4 teaspoon plus 1/4 teaspoon salt
2 cups (250g) unbleached all-purpose flour
1/2 teaspoon baking powder
1/4 teaspoon baking soda
1-1/3 (293g) cups dark brown sugar
few drops butter-rum flavour
2 large eggs
1 cup (175g) butterscotch chips
Preheat oven to 375°F (190°C).
Melt the 3 tablespoons of butter in a medium skillet over low heat. Add the pecan pieces and cook, stirring occasionally, until the nuts begin to brown and smell fragrant. Trust your senses here – it should just take a few minutes. Sprinkle with the 3/4 teaspoon of salt, stir well, and remove from the heat. Transfer the nuts to a small bowl and allow to cool (if you leave them in the skillet, they'll take longer to cool).
In a medium bowl, whisk together the flour, baking powder, baking soda, and 1/4 teaspoon salt. Set aside.
In the bowl of a stand mixer fitted with the paddle attachment, beat 3/4 cup butter, sugar, and butter-rum flavour together on medium speed until light and fluffy, about 3 or 4 minutes. Scrape down the sides of the bowl and add the eggs, one at a time, beating well after each. Add the vanilla and beat again to incorporate.
Turn the mixer down to low and add the dry ingredients, mixing until just barely combined. Remove from the mixer and add in the pecans and butterscotch chips, either with a spatula or by hand. I prefer to knead inclusions in by hand to ensure they're distributed evenly.
Using a small cookie dough scoop or a tablespoon, portion the dough onto the baking sheets about 2 inches apart to allow for spreading.
Bake for about 13 minutes, until golden brown, rotating the baking sheet halfway through the baking time. Allow to cool on a wire rack for a few minutes before removing the cookies from the pan and allowing them to cool completely.