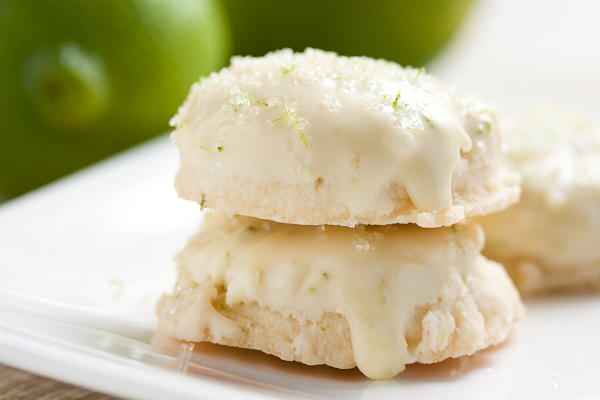 Lime is such a summery flavour. I felt like I should save this recipe for warmer weather, but my kitchen gets really hot in the summer. I'm pretty sure I'll be switching to no-bake recipes for awhile, so I decided to make these while I still want to be using the oven.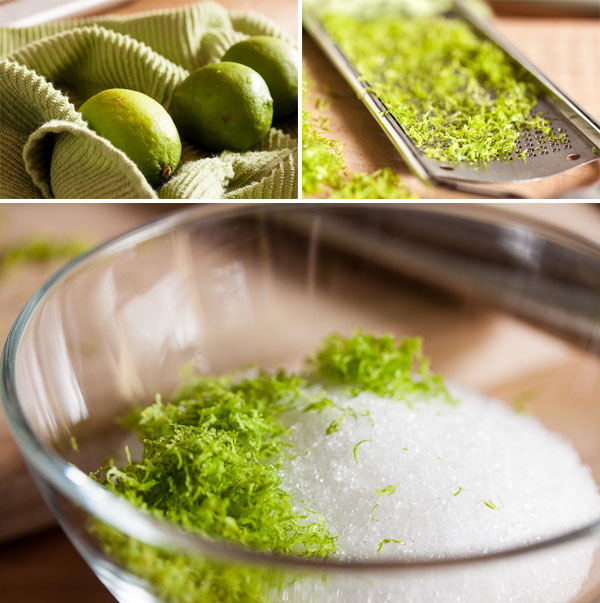 This is a very lime cookie. There's lime zest in the cookie, lime zest in the white chocolate coating, and lime zest in the sanding sugar. I ended up using the zest of three limes for just 40 cookies.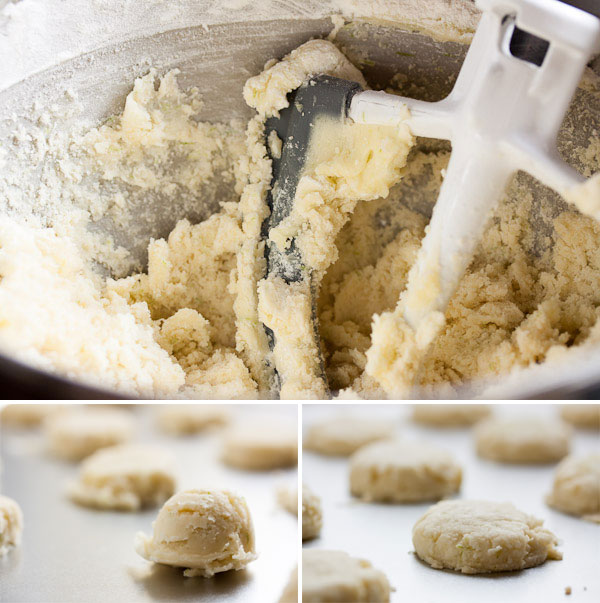 This cookie is essentially a variation on shortbread. It contains no leaveners – no eggs, baking powder or soda – but cornstarch, confectioners' sugar and lots of butter. The dough is very crumbly, and the baked cookie is dense with a sandy melt-in-your-mouth texture. I was worried the white chocolate and sanding sugar would add quite a bit of sweetness, but they really don't. The lime flavour really shines through.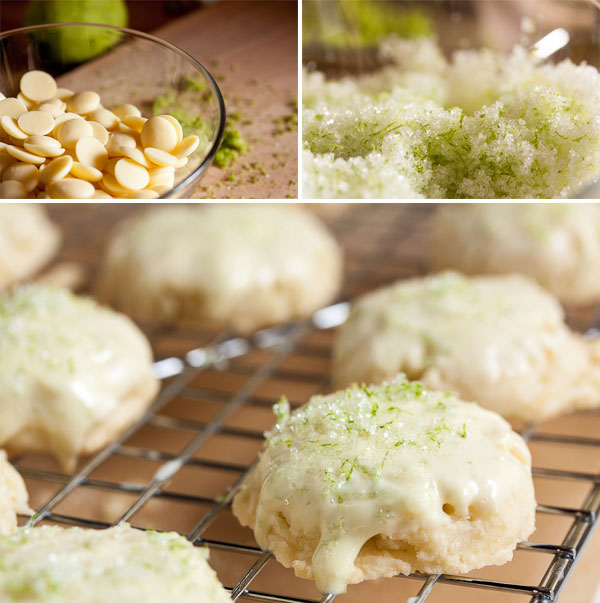 The goal of this blog is to try a new cookie recipe every week, but I think I'm going to have to break that rule for this one. I definitely want to make these again. Next time I'll do a double batch though – these are going way too quickly.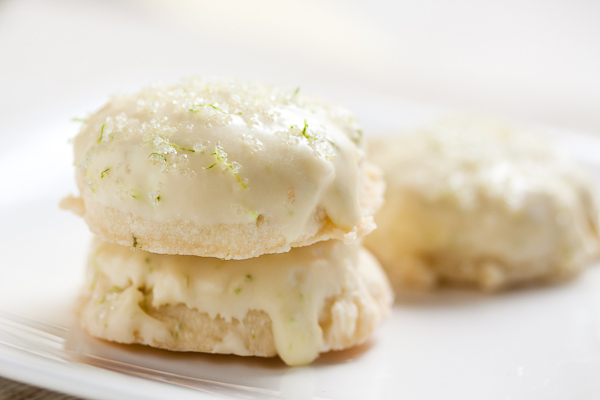 ingredients
1 cup unsalted butter, at room temperature
1/2 cup confectioners' sugar
3 tablespoons granulated sugar
1/2 teaspoon pure vanilla extract
1 teaspoon salt
1 tablespoon grated lime zest
1-2/3 cups all-purpose flour
1/4 cup cornstarch
For the glaze
5-10 oz white chocolate, melted (I used about 6 oz)
1 teaspoon lime zest
for the topping
1/4 cup sanding, coarse or turbinado sugar (I used less than 1/8 cup)
1 teaspoon grated lime zest
Preheat the oven to 325°F.
Sift or whisk the flour and cornstarch together in a small bowl and set aside.
In the bowl of a stand mixer, use your fingers to blend together the lime zest and granulated sugar until well combined and fragrant. Add the confectioners' sugar, butter, vanilla & salt and beat on medium speed with the paddle attachment until light and fluffy, about 2-3 minutes.
Reduce mixer speed to low and gradually add the flour mixture until just combined. I found the dough really crumbly and had to finish mixing by gently kneading the ingredients together by hand.
Using a small cookie dough scoop or a tablespoon, scoop the dough onto the baking sheets about 1-1/2 inches apart. Press the dough down slightly with the heel of your hand. If you decide not to dip the finished cookies in white chocolate, you can sprinkle them with sanding sugar at this point. Otherwise bake them as-is.
Bake for about 12-14 minutes, until lightly golden brown around the edges, rotating the baking sheet halfway through. Allow to cool on a wire rack for a few minutes before removing from the pan and allowing to cool completely before adding the toppings.
Finishing the cookies
Gently melt the white chocolate in a small microwave safe bowl or on top of a double boiler and stir in the lime zest. In another bowl, combine the sanding sugar and lime zest. Dip the top half of each cookie in the chocolate and place back on the wire rack or parchment paper. Sprinkle with the sanding sugar mixture while the chocolate is still wet. Refrigerate or allow to sit until the chocolate has hardened completely.