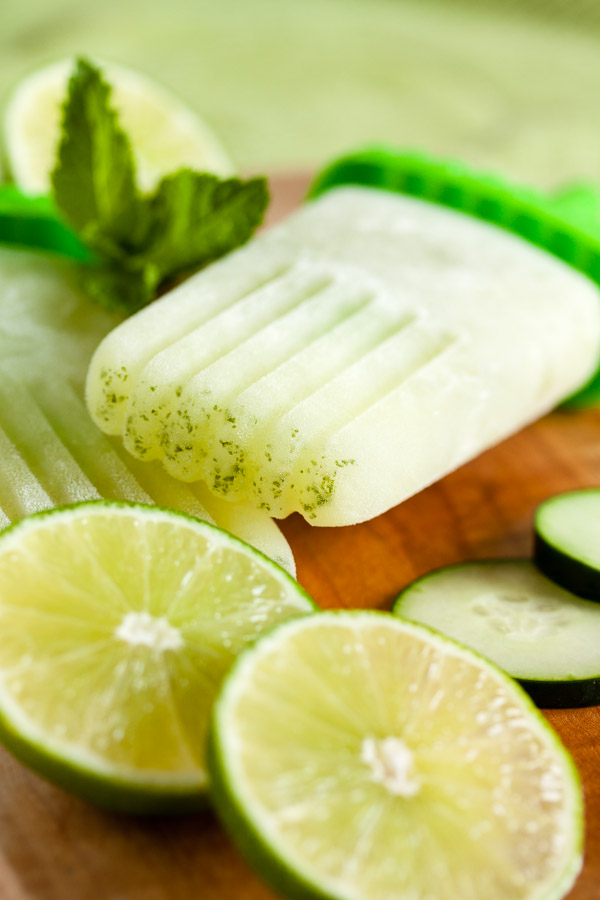 A couple weeks ago I was trying to find ways to use up an overabundance of limes. I made some lime meltaways, several lime cocktails, and still had a few left over. Yeah, I had a lot. So since we found ourselves in a bit of a heatwave (ugh), I decided some lime popsicles were called for. This recipe combines a few of the freshest summer flavours – lime, mint & cucumber – for a light refreshing treat with the flavour of a mojito.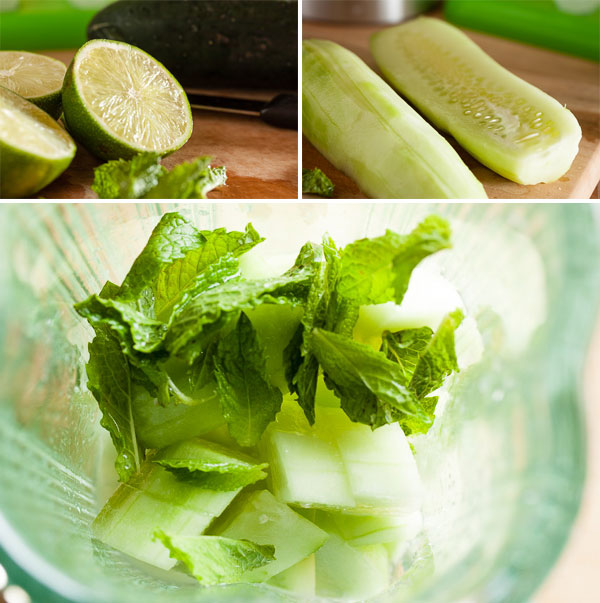 I remember the days when there really weren't a lot of options for popsicle moulds. There was just the basic cheap plastic round mould with flimsy plastic handles. And they never came out of the mould easily, did they? All too often the stick would just pull out of the popsicle instead. Or was that just me…? Anyway, we seem to be in a bit of a popsicle heyday right now. There are so many options available! All different shapes and sizes and colours! And the plastic sticks with the holes and patterns that grip the popsicle so they stay together! Love!
I've had several different popsicle moulds over the years. And I've given away several different popsicle moulds too. Some of them were weird shapes that were awkward to eat, some were just badly designed and took up way more freezer space than they needed to (I have a tiny freezer – it's a serious consideration whenever I buy anything that needs to be frozen). I've had a few successes, but I'm always keeping an eye out for a new mould to try out. They're like cookie cutters – you don't really need more than one shape, but it's so much more fun to have the variety!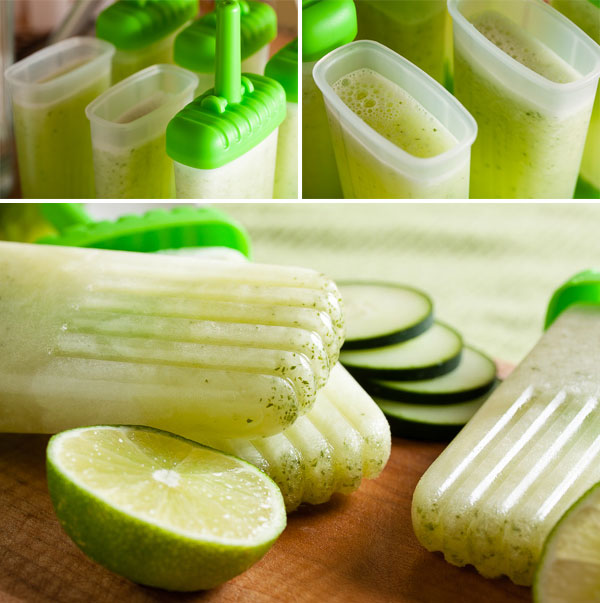 As a matter of fact, I just got a new mould from Amazon (wooo!) and had to try it out! I was looking at recipes online a few weeks ago (yes, this is how I spend my spare time), and someone had posted a picture of popsicles with these lovely grooves along the side (sorry, I can't remember where I saw them first, but I've seen them around a lot since then). Well I loved the way they looked. So I browsed through pages of different popsicle moulds (I know, poor me) in an effort to find it. And I did. Yay!
Things I love about this mould? It doesn't take up a lot of space in the freezer. Each mould is an individual piece that sits in a base so they don't tip over. And when the popsicles are frozen? The moulds can be removed from the base to save space in the freezer, with the moulds then acting as individual storage containers. The handle has a good-sized drip-catcher. The stick has holes in it to help grip the popsicle. The finished popsicles are a good size and shape for eating easily.
Things I don't like…? Honestly? Can't think of anything. This is definitely a keeper.
And so is this recipe. I've actually made these popsicles several times before and (obviously) love them. You know I love lime, and the addition of cucumber makes for a lighter fresher flavour, while the mint takes it all to another level. This is really a perfect popsicle for a hot summer day. It's sweet, but not too sweet. I'd be happy with a little more lime and a little less sugar, but you should try them as-is first and decide for yourself.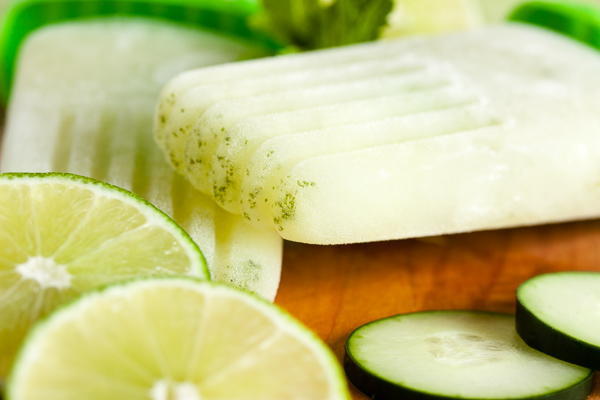 cucumber lime mint popsicles
Adapted from "Cucumber Mint Margarita Quick Pops" from the Zoku blog (I have one of those too – love it). Will make 6 standard size popsicles (depending on your mould).
ingredients
1 medium cucumber, peeled & chopped
2 limes, freshly squeezed
10 mint leaves
1 cup water
1/2 cup sugar
optional
1 teaspoon tequila (margarita) or light rum (mojito) per popsicle (for "grown-up" popsicles)
Combine the water and sugar in a small saucepan and stir over low heat until the sugar has completely dissolved and the liquid is clear. This will just take a few minutes. Remove from the heat and allow to cool.
Combine the cucumber, lime juice, mint leaves, and sugar syrup in your blender and purée until smooth. If you want a super smooth popsicle, you can then strain the liquid through a sieve, but it's really not necessary. The little flecks of mint are so pretty.
Pour the liquid into your popsicle moulds and freeze. If you want to have "grown-up" popsicles, add 1 teaspoon of tequila or light rum to each popsicle before freezing. Personally, I don't bother with this. I love popsicles as-is.