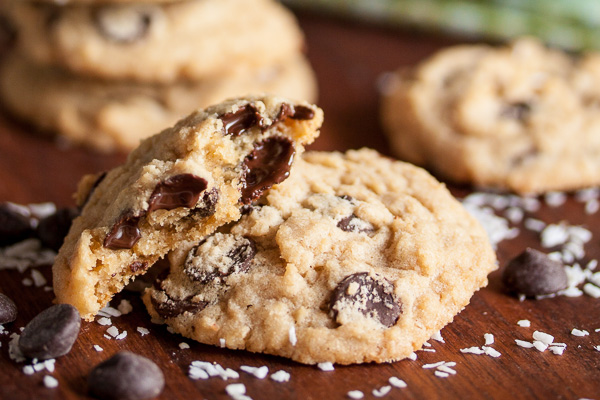 The cookie gods were not smiling on me this week. I had planned to make a spiced chocolate cookie, but at the last minute realized I needed fresh ginger (which I didn't have). Oh well. Save that one for another day. So I picked out another recipe that didn't call for any odd ingredients, and started prepping. I had everything all measured out, and just had to prep the walnuts and dried cranberries… and realized I'd used them all in the chocolate chip cookies I made awhile ago and the oatmeal date muffins I made last week. D'oh.
I guess I need to do some restocking.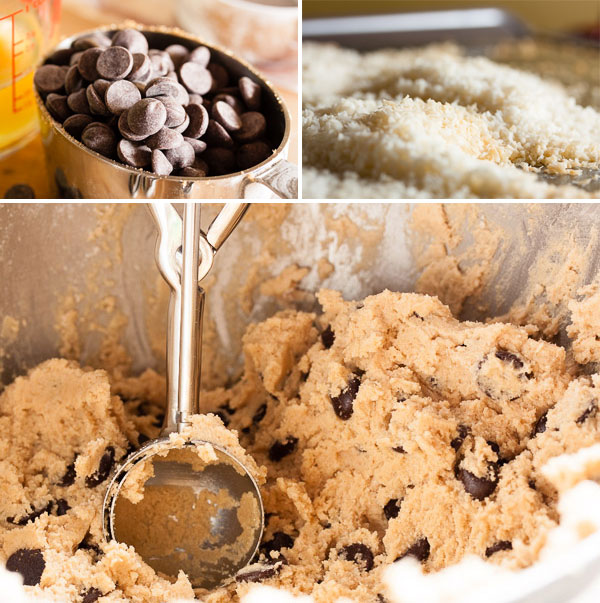 So. Find another new recipe. I transferred the dry ingredients I'd already measured and whisked together into a covered bowl to save for when I eventually make these cookies. And since the brown sugar held its shape from the measuring cups, I was able to salvage that as well and save in another container. Then I looked for a new recipe that started off with the same amount of butter and white sugar as I'd already measured into the mixing bowl. Surprisingly, it wasn't that difficult to find one.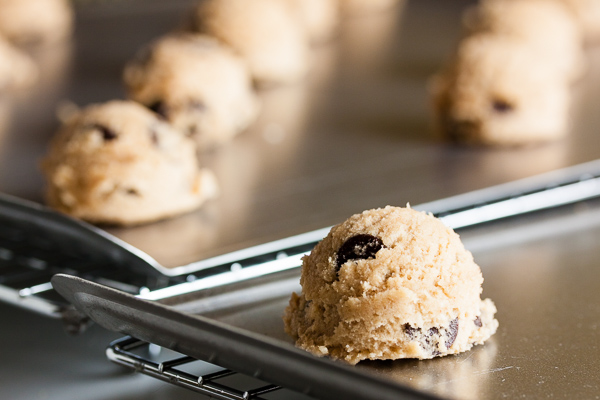 I still had some issues. Let me be clear – not a problem the recipe. Just having weird luck this week. First some of the butter flew out of the mixer while I was creaming it. Then, when I added the first egg? Same thing. Some of the egg white flew out of the bowl and smacked me right in the face. Yeah. Ugh.
After that, though, it all came together fine. The only other issue I had with the recipe was in yield, but that's totally not a complaint. The recipe instructed to scoop 1″ balls. I opted to use my regular cookie scoop which should have given me slightly larger measures, but I ended up with twice as many cookies as the recipe stated. Oh well. So not complaining.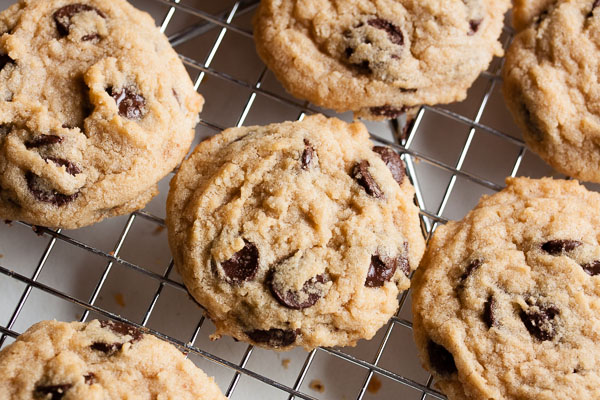 This is a great cookie. Toasting the coconut and then creaming it with the butter and sugars really intensifies the flavour. And there's a LOT of chocolate in this cookie. Every bite is loaded with chocolate. The original recipe called for chopped couverture, which would have caused the chocolate to melt into the cookie more, but after the issues I had I was just feeling lazy, so I used chocolate chips. The flavour is there, but the texture is a little different. I've posted this link before, but there's a great post here at serious eats that compares chips vs chunks vs chopped chocolate. Next time I make these (and I will), I'll try with chopped couverture as intended.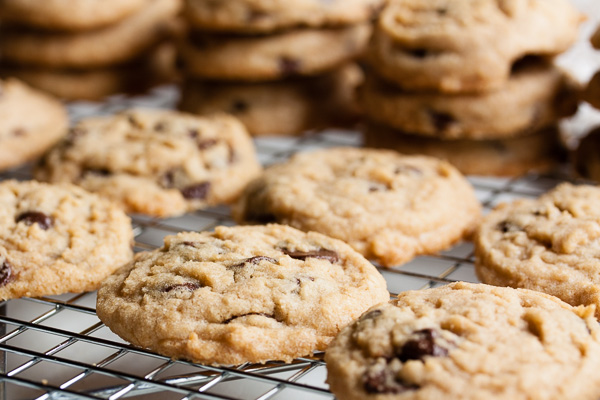 Fresh-baked, after being allowed to cool, these cookies had a lovely crispy edge but were still moist and chewy inside. The next day, they'd lost most of that crispness – so in my opinion, these cookies are best eaten fresh. Don't get me wrong – they're still good! You can't go wrong with coconut and chocolate. And I've gotten more requests for this recipe than any other (plus I've overheard a lot of "omg you have to try this cookie!"). But I loooooove that crispy texture.
coconut chocolate chip cookies
Adapted from Tracey Zabar's One Sweet Cookie, recipe by Pichet Ong. The recipe says it makes about 3 dozen cookies when rolled 1". I made mine about that size, maybe a wee bit larger, and got seventy 2-1/2 inch cookies. So if you'd prefer a larger cookie, you'll want to roll larger balls.
ingredients
1-1/3 cups unsweetened finely shredded coconut
2 cups all-purpose flour
1-1/2 teaspoons baking powder
1 cup unsalted butter, softened
3/4 cup plus 1 tablespoon granulated sugar
1 cup packed dark brown sugar
1/2 teaspoon salt
2 large eggs
2 teaspoons pure vanilla extract
3 cups coarsely chopped chocolate couverture (about 66-72%) (I just used chocolate chips)
Preheat oven to 300°F.
Spread the coconut on a baking sheet and toast in the oven for approximately 7 minutes, until golden and fragrant, stirring every few minutes or so to cook evenly. Remove from the oven and set the pan aside to cool completely.
In a medium bowl, whisk together the flour and baking powder. Set aside.
In the bowl of a stand mixer fitted with the paddle attachment, combine the butter, sugars, salt, and cooled toasted coconut, and beat together on medium speed until light and fluffy, about 3 or 4 minutes. Scrape down the sides of the bowl and add the eggs, one at a time, beating well after each. Add the vanilla and beat again to incorporate.
Turn the mixer down to low and add half of the dry ingredients, mixing until just barely combined. Add the other half and continue mixing until just combined. Remove from the mixer and add in the chocolate, either with a spatula or by hand. I prefer to knead inclusions in by hand to ensure they're distributed evenly.
If you have the time, cover and refrigerate the dough for a couple of hours before baking. I didn't have the time, so I just refrigerated it for about half an hour.
When ready to bake, preheat oven to 325°F.
Using a small cookie dough scoop or by forming the dough by hand into 1" balls, portion the dough onto the baking sheets about 2 inches apart to allow for spreading.
Bake for about 12 minutes, until lightly golden brown around the edges, rotating the baking sheet halfway through. Allow to cool on a wire rack for a few minutes before removing the cookies from the pan and allowing them to cool completely. The original recipe said to bake about 12 minutes until crisp, but mine came out of the oven still soft and crisped up as they cooled.