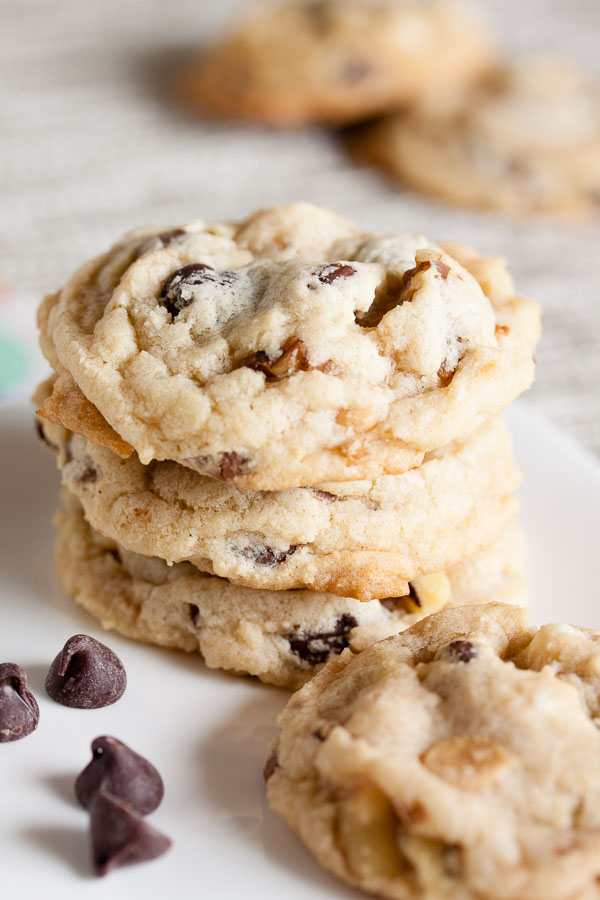 When I made the cowboy cookies last week, I was really waffling between that recipe and this one. Normally I won't bake from the same cookbook two weeks in a row (I like to mix it up), but I really wanted to try this cookie. It just sounded fantastic. Chocolate chip cookies with three kinds of chocolate chips. And peanut butter chips. And walnuts. Sign me up!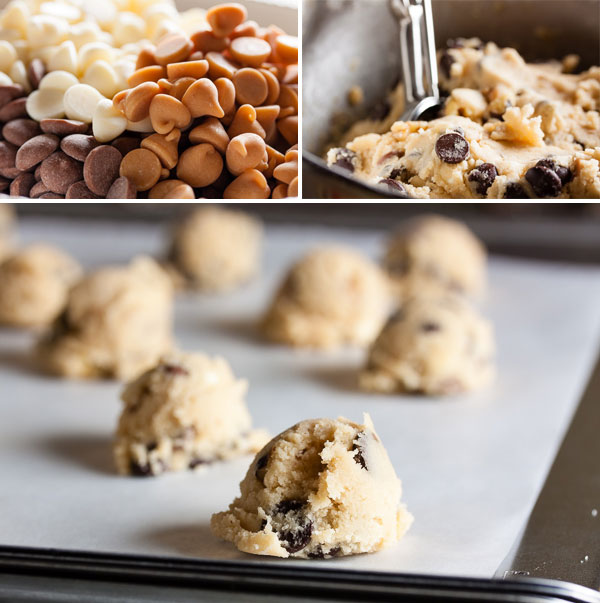 I've baked several recipes from this book and I know I've mentioned before how much I love it. It's a collection of recipes from world-famous chefs, pastry chefs and bakers, like Dorie Greenspan (love), Thomas Keller, Jacques Torres, and in this case, Todd English. According to the write-up in the book, he came up with this recipe to satisfy his three children, each of whom wanted a different type of chocolate chip cookie. I certainly hope they were happy with them, because I certainly am! This is a seriously good cookie.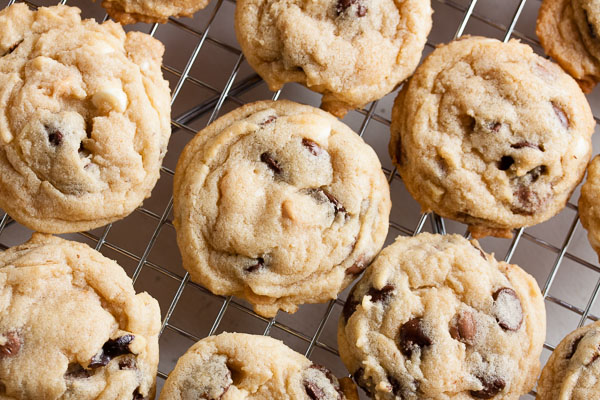 There's a lot of chocolate chips and nuts in this cookie – over three cups all together – and just enough cookie to hold it all together. Every bite is a little different – sometimes I could swear the combination tasted like coffee. You don't really taste the walnuts, but they do add a nice bit of crunch to an otherwise soft cookie.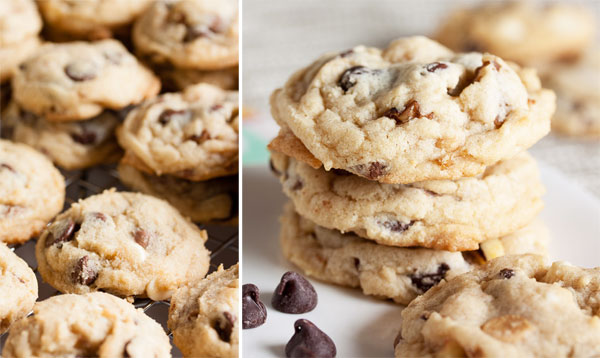 The flavour of the cookie itself reminds me of a traditional toll-house recipe. The cookie comes out of the oven slightly underbaked, so it's soft and moist and chewy. The last couple cookies I've made weren't at their best fresh from the oven (they were much better after resting for awhile). This one? Go for it! Just let them cool a bit and then enjoy while the chocolate is still melted and gooey.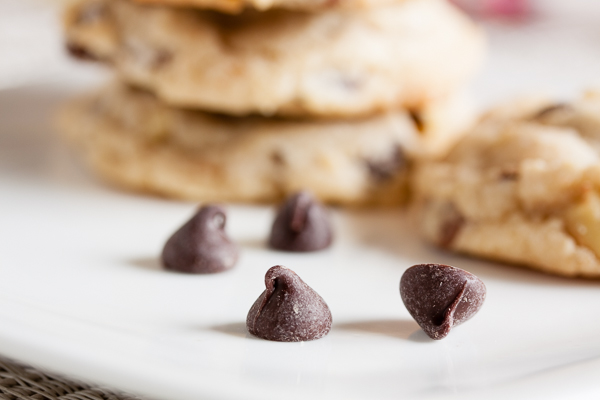 triple chocolate chip cookies with walnuts
Adapted from "Todd's Favorite Triple Chocolate and Walnut Cookies" from Tracey Zabar's One Sweet Cookie, recipe by Todd English. The recipe states it makes about 36 cookies, but I got closer to 60 using a small scoop.
ingredients
3 cups all-purpose flour
1 teaspoon baking soda
1/4 teaspoon baking powder
1 teaspoon salt
1 cup unsalted butter, softened
1 cup granulated sugar
1 cup light brown sugar, packed
2 large eggs
2 teaspoons pure vanilla extract
1-1/2 cups semisweet chocolate chips
1/2 cup milk chocolate chips
1/2 cup white chocolate chips
1/4 cup peanut butter chips (optional)
1/2 cup walnuts, roughly chopped
Preheat oven to 350°F.
In a medium bowl, whisk together the flour, baking soda, baking powder, and salt. Set aside.
In the bowl of a stand mixer fitted with the paddle attachment, beat the butter and sugars together on medium speed until light and fluffy, about 3 or 4 minutes. Scrape down the sides of the bowl and add the eggs, one at a time, beating well after each. Add the vanilla and beat again to incorporate.
Turn the mixer down to low and add the dry ingredients, mixing until just barely combined. Remove from the mixer and add in the chips and walnuts, either with a spatula or by hand. I prefer to knead inclusions in by hand to ensure they're distributed evenly.
Using a small cookie dough scoop or a tablespoon, portion the dough onto the baking sheets about 2 inches apart to allow for spreading.
Bake for about 10 minutes, until lightly golden brown around the edges, rotating the baking sheet halfway through. Allow to cool on a wire rack for a few minutes before removing the cookies from the pan and allowing them to cool completely.