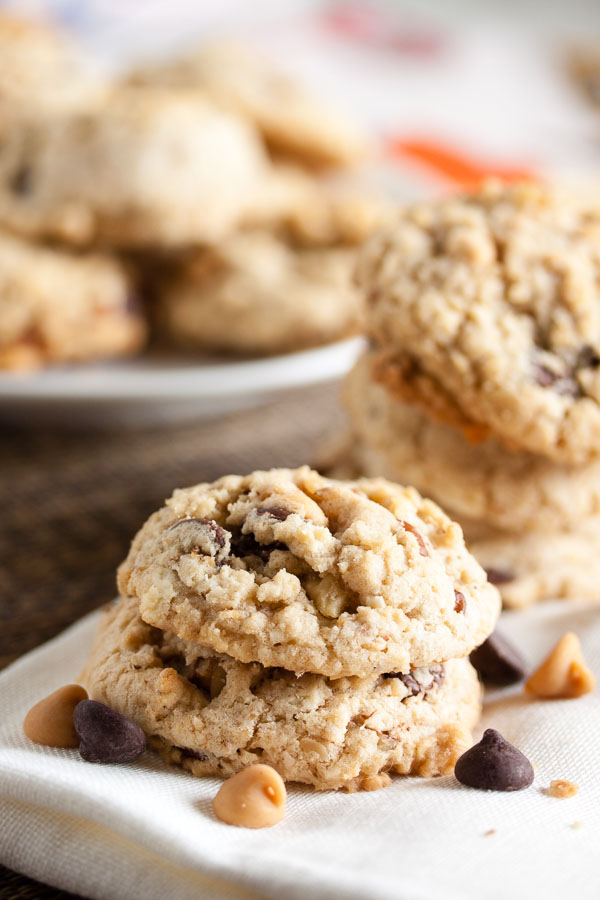 Okay, I know I keep saying that I'm switching to no-bake cookies for the summer, but this time I really mean it. After this one. We had a rainy and slightly cooler weekend, which meant that I could turn my oven on without completely over-heating my entire apartment. So I took advantage of that to get in one last hurrah – my last baked cookie for awhile (really, I mean it!).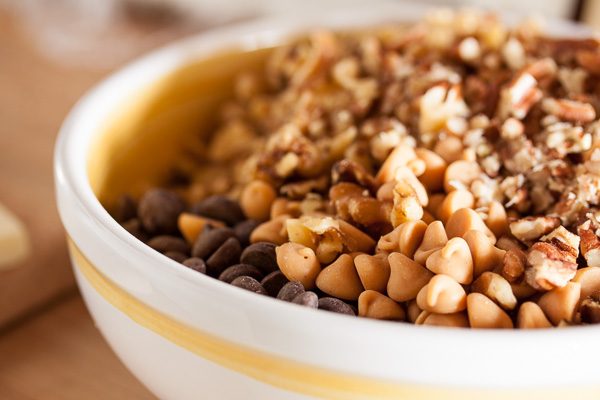 After years of reading about it over on the eGullet forums, I finally broke down and bought myself a copy of the King Arthur Flour cookbook. I'd never heard of King Arthur Flour up here in Canada until I started seeing mentions of it in the forums, so I knew nothing about it or its reputation. And from all the mentions I've read, it sounds like a lot of people reeeeally trust their books. And? It turns out they have several books. So which one did I buy? The cookie one, of course!
It seems like a good purchase already. It's a fairly thick book – over 500 pages – with lots of recipes, as well as lots of illustrated tips and techniques. Not a lot of photos, sadly, but I guess that's the trade-off for the sheer number of cookie recipes here.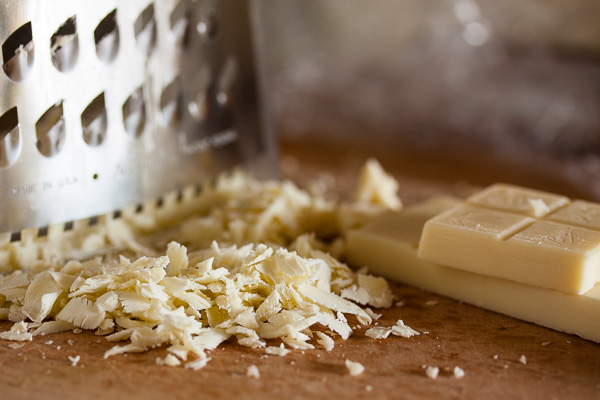 Even though it's cooled down a bit, I wasn't really into baking this weekend (gasp!) so I just picked a simple, basic cookie recipe – nothing fancy or fiddly. But you know, some of the best cookies are the simple ones, right?
This recipe takes a pretty basic chocolate chip cookie and adds a few twists. It's got ground oatmeal, same as the milk chocolate caramel cookies I made last week. That's a plus! Peanut butter chips? Yum! But still doesn't sound too special, right? Walnuts? Crunch is good! How about some grated white chocolate? Now we're talking! So we've got peanut butter chips, two kinds of chocolate, both in chip form and melted throughout the cookie itself, and chopped nuts for texture. Sounds good to me!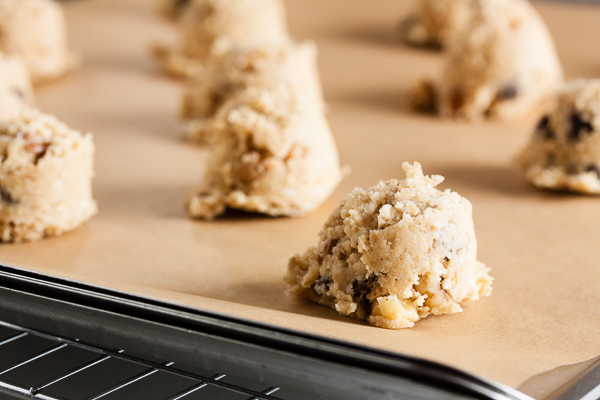 This dough comes together super easily, and bakes up really quickly. The recipe says to just bake for 7 minutes, but I ended up leaving them in the oven a liiiitle longer than that at about 8-9 minutes – just until the cookies had a bit of colour. But even then, these cookies stay soft and moist, even days later.
Once again, I ran out of walnuts (this seems to happen a lot – I'm not sure what I'm using them all in!), so once again I cheated and made up the difference with some pecans. And once again, it was still absolutely fine. Is this a good cookie? Well, even though I brought in popsicles at the same time, and someone else brought in both banana bread and chocolate chip zucchini bread, there wasn't a single cookie left over. So yes.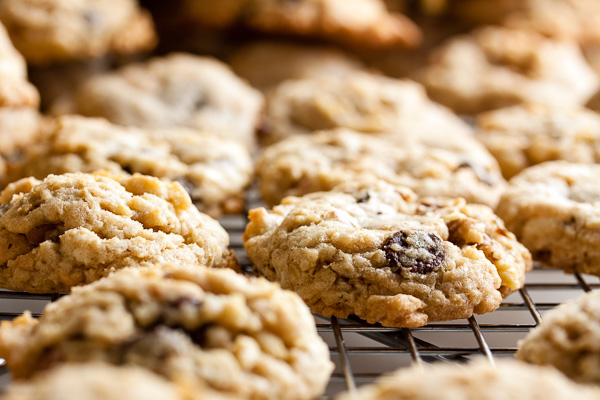 chocolate and peanut butter chip cookies
ingredients
2-1/2 cups rolled oats
2 cups unbleached all-purpose flour
1 teaspoon baking powder
1 teaspoon baking soda
3/4 teaspoon salt
1 cup unsalted butter, at room temperature
1 cup granulated sugar
1 cup light brown sugar
2 large eggs
1 teaspoon pure vanilla extract
4 ounces white chocolate, grated, or 2/3 cup white chocolate chips, coarsely ground
1 cup peanut butter chips
1 cup chocolate chips
1-1/2 cups chopped walnuts
Preheat oven to 375°F.
Put the oats in the bowl of a food processor and process until finely ground. In a medium bowl, whisk together the ground oats, flour, baking powder, baking soda, and salt. Set aside.
In the bowl of a stand mixer fitted with the paddle attachment, beat the butter and sugars together on medium speed until light and fluffy, about 3 or 4 minutes. Scrape down the sides of the bowl and add the eggs, one at a time, beating well after each. Add the vanilla and beat again to incorporate.
Turn the mixer down to low and add the dry ingredients, mixing until just barely combined. Remove from the mixer and add in the chocolate & peanut butter chips, white chocolate, and walnuts, either with a spatula or by hand. I prefer to knead inclusions in by hand to ensure they're distributed evenly.
Using a small cookie dough scoop or a tablespoon, portion the dough onto the baking sheets about 2 inches apart to allow for spreading.
Bake for about 7-9 minutes, until they appear set and are just beginning to turn lightly golden brown around the edges, rotating the baking sheet halfway through the baking time. Allow to cool on a wire rack for a few minutes before removing the cookies from the pan and allowing them to cool completely.