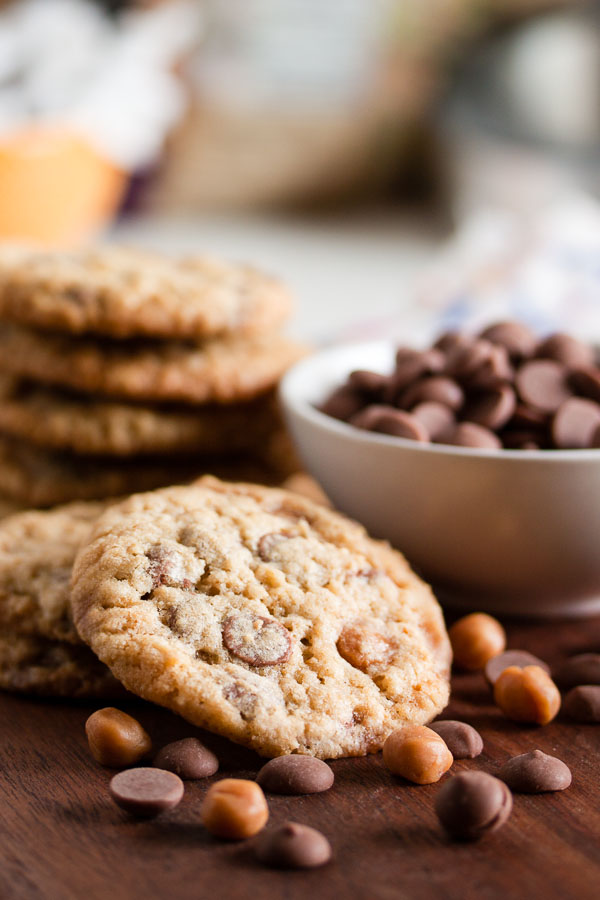 After a couple weeks of unseasonably hot weather (which I whined about incessantly), this weekend ended up being cloudy and a bit rainy. And most importantly, cooler. Now it was by no means cold – I still spent the entire weekend wearing shorts and tank tops with my windows all wide open. But cool enough that I could turn my oven on without completely melting. Yay! And I was caught a bit unprepared to bake anything. I knew there was a possibility that I could be baking this weekend, but I didn't pick out any recipes. So I took a look at which books I haven't baked from for awhile and focussed on picking out something from one of them.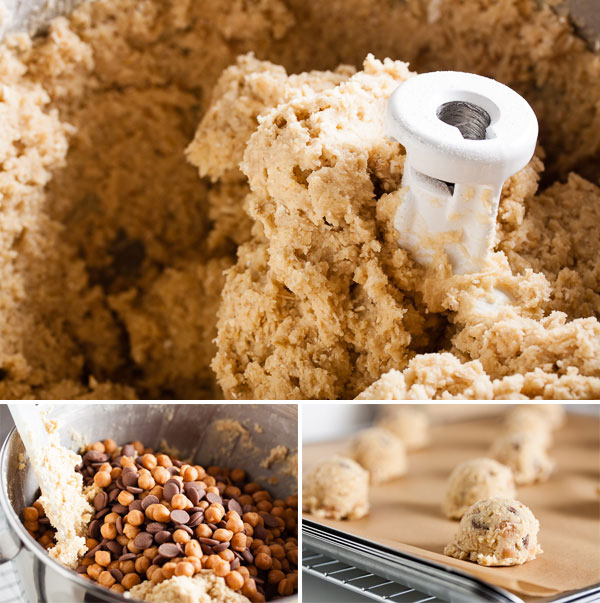 This is a variation of a cookie I've made before, but it was quite awhile ago. Sounds like a cheat, right? But this is the way this cookbook is set up! Many of the recipes in Milk & Cookies are based on a few core recipes, with several modifications provided for each. Normally, yes, I'd feel like that was a bit of a rip off, but these core recipes are good. And the variations listed are different enough that they feel like completely different cookies. And since the base recipes are so solid, I have no doubt that these cookies will turn out every time. Again – yay!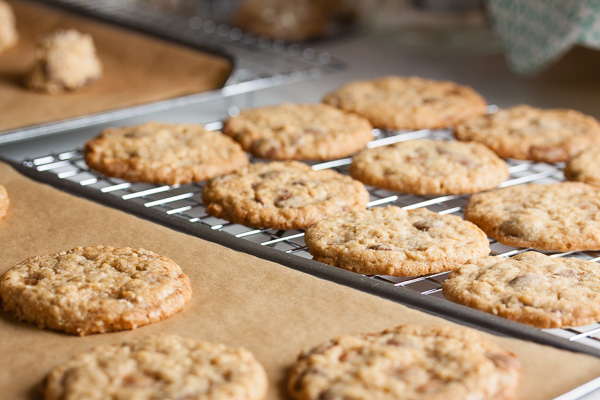 I have made several of the recipes from this book already, and while the cookies have turned out great every time, a recurring issue is that the listed yields are consistently wrong. Almost every recipe in this book states that it will make just 2 dozen cookies, and yet every time, I get closer to 7 or 8 dozen. And it's not just because I'm making them tiny – I'm actually using the same measurement recommended in the book. But this is really not a complaint. Just something to keep in mind if you decide to pick up this book (which I would recommend – there are so many delicious looking cookies in here that I haven't even had a chance to try yet!).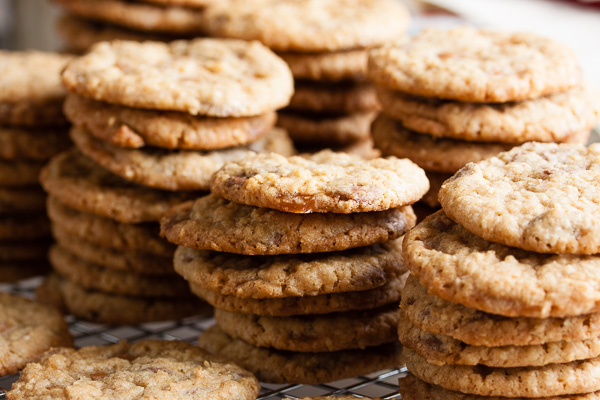 The cookie recipe for this one is called their "vanilla base dough". It actually contains more oatmeal than flour, but since the oats are ground fine first, you don't get the same texture as a regular oatmeal cookie, but you do get a lot of the flavour. That's a win. And it was an opportunity to finally use these caramel bits that I impulse-bought and haven't known what to do with! I was thinking about using them in some brownies, but I just hadn't gotten around to it (and for the record? I'm sure they'd be fantastic in brownies).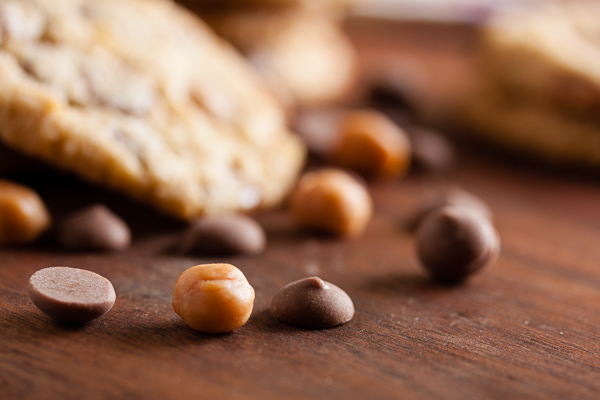 This has been a really popular cookie here at the office. I'm getting lots of compliments, and one of my coworkers very sheepishly confessed that she'd eaten seven of them one day. Amateur. I think I ate seven when they came out of the oven…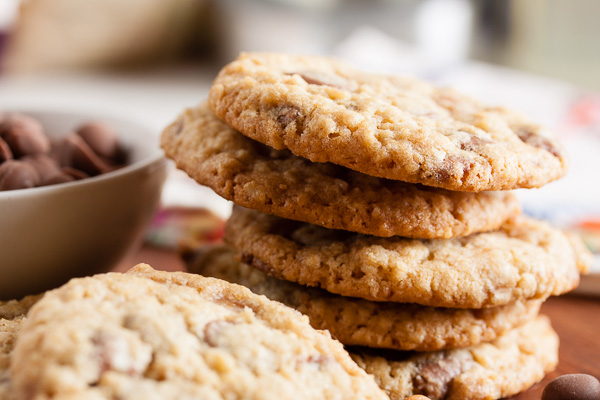 milk chocolate caramel cookies
Adapted from Milk & Cookies by Tina Casaceli. The recipe states it makes about 2 dozen cookies, but there's a problem with the yields in this book – I got 85 three-inch cookies.
ingredients
2-1/2 cups old-fashioned rolled oats
2 cups all-purpose flour
1 teaspoon baking powder
1 teaspoon baking soda
1/2 teaspoon salt
1-1/2 cups unsalted butter, at room temperature
1 cup granulated sugar
1 cup packed light brown sugar
2 large eggs, at room temperature
1/2 tablespoon pure vanilla extract
2 cups milk chocolate chips or chunks
2 cups caramel bits (or regular caramels cut into about pea-sized pieces)
Preheat oven to 350°F.
Put the oats in the bowl of a food processor and process until finely ground. In a medium bowl, whisk together the ground oats, flour, baking powder, baking soda, and salt. Set aside.
In the bowl of a stand mixer fitted with the paddle attachment, beat the butter and sugars together on medium speed until light and fluffy, about 3 or 4 minutes. Scrape down the sides of the bowl and add the eggs, one at a time, beating well after each. Add the vanilla and beat again to incorporate.
Turn the mixer down to low and add the dry ingredients, mixing until just barely combined. Remove from the mixer and add in the chocolate chips and caramel, either with a spatula or by hand. I prefer to knead inclusions in by hand to ensure they're distributed evenly.
The recipe didn't call for it, but at this point I thought the dough was a bit soft, so I refrigerated it briefly while I did the dishes (about 10 minutes). That's right – I have no dishwasher. Sigh.
I don't think using parchment paper on your baking sheets is necessary for most cookie recipes, but don't skip that step for these. The caramel bits melt and will adhere to your pans if they're not lined!
Using a small cookie dough scoop or a tablespoon, portion the dough into small balls, about 1" to 1-1/2", and place about 2" apart to allow for spreading. The original recipe said to press the balls down slightly with the palm of your hand, but I did some with and some without and found it was unnecessary. Bake for about 15 minutes, until lightly golden brown around the edges, rotating the pan halfway through the baking time. Be careful not to overbake these – they should be chewy.
Allow to cool on a wire rack for a few minutes before removing the cookies from the pan and allowing them to cool completely.