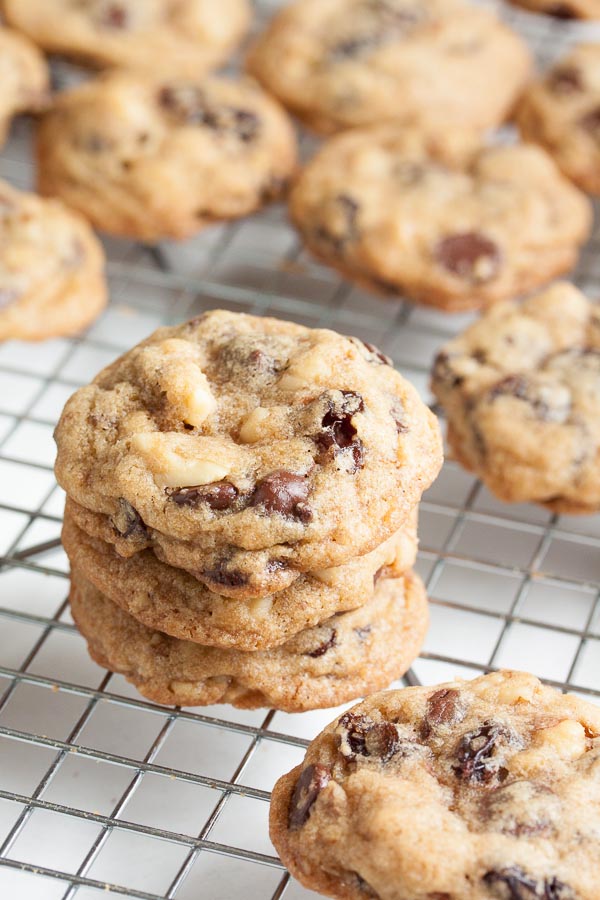 This is another recipe that I stumbled upon ages ago, and flagged because I thought it sounded so good. It's based off the flavour of a Chunky chocolate bar (yum!) – loaded with lots of chocolate, raisins, and nuts. Sounds good, right? So why haven't I made it before now? Well, let's be honest. Most people aren't crazy about raisins in cookies. I know there are some fans out there and right now they're probably sputtering "but they're delicious!" But really, honestly, do you think everyone else feels the same way? Nah. But that just means more raisin cookies for you. Yay!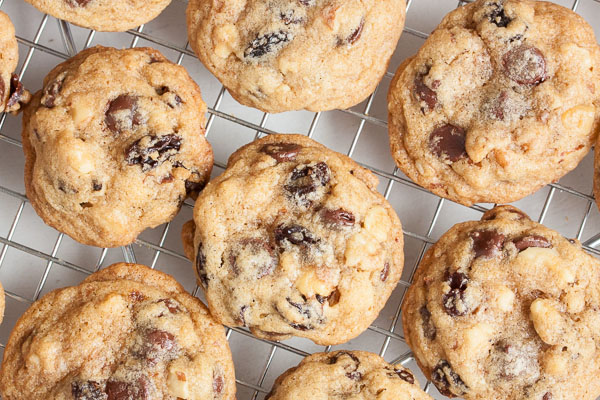 But anyway, I decided to forge ahead and make this one. Even if it wasn't an office favourite, I was sure there were bound to be some people who'd want them. And yes, yes there were. There are definitely raisin fans in my office. One person grabbed two, and then was back for more within half an hour (at not even 10am) and told me "these are amazing." Another person excitedly told me "I love raisins!" I'll be honest, though, at least one person came and looked at the cookie jar and whined "awww, raisinnnnnns…." and walked away. Oh well. And yet, I saw that same guy come back later and have one. And another coworker tells me she saw him later with a cookie in each hand. Ha! The cookie jar did empty completely in spite of the raisins. I'm sure the presence of all that chocolate didn't hurt.
The original recipe didn't look very big – with just 1/2 cup of butter and 1-1/4 cups flour. I'm used to working with way larger quantities than that. But it said it would make 3 dozen cookies when measured with 2 tablespoons of dough per cookie. I usually use about 1 tablespoon, so I did the math and figured I would get plenty of cookies. But once I finished mixing just the dough ingredients, that bowl was looking pretty empty. It looked better after mixing in all the add-ins, but I was still skeptical.
I only got 42 cookies. That's not terrible, but I knew the cookie jar would be empty way quicker than usual. Oh well. There'll be more cookies next week.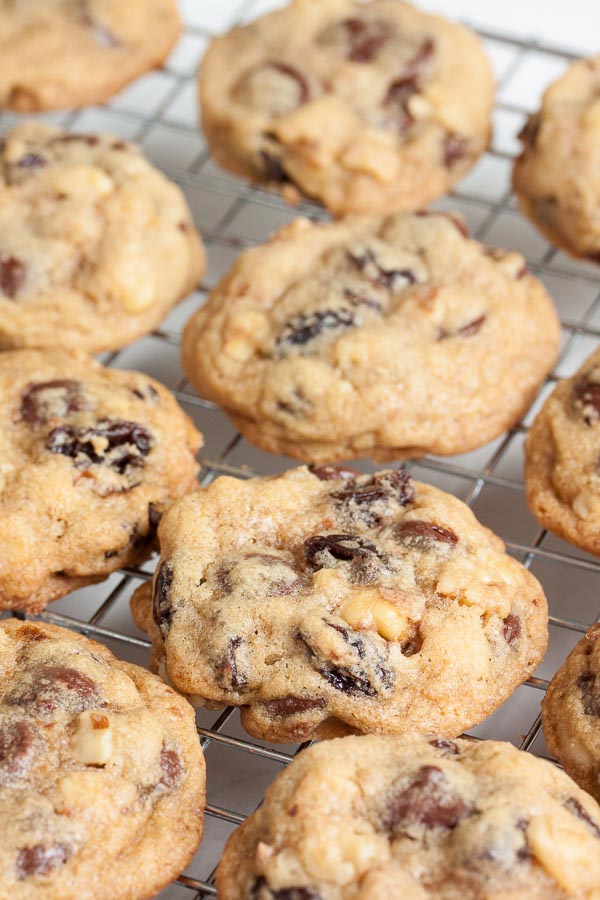 Adapted from "Chunkies" from Tate's Bake Shop: Baking For Friends, by Kathleen King. The original recipe said it would make about 3 dozen cookies with 2 tablespoons of dough per cookie. I got 42 cookies using my usual slightly larger than tablespoon-sized cookie scoop.
ingredients
1-1/4 cups (156g) all-purpose flour
1/2 teaspoon baking soda
1/2 teaspoon salt
1/2 cup (113g) unsalted butter, at room temperature
1/2 cup (110g) firmly packed dark brown sugar
1/4 cup (50g) granulated sugar
1 large egg at room temperature
1 teaspoon pure vanilla extract
1 cup (175g) semisweet chocolate chips
1 cup (150g) dark raisins
1 cup (120g) toasted and coarsely chopped walnuts
Preheat oven to 350°F (177°C).
To toast the nuts, spread them in a single layer on a baking sheet and toast them in the oven for approximately 10 minutes, turning them every few minutes or so to cook evenly. Trust your senses – they'll start to smell fragrant when they're ready. You can do this step and then set them aside to cool while you prepare the rest of the ingredients. Once cool, chop them coarsely, or break them up into pieces by hand.
In a medium bowl, whisk together the flour, baking soda, and salt. Set aside.
In the bowl of a stand mixer fitted with the paddle attachment, beat the butter and sugars together on medium speed until light and fluffy, about 3 or 4 minutes. Scrape down the sides of the bowl and add the egg, beating well. Add the vanilla and beat to incorporate.
Turn the mixer down to low and add the dry ingredients, mixing until just barely combined. Remove from the mixer and add in the chocolate chips, raisins, and chopped nuts, either with a spatula or by hand. I prefer to knead inclusions in by hand to ensure they're distributed evenly.
Using a small cookie dough scoop or a tablespoon, portion the dough onto the baking sheets about 2 inches apart to allow for spreading.
Bake for about 11-13 minutes, until lightly golden brown around the edges, rotating the baking sheet halfway through the baking time. Allow to cool on a wire rack for a few minutes before removing the cookies from the pan and allowing them to cool completely.