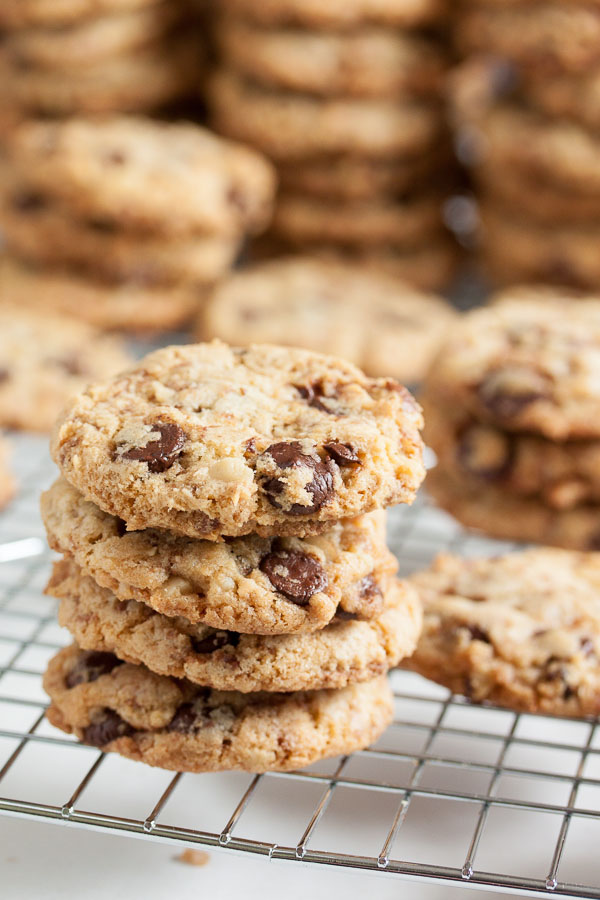 This is a recipe that I flagged ages ago because I was intrigued by the combination of flavours, but I had to put it aside because there was one odd ingredient that I was missing. Cinnamon chips. Have you heard of them? I hadn't! King Arthur Flour makes them and apparently so does Hershey's – they're just like chocolate or butterscotch chips, except cinnamon-flavoured. Unfortunately, I never did find anything like that locally, but I found something different (also called cinnamon chips) that are literally little chips of cinnamon-sugar. So I bought them instead. And then I kept putting this recipe aside because I had so many other things to make. But today I came upon it again, and this time I knew I had all the ingredients so I decided to go for it.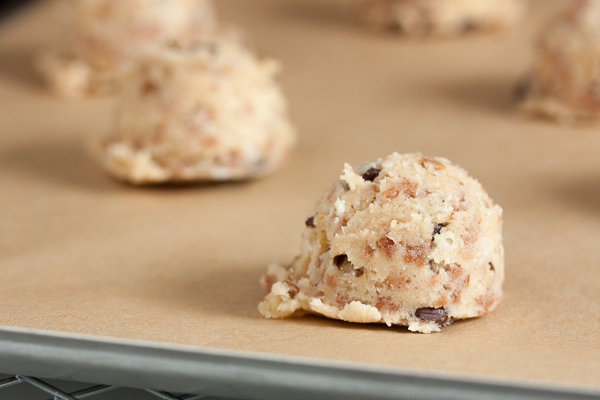 This cookie has so much stuff in it, both in variety and quantity. The dough for this cookie is actually pretty light-coloured, but once you add in all the stuff – the toasted coconut, cinnamon chips, and the chopped nuts give the dough a much darker colour. If I didn't know better, I'd swear there was brown sugar in there and not white. Just look at them! And there is a lot of stuff in these cookies. There's 2-1/2 cups of dough, and a whopping 3-3/4 cups of add-ins. This is another of those cookies where there's just enough cookie to hold all the other stuff together.
The original recipe said it would just make 3 dozen cookies, and that's not nearly enough for my coworkers so I doubled the recipe. I got 92 cookies out of the doubled recipe using my usual slightly larger than tablespoon-sized scoop. And while at the time I thought maybe I'd overdone it, it turns out it was a good thing I made so many. Everyone loved this combination of flavours and there wasn't a single cookie left by the end of the week.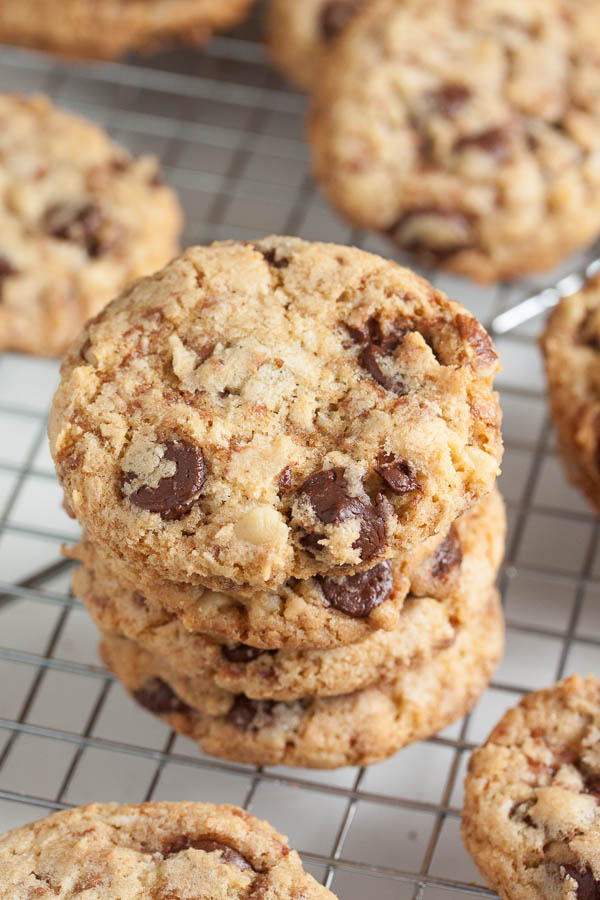 kitchen sink cinnamon chip cookies
Adapted from "Chip 'n' Chunk Cookies" from The King Arthur Flour Cookie Companion. I doubled the recipe and got 92 cookies using my usual slightly larger than tablespoon-sized cookie scoop, so you should be able to get about 4 dozen cookies from the following recipe.
ingredients
1-1/4 cups (160g) unbleached all-purpose flour
1 teaspoon baking soda
1/2 teaspoon salt
1/2 cup (113g) unsalted butter, at room temperature
3/4 cup (150g) granulated sugar
1 large egg
2 teaspoons pure vanilla extract
1-1/2 cups (180g) chopped pecans or walnuts
1 cup (175g) chocolate chips or chunks
3/4 cup (130g) cinnamon chips
1/2 cup (30g) toasted unsweetened coconut
To toast the coconut, spread it on a baking sheet and toast in a 300°F (150°C) oven for approximately 10 minutes, tossing it every few minutes or so to cook evenly. Trust your senses – it'll turn golden coloured and will start to smell fragrant when it's ready. Be careful, as it can burn really quickly. You can do this step and then set it aside to cool while you prepare the rest of the ingredients.
Preheat oven to 350°F (177°C).
In a medium bowl, whisk together the flour, baking soda, and salt. Set aside.
In the bowl of a stand mixer fitted with the paddle attachment, beat the butter and sugar together on medium speed until light and fluffy, about 3 or 4 minutes. Scrape down the sides of the bowl and add the egg and vanilla, beating well to incorporate.
Turn the mixer down to low and add the dry ingredients, mixing until just barely combined. Remove from the mixer and add in the nuts, coconut, chocolate and cinnamon chips, either with a spatula or by hand. I prefer to knead inclusions in by hand to ensure they're distributed evenly. I ended up turning the whole mixture out onto a work surface to make sure everything got mixed in there.
Using a small cookie dough scoop or a tablespoon, portion the dough onto the baking sheets about 2 inches apart to allow for spreading.
Bake for about 12-15 minutes, until lightly golden brown around the edges, rotating the baking sheet halfway through the baking time. Allow to cool on a wire rack for a few minutes before removing the cookies from the pan and allowing them to cool completely.