Check it out, I actually have some real food to share with you this week. Yes, yes, contrary to what you might think based on this blog, I do eat real food occasionally (don't worry, we'll be back with more cookies shortly). I'll be honest here – I'm pretty lazy during the week and am most likely to just throw together a wrap or a salad for dinner. As for lunch? If I don't have something already prepared, I'll just grab something from the local deli. For that reason, and I've mentioned this before, I'm a big fan of cooking a huge pot of something and freezing individual portions to take for lunch during the week. I have a few favourite recipes that I make often, like this vegetarian chili and this mexican vegetable stew (omg, so good), and this is another one of them. A brightly coloured vegetarian paella – a delicious and filling blend of rice, vegetables, and legumes.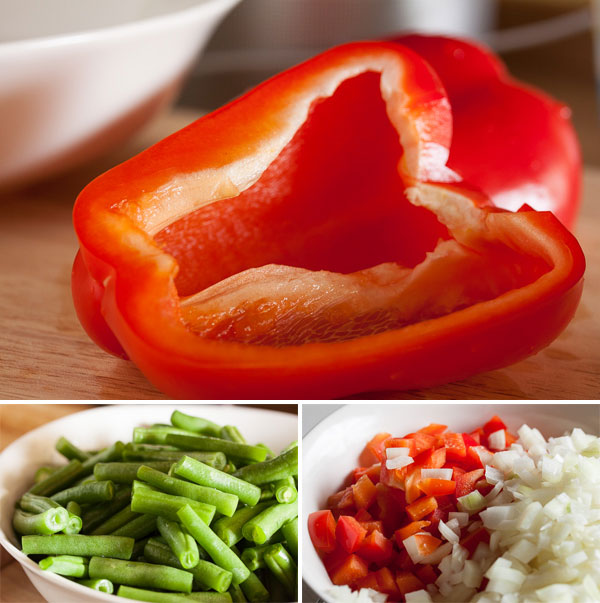 When I think of paella, the first thing I think of is the traditional seafood paella, but according to the wikipedia entry, there are actually lots of variations, including vegetarian. There aren't really any hard and fast rules, apparently.
This particular version is made with lots of green beans (so I'm already a fan!), cannellini beans, tomatoes and a variety of other colourful vegetables. Plus of course creamy short-grain rice, made more flavourful by cooking with a combination of vegetable stock and the juice from the tomatoes. You can take a shortcut here and just use water, but it's well worth it to use stock for more depth of flavour.
I think my favourite part about making this dish is when it first comes out of the oven, and all of the tomato has risen to the top, and I give it a stir and reveal all the delicious goodness hidden below. And it is delicious goodness.
As I mentioned above, I do freeze portions of this to take for lunch, but the rice can get a little mushy. It still tastes great, but if you know you're going to be freezing it, you may want to undercook it slightly.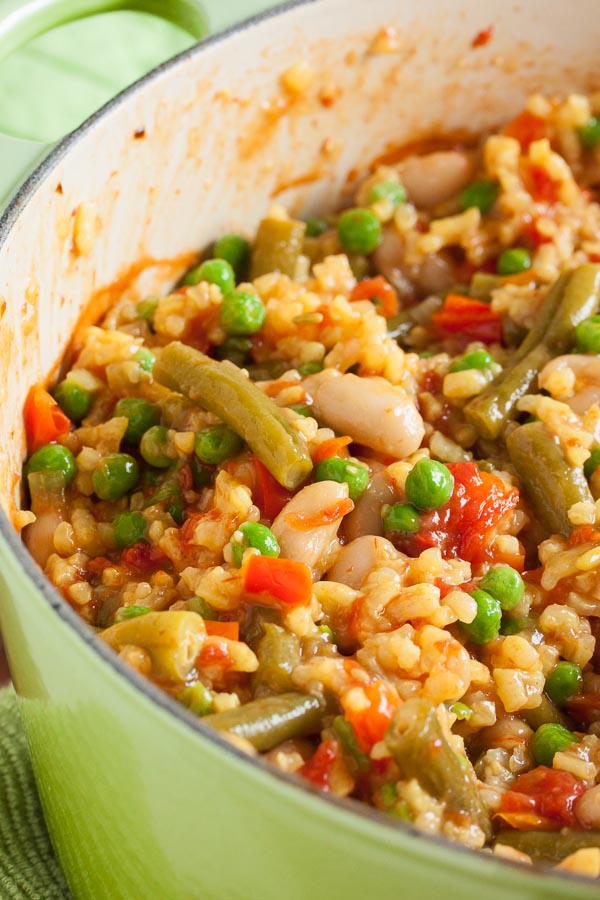 Adapted from "Vegetable Paella" from Robin Robertson's One-Dish Vegetarian Meals. I've made this dish with both Valencia and Arborio rice, and they both turned out great. The original recipe says it serves 4, but I got more like 6 good-sized servings out of this. The original recipe also says to drain the tomatoes, but I find that adding the juice adds a lot of additional flavour.
ingredients
2 tablespoons olive oil
1 medium onion, chopped
1 red bell pepper, diced
2 cups green beans, trimmed and cut into 1-inch pieces
28-ounce can diced tomatoes
2 garlic cloves, finely chopped
4 cups vegetable stock or water
1-1/2 cups short-grain rice (such as Valencia or Arborio)
1/4 teaspoon ground fennel
pinch of saffron threads or 1/4 teaspoon ground turmeric
1/2 teaspoon salt
1/2 teaspoon red pepper flakes
1 to 1-1/2 cups cannellini beans (canned or cooked from dry), rinsed and drained
1 cup frozen peas
Preheat oven to 375°F.
In a large oven-proof pan (I use a dutch-oven), heat the oil over medium heat. Add the onion, bell pepper, and green beans, and cook, stirring occasionally, until softened – about 5 minutes.
Add the tomatoes, garlic, and vegetable stock. Raise the heat and bring to a boil. Add the rice, fennel, saffron (or turmeric), salt, and pepper flakes. Stir well, cover and place in the oven. Cook for about 30-40 minutes, until the rice is tender.
Remove from the oven and stir in the beans and peas. Cover again and let rest for about 10 minutes to heat through before serving.