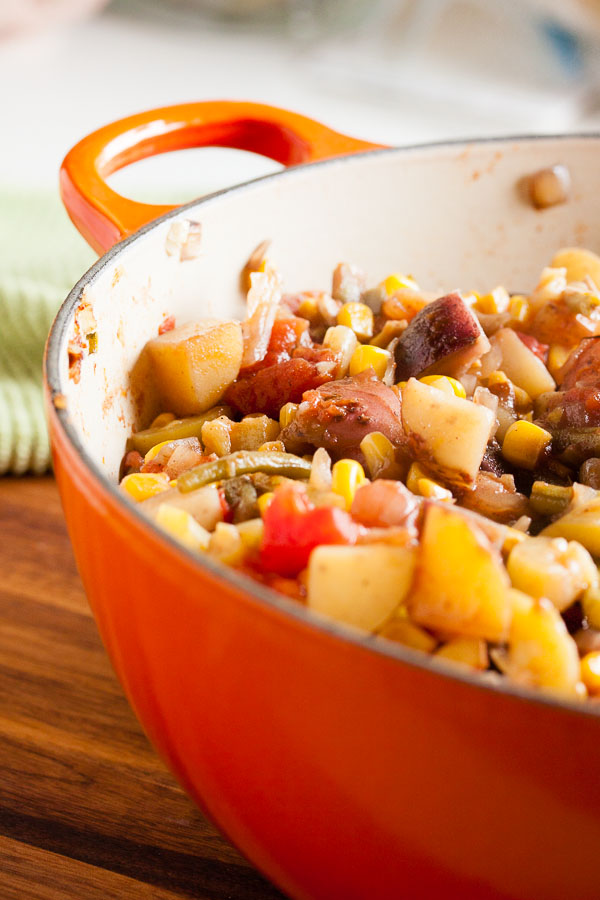 This is going to sound weird to those of you already familiar with this blog. You know I love to bake, and when I bake, I don't generally take shortcuts or make "healthy" substitutions. If it's a sugary treat? It's going to be loaded with sugar and butter. That's what it's all about. However, when it comes to "real food"? I try to eat as healthy as I can. I eat mostly vegetarian food, and cook everything from scratch. Yes, there's occasionally lasagna or baked ziti (omg, so good), but mostly a lot of vegetable stews and lentils and ridiculously good-for-you type foods.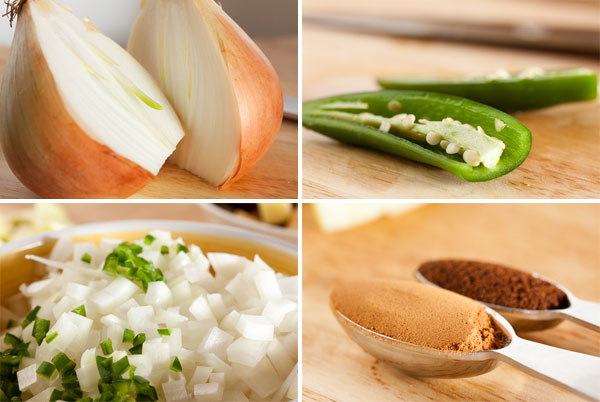 And speaking of ridiculously good-for-you, have we all heard of the Moosewood cookbooks? They have a really bad rap. A really unfortunate bad rap. The first of their books was published back in the 70s when vegetarian cooking was all about brown rice and bland steamed veggies with maybe a bit of cider vinegar for flavour (ugh). And yes, there's some of that in that book, but there's a lot of good stuff too. And since then, they've put out several more books that are full of bursting-with-flavour deliciousness. Including this recipe.
It's from their Sundays at Moosewood book – apparently on Sundays at the restaurant, they introduce recipes from different ethnicities or regions, and this is a collection of favourites. This is one of the first recipes I tried from this book, and I keep coming back to it. I make it year-round, and I usually have a few servings saved in my freezer to take for lunch. It's not too heavy for summer fare, yet hearty enough for winter, and it's layered with so many flavours. You'll be surprised at how well the cinnamon and cloves work with the rest of the ingredients. Yes, you heard right. Trust me – it really works.
So if you haven't looked at Moosewood since that first book? Give them another shot. You might be surprised.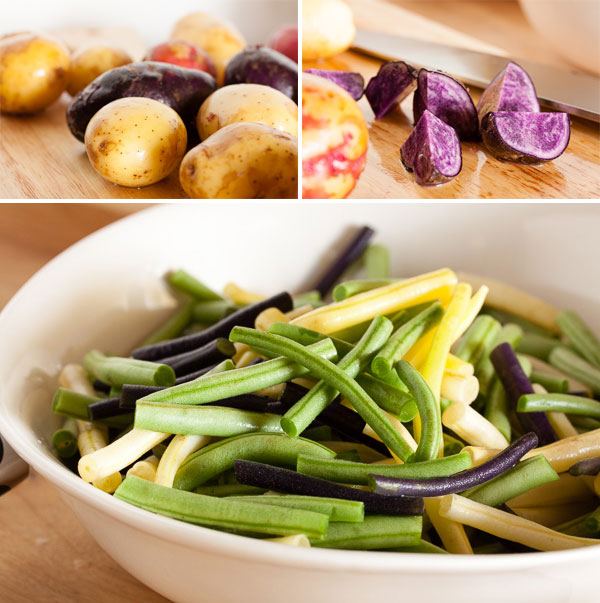 While the ingredients for this stew are available pretty much year-round, this time of year is the perfect time to make it, with the baby potatoes and all the varieties of beans in season! Actually, I went a little crazy at the farmers' market and instead of just getting green beans, I got a really colourful mix. Did you know that other than the colour, green string beans and yellow wax beans are exactly the same thing? Yup. And have you seen purple beans before? So pretty! Unfortunately, they turn green after cooking (boo), but it's still fun to mix it up a bit. I got some dragon's tongue beans too, but those are getting blanched and going into a salad. I looooove fresh beans.
Actually, when I was a kid, I hated green beans. Or at least I thought I did. But the only ones I'd ever had came from a can, and canned green beans are seriously disgusting – mushy and flavourless. I don't even remember the first time I had a fresh green bean, but now, whenever I need them for a recipe, I have to buy extra because I know I'm going to be nibbling on them raw before they get a chance to cook. This time of year, I'm buying them almost every weekend.
I also got a mixture of different kinds of potatoes! Unlike the beans, these are actually different varieties. I have to admit, though, that I can't really tell the difference flavour-wise. I love potatoes – I don't care what colour they are, I'll eat them. But when you're presented with white and yellow and red and purple potatoes, why limit yourself?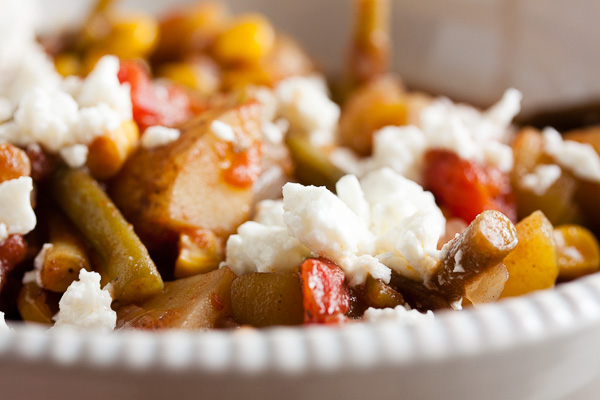 That's the fun with cooking – it's not as rigid as baking, so there's more room to play around with different ingredients. And speaking of playing around, I take the quantities of ingredients in this recipe with a big fat grain of salt. Two cups of potatoes? Why not three? One cup of onion? How about I just chop up a medium onion and go with whatever that ends up being. Maybe two cups? And I looooove beans, so I usually put lots of those in. Honestly, I never measure these ingredients – I just chop up what I've got and toss it in the pot. And it's always always good.
I'm a single person, working full-time, so I like to make dishes that can be frozen to take to work for lunch during the week. Which means yes, a lot of stews and casseroles. And this one freezes beautifully. I try to keep some of this one in my freezer at all times.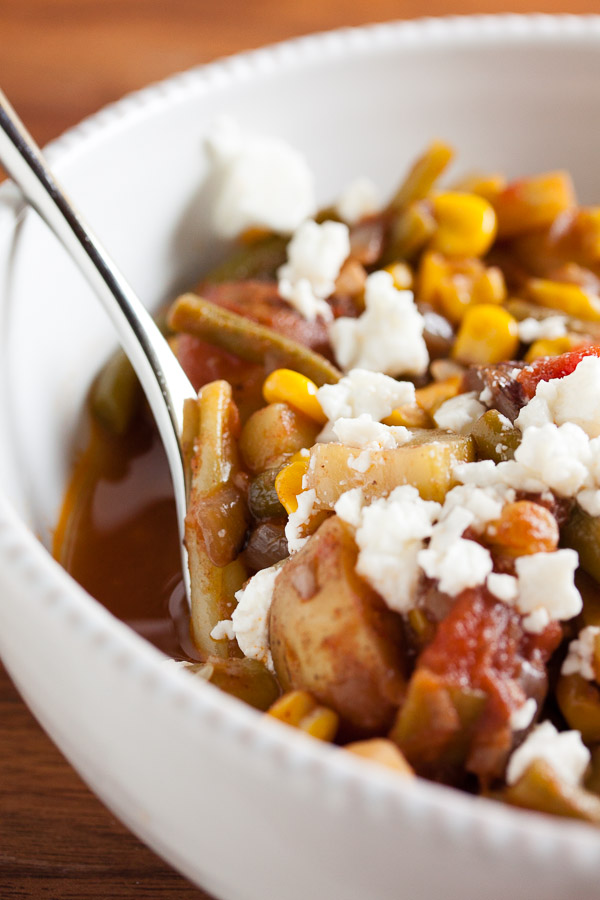 Adapted from "Mole de Olla (Kettle Stew)" from Sundays at Moosewood, by the Moosewood Collective. The original recipe states it serves 4, but if you add extras of your favourite ingredients like I do, you could easily end up with seven 2-cup servings. This stew freezes really well and is great for lunch or dinner.
ingredients
3 tablespoons olive oil
1 cup chopped onion
1 clove garlic, minced
1-2 tablespoons jalapeño or serrano pepper, minced
1/2 teaspoon cinnamon
1/4 teaspoon cloves
2 cups potatoes, cut into small chunks
3 cups undrained canned tomatoes, either diced or cut into chunks
2 cups green beans cut into approx. 1" or 1-1/2" lengths
2 cups fresh or frozen corn
2 cups sliced zucchini (about 1 small)
Be sure you prep all your ingredients ahead of time. Once it starts cooking, everything in this stew goes in the pot really quickly.
In a large, heavy stewpot, heat the olive oil and sauté the onion, garlic, and chiles over medium-high heat for about 5 minutes. The onion will be starting to look translucent.
Add the spices and the potatoes, stir well, cover, and continue to cook for another 5 minutes. It will smell amazing at this point.
Add the tomatoes (this liquid will help deglaze anything stuck to the bottom of the pot), and the green beans. Stir well, cover again, and continue to cook for another 5 minutes.
Add the zucchini and corn. Stir well, turn the heat down to medium-low, and simmer until the potatoes are tender. Salt to taste.
This stew is great as-is, but can be served topped with a bit of grated cheddar or crumbled feta cheese, or even some sour cream. And if you happen to have some cornbread on hand? Even better!