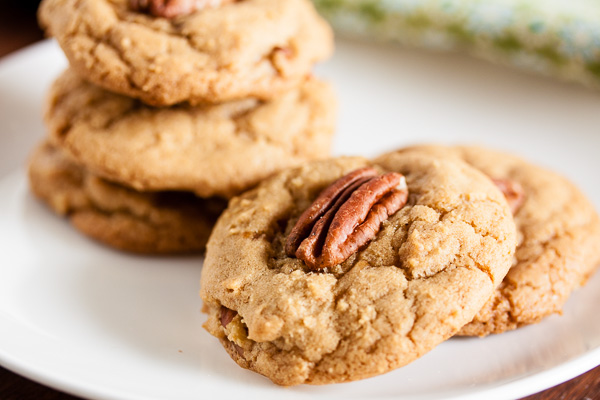 I decided to venture a little out of my comfort zone again this week and picked a recipe that I probably wouldn't have chosen for myself. Not that I didn't think this cookie looked good, but if I were baking for myself, I'd probably choose something with more chocolate. Or lemon.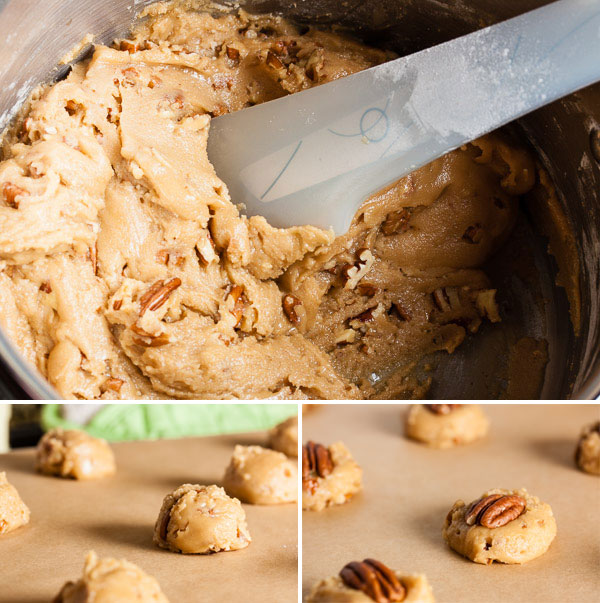 This is the easiest cookie to make! The butter is melted in a saucepan, then the sugar is stirred into it, followed by the rest of the ingredients. That's it. Done. The most labour-intensive part of this recipe is that you need to chop the pecans (sigh!). No creaming or kneading or refrigerating required.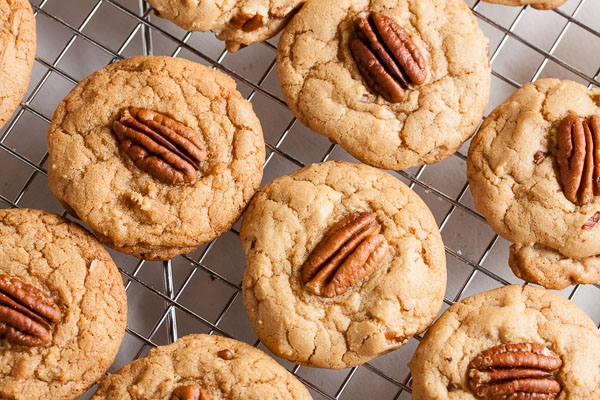 Given the amount of butter in here (and the fact that the butter is still warm when the cookies are formed – the dough is like warm fudge), I was kind've expecting they might spread out too much. Yes, they spread a bit, but overall kept a good shape. They puffed up a surprising amount, and then flattened out again when they came out of the oven. Those tiny little blobs of dough grew into some substantial cookies! Compare the pecan to cookie ratio in the before and after photos.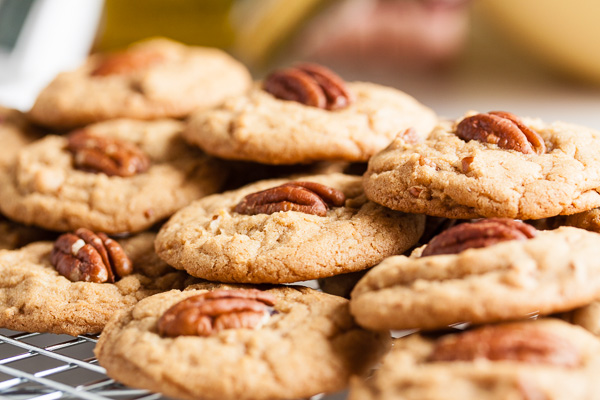 And when they came out of the oven? They smelled amazing. Like buttercrunch toffee. And they taste just like they smell. Butter + brown sugar + pecans = absolute deliciousness. Even the next day, they have a great texture – crunchy on the outside and chewy on the inside. One of my coworkers said it reminds her of an old-fashioned cookie like her grandma would make. These cookies were reeeeally popular here!
The main reason I started this project was to force myself to try new recipes. And this cookie is a perfect example of why. If I were just baking for myself, I probably never would have tried this recipe. And that would have been a real shame.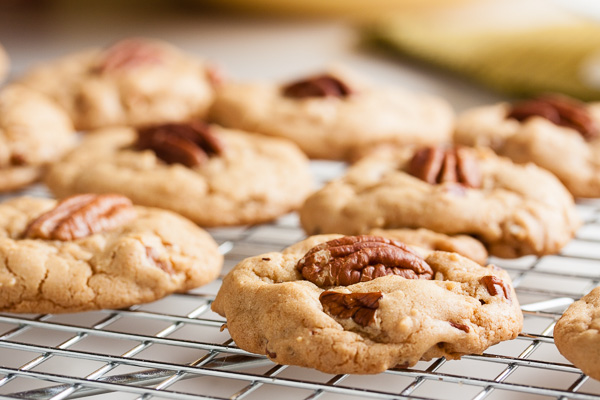 brown sugar pecan cookies
Adapted from "The Farmer's Wife's Pecan Cookies" from Maida Heatter's Cookies. The recipe states it will make 36 three-inch cookies when measuring with a rounded teaspoon. I used my usual small scoop (approx. 1-1/4 tbsp) and got 41 cookies. Update: a friend of mine made these and added chocolate chips. So good!
ingredients
1-1/4 cups sifted all-purpose flour
1/4 teaspoon baking soda
1/8 teaspoon salt
1/2 cup unsalted butter, cut into pieces (for easier melting)
1-1/4 cups light brown sugar, firmly packed
1/2 teapoon vanilla extract
1 large egg
2/3 cup pecans, chopped (pieces should be about the size of raisins)
for the topping
approx. 40 pecan halves (you'll need one for each cookie)
Preheat oven to 350°F.
In a small bowl, whisk together the flour, baking soda, and salt. Set aside.
In a medium-sized saucepan, gently melt the butter over low heat. Once melted, remove from the heat and add the sugar, stirring until smooth. Then add the vanilla and egg and continue stirring until smooth again.
Add the dry ingredients and stir until just combined, then blend in the chopped nuts.
Using a small cookie dough scoop or a rounded teaspoon, portion the dough onto the baking sheets about 2 inches apart to allow for spreading. Top each cookie with a pecan half, pressing lightly into the dough.
Bake for about 12-14 minutes, until golden brown, rotating the baking sheet halfway through. The original recipe specified not to underbake these cookies. Allow to cool on a wire rack for a few minutes before removing the cookies from the pan and allowing them to cool completely.